As we are now well into a further extended period of lockdown, the severity of this devastating coronavirus pandemic has surely struck home to all of us, not only in the increasing number of deaths and those contracting the disease in this country but worldwide. Staying safe at home is not easy as many are discovering but the alternative does not bear thinking about.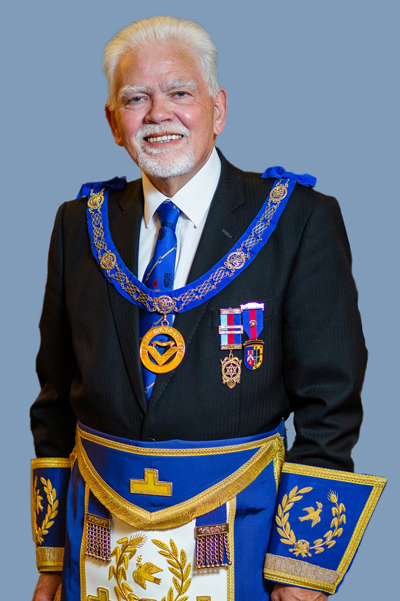 Sadly, the news of those who have succumbed to COVID-19 is now affecting some of our own members and their families and our thoughts and prayers are with those and indeed everyone who has suffered a family loss.
Throughout all this our frontline workers, the NHS doctors and nurses, carers and the many 1,000s still going to work each day to continue to provide essential services have been truly remarkable. Their unswerving, unselfish and indeed heroic commitment in such dangerous times should never be forgotten and we will be ever grateful and proud of the wonderful work they all do.
I am also very proud to say that Freemasons on the Fylde are stepping up in ensuring that all our lodge members are being looked after and kept as safe as possible. Communication is so important, no matter how we do it, on the telephone, email, text, various social media platforms such as Facebook and WhatsApp. Some lodges are also getting together via Zoom to catch up with other members and even holding mini practices and online raffles.
There has been superb support in many areas such as collecting and donating socks and toiletries for Blue Skies at Blackpool Victoria Hospital, brethren producing 3D face masks, (and I thanks our colleagues in the Mark Degree for their support and donations), supporting the Care and Share Charity for vulnerable individuals, and women and children who are victims of domestic violence. In addition, the younger members in some lodges are working together to keep in touch with members, some of whom are not even in their lodges and I have received copies of letters of thanks from those contacted. There are, I am sure, many other projects of community support that as yet, I do not know about. Well done to all those involved. This is an opportunity for all those who are able to do so to show what Freemasons are really all about, particularly when it comes to friendship and charity.
There are also some brethren who have volunteered for the Provincial Welfare team to assist our members wherever and whenever they can, even it is just that all-important communication of a phone call, delivering a friendly voice and showing that we care and my thanks go out to them.
You will no doubt have already seen that via the MCF, Freemasons are giving £2,000,000 at both local and national level to help in the fight against COVID-19 and individual donations can be made for the COVID-19  appeal but can I suggest that as we are in Festival, donations are made via the West Lancs 2021 Festival as the monies will still be going to the MCF and in the present circumstances will, I have no doubt be used for all those affected by the virus until at such time as it is all over. Monies will be put to immediate valuable use.
On 29 April I was due to join many others in London to celebrate the newly appointed and promoted in Grand Lodge and Chapter. This has now of course been cancelled but I will be joining a 'Zoom' meeting with several other senior officers in the Province led by our PrGM to celebrate with our own West Lancashire recipients. My congratulations to them all on their well-deserved honours and I look forward to being able to congratulate them in person and see them in their new rank regalia on some future date.
We have all seen I am sure, the inspirational efforts of Captain Tom Moore who has raised such a phenomenal amount of over £27,000,000 to date for the NHS with his 100 laps of the garden before is 100th birthday – it has simply captured the nation and become such a focal point for donations – and he now has a No 1 record with Michael Ball. He did it not for recognition (although he certainly deserves it) but that it was his personal effort to support others and do what he could, something we as Freemasons can certainly totally appreciate. In all his 100 years of life experiences, like many of our senior members, he will never have witnessed anything quite like what we are experiencing today.
We see the many pictures of rainbows in all the windows in every street, and as Captain Tom has said there will come a time when the sun will be out and the rainbows appear for real to signal that the virus is being defeated and that is the hope for us all.
Freemasonry is temporarily closed down for at least four months and perhaps even longer but that will eventually end and we can meet up again with our friends and brothers in safety. My thanks to all the group chairmen, their group officers, almoners and brethren for all they are doing.
Please continue to keep you and your families safe and well, keep in touch with each other and take care of others you know within the community. In these very difficult times may I also add that you try and keep a sense of humour, it's amazing how that helps to get you through these difficult days.
My very best wishes to you all and my wife Anne ask's that she be included in those expressed sentiments.
David Randerson,
PSGD, APrGM.