Many Freemasons support their local charities by giving their time freely, last year they gave over 5,000,000 hours. One such Mason is Stewart (Stew) Cranage who was initiated into Freemasonry in 1999. Stew is currently the Provincial Mentor and is responsible for the guidance and development of Freemasons in the Province of West Lancashire.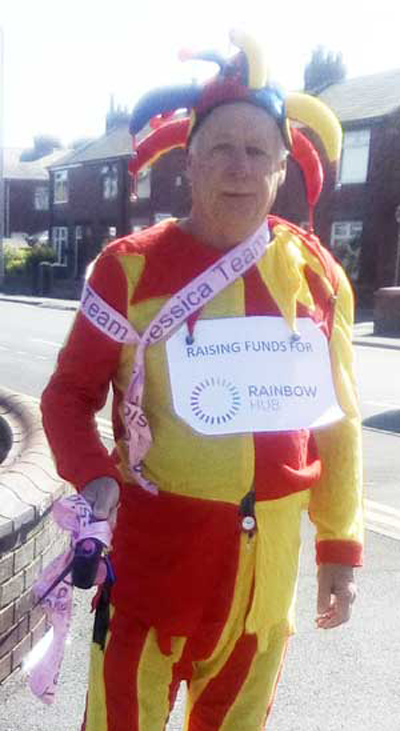 For the last seven years, Stew and his wife Wendy have participated in the annual 'Rainbow Ramble' and walked either the five or 11 mile walk around Mawdsley and the surrounding area, to raise funds for Rainbow Hub (always pushing at least one of their grandchildren in their buggy!).
Many people do this walk in fancy dress of some kind to maximise publicity, Stew and Wendy both dress as jesters!
The annual 'Rainbow Ramble', is normally supported by 100s of participants and typically raises in excess of £30,000 each year. Unfortunately, due to COVID-19, it was not possible to hold the event this year so it was decided that, whilst still observing the rules of social distancing, supporters would be encouraged to perform some activity in order to raise funds and maintain the annual tradition.
Stew and Wendy opted to still dress as jesters and walk five miles around the Up Holland area, this time instead of taking their grandchildren they took their dog Tilly on the walk, (she also had limited jesters' regalia on!). Stew says: "We got some amazing looks!"
Stew rose to one challenge from a sponsor, which was to take a bus ride, just one stop, still dressed as a jester – challenge accepted. On the same day Stew's UK granddaughter (aged five) did a gymnastic display and his Australian grandson (aged eight) did a BMX ride in Cairns, Australia, all in support of Rainbow Hub. So far Stew and  Wendy have raised over £500 for his 'Ramble' around Up Holland.
About five years ago Stew started working as a volunteer with Rainbow House (subsequently renamed Rainbow Hub), initially as a volunteer fundraiser, but also to help out by assisting with social fundraising events. Stew has now completed a first aid course with them, (first aid is very different when it has to be administered for people with disabilities), so now he can offer his services as a marshal for their major events. Stew also does design/printing/promotional materials for Rainbow Hub.
From a Masonic viewpoint one thing Stew said became immediately obvious to him was that West Lancashire Freemasons have made major contributions to Rainbow Hub, but the charity did not realise that each lodge and each chapter were all part of the Province of West Lancashire that has over 330 lodges and 130 chapters that all make donations at their installation meetings to many local charities including Rainbow Hub. If you would like to make a donation or want to find out more about Rainbow Hub click here