The Intact Centre provides a wide variety of services to support the local community. At this time of rising living costs, the value of Whitby's Pantry and the café really come into sharp focus.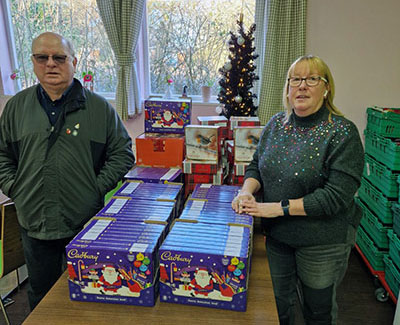 The Pantry is a food club providing essential groceries and household goods to those most in need. Members pay £5 per week and are able to access about £25 worth of essential groceries and toiletries. This is a real lifeline. The Pantry has been supporting the local community of Ingol and Tanterton since 2019. It is supported by a team of dedicated volunteers. Whitby's Pantry is a sustainable and long-term method of reducing food poverty and helping people to independence.
In addition to the Pantry, Intact also have a small café which provides a warm space in these cold days. The café is a focal point for the community and helps to bring people together.
Earlier in the year, the members of Preston Guild Lodge No 4408 based at Preston Masonic Hall, donated over £400 worth of groceries to the Pantry. But the members did not think that was enough! So, the master of the lodge Cliff Jones delivered what the members hope will be a little Christmas cheer.
The lodge provided selection boxes, mince pies and shortbread to the Pantry to be given as extras to the £25 worth of groceries members can access. Steph Lees-Pinson, who received the donation on behalf of Intact exclaimed: "You have brought Christmas!"
The members of the lodge hope that many children will enjoy a selection box and that the mince pies and shortbread will be used for members but also in the café. Preston Guild Lodge also added a small top up of essential groceries to the Pantry.
Preston Guild Lodge members have a mantra of being ever mindful of the needs of others and they hope these donations will help their local community in a time of need.