The Lodge of Chivalry No 3974, had planned to perform a second degree ceremony for Guillermo Moreno, sadly Guillermo's mother is ill in hospital in Mexico and Guillermo decided to fly to Mexico to be with her the day of the meeting. All the Brethren are hoping that Guillermo's mother pulls round and is soon on the road to recovering.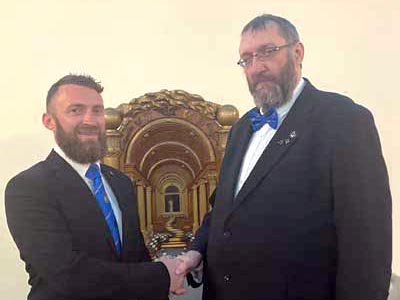 Fortunately, Carl Flaherty who had returned home from his holiday the day before the meeting and was not too jet lagged, agreed to progress to the degree of a fellow craft, having only been initiated in January 2023.
The ceremony was carried out by the WM Stuart Flynn, in a nearly word-perfect ceremony. Other lodge officers taking part in the ceremony were Martin Stewart who acted as senior warden, Nigel Pye who delivered the second degree working tools and were delivered the long way, word perfectly.
The lodge is still growing and at the end of the meeting Ian Pye proposed another new member, which his brother Nigel seconded.
After the meeting, 29 Masons enjoyed the festive board, with another great meal produced by the chef, Gary O'Brien. The meal started with a course pâté of lamb's liver, garlic and brandy, red onion chutney, brioche toast and butter, followed by a mixed grill with gammon, lamb chop, sausage, black pudding, steak, fried egg served with chunky chips, garden peas, grilled tomato onion rings and field mushroom. Dessert was lemon meringue pie with pouring cream followed by cheese and biscuits.
Everyone who attended the meeting and the festive board said they had a great time and to top it all, they raised over £300 for charity