The St Nicholas Lodge No 3620 has long ties with Liverpool, as it was founded by members of Liverpool Parish Church, Our Lady and St Nicholas. There has been a church of St Nicholas on the existing site for more than 750 years, which is a little longer than the consecration of the lodge back in 1910.

A curious historical fact is that in the early 19th century, William Gladstone, who became Prime Minister on four non-consecutive occasions, purchased the advowson, which is the right to appoint the rector of the Liverpool parish, and whose descendants still perform that duty to this day. It is fitting that St Nicholas Lodge is a proud member of the Gladstone Group.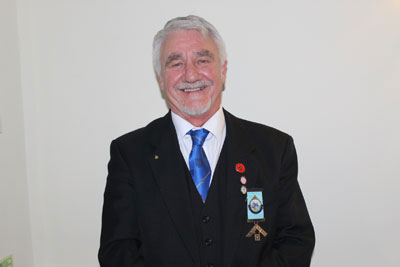 As with many lodges facing rising costs leveraged by their meeting places, the lodge members have decided to try the dining facilities of the Britannia Adelphi Hotel, in favour of their normal meeting place of the Artists Club, and so it was all change on the night of their installation meeting.
Brethren and guests were welcomed by the master William Griffiths, assisted by his senior and junior wardens, Gary Nicholson and Stewart Cranage respectively. Two familiar faces from Croxteth United Services Lodge No 786, Joe Williams as senior deacon, and Don Fraser as junior deacon, were in attendance to lend a helping hand for the installation ceremony. Visitor John Jackson of Trinity Lodge No 3257 completed the team. With director of ceremonies Geoff Bell, keeping a close eye on proceedings the lodge was opened in very fine form.
Geoff requested if he could retire for a short period and returned to announce that the representative of the Deputy Provincial Grand Master in Charge stood without, William exclaimed with great pleasure he would be delighted to receive him, and all stood to welcome the representative David Anderton, accompanied by Gladstone Group Chairman Paul Storrar and grand officer David Potts into the lodge.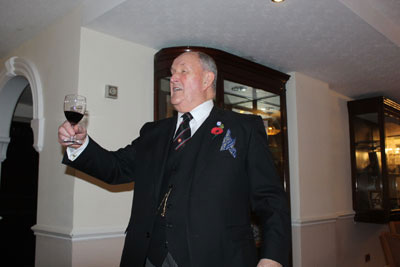 After the necessary salutations were attended to, the master William called for the master elect Colin Cleary to be presented to him, which director of ceremonies Geoff duly performed. Colin then proceeded to kneel before the masters' chair and delivered a faultless and sincere obligation signalling his intent to become a fine master of the lodge.
William having declared a board of installed masters, then proceeded to install Colin into the chair of King Solomon, which made the ceremony very enjoyable for all those who had the pleasure of being part of the occasion. WM Colin Cleary then took great pleasure in investing William as the immediate past master, thanking him for his care and dedication for his service to the lodge and to Colin personally for installing him as master.
Having admitted master Masons, director of ceremonies Geoff, then declared Colin as master for the first time, and delivered the working tools of a master Mason. Senior warden Gary Nicholson, then followed suit and delivered a fine rendition of the working tools of a fellow craft Freemason, and finally grand officer Stewart Cranage rounded off a fantastic display of ritual by delivering the working tools of an entered apprentice Freemason – all equally brilliant.
During investment of officers present, collar addresses were performed by Geoff Bell, who was also assisted by Joe Williams who delivered a fine address to the wardens. It was soon the turn of David Anderton to deliver the address to the brethren of the lodge, which was performed with a unique flair and obvious depth of feeling which was a treat to be a part of a wonderful installation ceremony.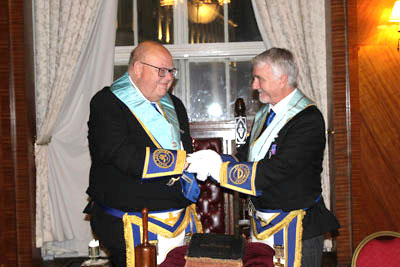 The lodge business being duly completed including the exciting proposition of a new candidate to join the lodge, the brethren and visitors retired to the Crompton Suite for the festive board.
David Anderton, in response to a toast to his health given by Paul Storrar, congratulated all of the members of the lodge on a fine installation ceremony, noting that installing master William and director of ceremonies Geoff were deserving of particular praise for their work in the lodge room. He also commented on the generosity of the lodge recognising their charitable contributions of £600, split three ways between West Lancashire Freemasons' Charity, Friends of Tithebarn and North Wales Assisted Holidays for the Blind. David went on to deliver a very humorous speech and received a well-deserved round of applause at the completion.
Don Fraser then arose, and without further ado, regaled all present with the 'Master's Song' to which the brethren enthusiastically joined in with the chorus, all wishing the best of health of new master Colin Cleary. In response, Colin thanked all present and then explained that he had a pleasant duty to perform and presented immediate past master William, with a past master's jewel. William was delighted to receive this and explained to all present, that he had been through the 'chair' six times. For one reason or another, he had been unable to install his successor and so had been looking forward to this occasion when he could finally complete the installation of his successor, and so was especially pleased to receive the past master's jewel on this occasion, a very well-deserved accolade for William.
It was all too soon, time for acting tyler Don Fraser to give the last toast of the evening and with the tyler's toast, a helping hand to a very fine lodge was completed.