It was a great turn out at Lever Park Lodge No 8144 to celebrate Geoff Jones's 50 years in Freemasonry. Assistant Provincial Grand Master Peter Lockett joined the members and guests of Lever Park Lodge and commented that it was nice to see so many brethren present to share in Geoff's special occasion and milestone on his Masonic journey.
As is customary at a 50-year celebration, the Assistant Provincial Grand Master took the chair and Peter told the brethren that in December 1937 in Bolton, Mrs Aldrea Jones gave birth to a son to be called Geoff. His father Fred was a butcher in the Bolton area.
He went on to say that Geoff attended Deane Primary School and then progressed to Bolton School having an interest in science. He then continued further study at Manchester University and gained his degree. After an apprenticeship at Hope Hospital in Eccles, he undertook several locum positions before joining a large American drug company as a representative. Later he joined a friend, already a chemist, who wanted to expand. They bought a pharmacy in Hindley which is now part of a new health centre. He stayed in that role until retirement.
Turning from education and professional life, Peter turned to Geoff's family life and told everyone that Geoff knew his future wife Val in his teenage years but time and events intervened and both of them, having been married to other partners, eventually married at Bolton Registry Office in March 1988.
Geoff has three children. Alison, the eldest, has a nursing degree; Ian is a professional photographer (having been Royal Photographer for the Daily Telegraph) and Caroline works in her husband's finance company. His granddaughter Suzanne works for the library service. Val also has a daughter from her previous marriage. It is no surprise to learn that between them, they have nine grandchildren and three great grandchildren.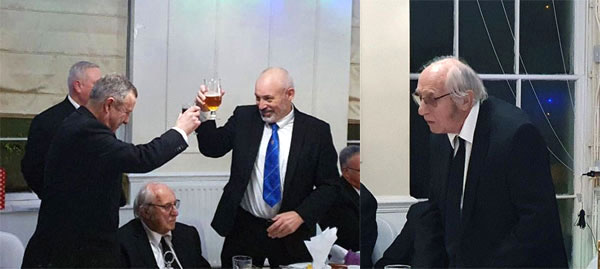 Peter then turned to Geoff's Masonic history, saying that Geoff was initiated into Turton Lodge No 6232 on 16 November 1972. He held the offices of master, director of ceremonies, secretary, lodge mentor and assistant director of ceremonies. Unfortunately, Turton Lodge handed in its warrant in 2010, so Geoff joined Wilderswood Lodge No 5932 in November 2010. Sadly, Wilderswood closed in 2019, so Geoff then joined Lever Park Lodge on 3 September 2019. Geoff also belonged to the East Lancashire Provincial Grand Officers' Lodge No 3747, resigning in 2005
He was honoured by the Province of East Lancashire in 1992 becoming Past Provincial Senior Grand Deacon, receiving promotion in 2002 to Past Provincial Deputy Grand Sword Bearer.
In the Royal Arch, Geoff was exalted into Goulburn with Turton Chapter No 3478 on 19 March 1976, serving as first principal in 2001 – 2002. Sadly, this chapter closed in 2016. He was a founder member of Turton Chapter No 6232 in February 1992 and served as first principal in 1995-1996.

Geoff was honoured by the Province of East Lancashire in 2002, being appointed Past Provincial Assistant Grand Sojourner and received a further promotion to the rank of Past Provincial Grand Sojourner in 2013.
After relating Geoff's 'this is your life', Peter presented him with a certificate which, as he told Geoff, was an acknowledgement of the Province of West Lancashire's great appreciation of his half a century of membership of the Craft.
Everyone then retired to the festive board where they were joined by the ladies and the Rivington and Adlington Brass Band to enjoy a wonderful and happy evening.