Master elect David Rowlinson was installed into the master's chair in fine style in Lodge of Truth No 6235 by the WM Gary Jones who performed an exemplary job being very cool calm and collected in installing David.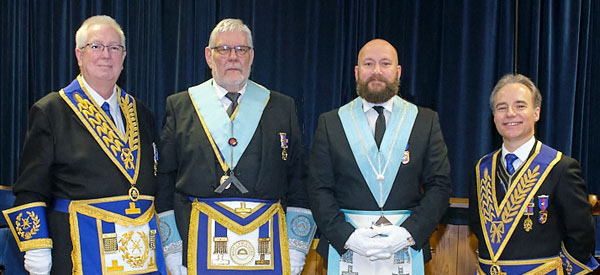 The principal guest was the Chairman of Mersey Valley Group John Murphy, representing the Provincial Grand Master Mark Matthews. John was accompanied by the Chairman of Leigh Group, Jonathon Heaton.
Historically, David's connection into Freemasonry goes back to 1951 when his father was a member of the Lodge of Truth, but unfortunately, he died in 1954 and David knew many of the founders through him.
In support of his mother at the age of about 20, both David and his mother went to the ladies evening. Then a few years later he was presented with the forms to become a member, and he then became a member of the Lodge of Truth in December 1969, celebrating his 50 years in Freemasonry in 2019. He also became the youngest master at the age of 34.
Eventually the only job he ever wanted was the director of ceremonies, unfortunately he had to go back in the chair as there was no immediate master elect as many of the new members were coming up through the offices and  there was a gap for the next WM. As it's down to a past master to take the chair in these circumstances, of which David was at hand, this apparently happened many times for David in his life of being a Freemason.
Finally, he became the WM again in February 2023, in totalling fives in the chair. He is now the oldest master the Lodge of Truth and has had, a wonderful record on all accounts.

Anthony C Roe, Leigh Group Publicity Officer.