Brethren of Lodge of Valour No 4322 were honoured to have as their principal guest, Graham Williams, the representative of the Provincial Grand Master Mark Matthews.

Graham was accompanied by Antony Bent Past Assistant Provincial Grand Master, grand officers were Geoffrey Bent, Len Hart, Jonathon Heaton Chairman of the Leigh Group and Anthony Roe Provincial Assistant Grand Director of Ceremonies.
Alf Hayes was the master elect for the third time in the Lodge of Valour, the installing master was David Porter who did an exemplary job being very efficient in installing Alf, as did the younger brethren who did a very commendable rendition of the working tools of the degrees. The acting DC Ron Coupe did a grand job with the assistant DC of sharing the work in a timely manner throughout.
Graham Williams gave greetings and on behalf of the Provincial Grand Master and the cheques were then presented to Graham and were read as follows; West Lancashire Freemasons' Charity £150, Freemasons Grand Charity £50, Leigh Group Charity £115, Prostate Cancer Research £50 and Leigh Masonic Hall Building Fund £165 making a grand total of £530. Jonathon Heaton gave greeting to the lodge on behalf of the grand officers.

Alf has had a varied and interesting life in Freemasonry, he was introduced to Freemasonry by his uncle, Brian Hayes, and initiated into the Lodge of New Hope No 6576 in 2005 at Salford Masonic Hall. Unfortunately, the lodge handed in its warrant before his second degree and his uncle recommended that he join the Lodge of Valour. He was passed to the second degree in 2006 and raised in 2007.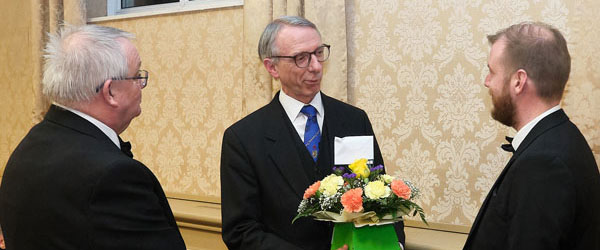 He became master in 2011 then stepped back to be senior warden for two years before taking the chair again in 2014. The following year he was to become ADC of the lodge, but just weeks before the installation his dear friend Neil James sadly passed away and Alf took his place as DC of the lodge, a position he has held since.
Provincial honours were received in 2019 with the rank of Past Provincial Junior Grand Deacon, and he feels honoured and privileged to become master again. Outside of Craft Freemasonry, Alf is a member of a number other Masonic Orders.
He has been married to Helen for almost 44 years, they have four beautiful daughters and have subsequently acquired four wonderful sons-in-law who one day he hopes will join Freemasonry.
Alf has been a nurse for many years, currently working as a Clinical Lead Nurse in Tameside, he will finally be retiring this September.
The festive board then continued with of plenty of laughter, cheer and of course good food, vegetable soup, great steak and veggies, trifle, coffee and after dinner mints.