The annual Lancaster and District Group Ball has been a great success over the years and this year was no exception, with members from the group, their partners and friends enjoying good food, great raffle prizes and excellent entertainment.

This annual event is organised by the group social secretary Steve Plevey and was this year held at the Globe Arena, Morecambe. The members and their guests were treated to an excellent three course banquet, which was overseen by the delightful serving staff at the Globe.
On arrival, each guest was offered a glass of 'Prosecco' and once everybody had taken their seats for dinner, the director of ceremonies for the evening Peter Whaley, announced the entrance of the group vice chairman Scott Devine and the group secretary Chris Larder with his wife Clare. Unfortunately, Scott's wife Karen had suddenly been taken ill so could not attend. Also missing were the group chairman Neil McGill and his wife Lorraine, as Neil is still convalescing following a serious accident earlier in the year.

Following the meal and with the tables cleared, everyone settled down to a wonderful evening of entertainment provided by the superb voice and personality of Ashleigh Wood. One of the most endearing memories of the evening was Ashleigh's rendition of 'Bring me Sunshine', together with an impromptu guest spot by local Mason Barry Robinson, who, following an invitation by Ashleigh for a volunteer, danced around the room copying the same actions as Morecambe and Wise often did when entering or leaving the stage. All great fun!
As always there were two main fund-raising draws during the evening to raise money for charity. The 'Spirit Draw', consisting of at least six, one litre bottles of spirits, raised £405. Amongst the winners was Matt Kneale and his partner Lara, who won a litre bottle of 'Southern Comfort'. Matt is the current WM of Carnforth Lodge No 4951. The raffle raised £530, with the main prize, an 'Amazon Fire HD8 Tablet', being won by Gordon and Elizabeth Hurst. Gordon is a member of Heysham lodge No 4108. To raise £935 on the night is truly exceptional and thanks have to be proffered to all who took part.
At midnight, carriages were waiting to whisk their occupants' home, having enjoyed a wonderful evening of entertainment and friendship.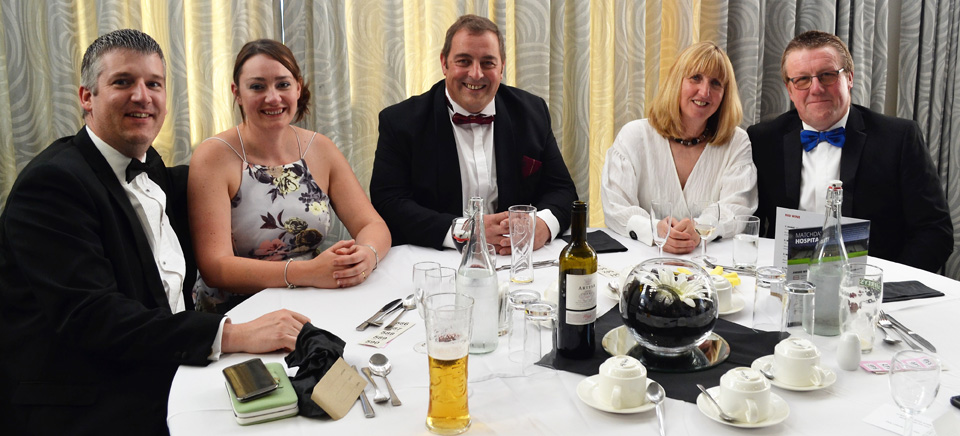 Article and photographs by Paul Thompson.