Masons had gathered in the lounge bar of Blackpool Masonic Hall and the ear detected a marked twittering of excitement amongst the throng. It was a stirring, bustling scene, typical of this nerve centre of Blackpool's Masonry.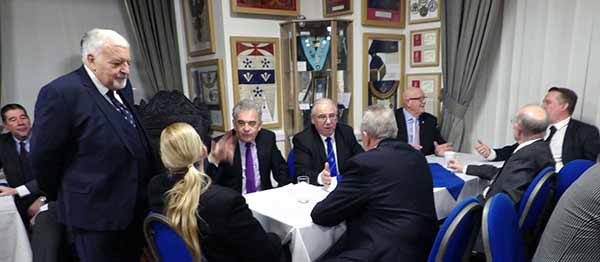 "Good evening brethren", announced Provincial Deputy Grand Director of Ceremonies Dave Thomas in cheery mood, who always likes to make something in the nature of an entrance speech, seeming to lend a chummy tone to the proceedings. His announcement heralded the start of a chatty meeting of distinguished guests with masters and immediate past masters of lodges and first principals of chapters on the occasion of the biennial group dinner. This was, understandably, a rather special event, being the first after COVID lockdowns and restrained meetings. 
Making it particularly special was the hefty bevy of high-ranking Masons who were on hand to discuss all matters Masonic, apprise the attendees of recent Provincial and Grand Lodge initiatives and answer any questions or concerns expressed by individuals. Principal guest, Deputy Provincial Grand Master Philip Gunning, threw himself heartily into his allotted role, darting hither and thither amongst the groups of Masons awaiting the opportunity of a chit-chat.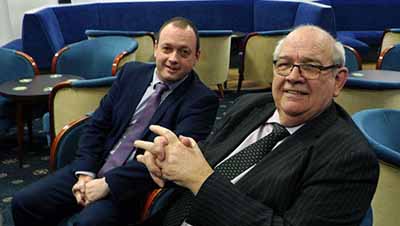 Supporting Philip in his mission were Provincial Grand Secretary Peter Taylor, Assistant Provincial Grand Master Duncan Smith, Assistant to the Provincial Grand Principals David Barr, Past Provincial Senior Grand Warden David Asbridge, Past Provincial Junior Grand Warden Barrie Dickinson, Blackpool Group Chairman David Cook and his vice chairman Steve Jelly. Other group officers were also in attendance to complete the all-inclusive knowledge base for the evening. But the principal protagonists on the evening were the members of the general proletariat who had assembled to express their views and ideas; no doubt providing the grandees with plenty to think about. It was that component that made the event so successful. After all, that was its primary aim.
The serious business having been concluded, it was time to relax and dine. Desultory chit-chat continued during each prodding of a crispy roasted potato and absorbing of roast beef; right the way through to the luxurious desert and nip of coffee. It was then time for the traditional toasts and responses which are a recognised major element of the banquet. 
Despatching the prescribed formal toasts with customary reverence, group protocol demanded a toast to the principal guest. The honour was bestowed on Tom Cunningham, master of Blackpool Temperance Lodge No 5303. Tom is made of the right stuff for such an assignment. He is a precise sort of chap who, when charged with a task, will throw his whole weight behind it to ensure a first class outcome. You know the sort, reliable and dependable to the hilt. And what he produced on this occasion was perfection in detail.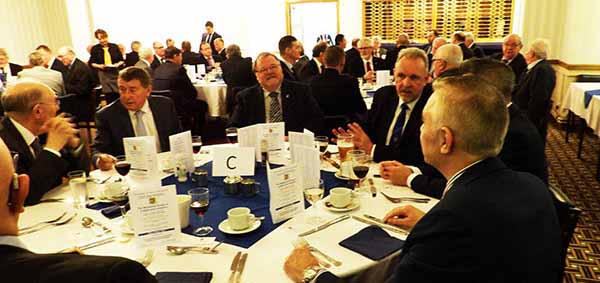 In response, Philip Gunning displayed his masterly eloquence in speechmaking, apprising his audience on the success of UGLE's recruitment drive and other initiatives, both from UGLE and the Province.
The toast to the group was also in safe hands, if that's an appropriate term when referring to an oration; those of Past Provincial Senior Grand Warden David Asbridge. His articulate delivery was equalled by Blackpool Group Chairman David Cook's structured and gracious reply.
Had the Duke of Wellington or other great military strategists been present, they would have nodded approval at the efficient and crisp way in which the evening had been conducted. All were noticeably content that the occasion had achieved its aims and had done so in a cheery and grand fashion.