As soon as the end of the lockdown was announced, Andy Baxter WM of Hartington Lodge No 1021 began to organise a BBQ to provide Freemasons and their partners of the Furness and South Lakeland Group a chance to simply get together and enjoy socialising once again. Andy and his wife Julie had missed this aspect of Freemasonry and had spent the last month counting down the days!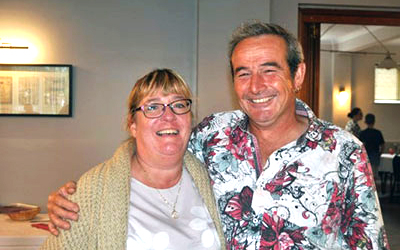 Never missing a chance to indulge in an event for a charitable cause, Andy, who was assisted by his hard-working secretary Ian Thompson and all the brethren of Hartington Lodge quickly decided to focus their attention on raising money for the Oncology Department at Furness General Hospital.
The afternoon was a great success as all who attended were catered for with a wonderful BBQ provided by Christine and Terry Carlos. The visitors included a good number of youngsters who were also provided with free hot-dogs. They were able to play football and skittles outside, whilst inside, a few were brave and had their faces painted, while others found the energy to use the bouncy castle. Also, on loan from Hindpool Lodge No 1225, playing a lively selection of music in a very professional manner was Paul Musgrave.
Adding to the occasion was Paul Rose of Dalton-in-Furness Lodge No 6828 who brought along a selection of lovely owls from The Owl Sanctuary, which proved very popular with the adults as well as the children.
Ian Thompson was delighted with the social and sent a message of thanks to all the group secretaries: "On behalf of the WM and all the brethren of Hartington Lodge, can you please pass on our heartfelt thanks to all the brethren and their families who supported our BBQ on Sunday, either by attending or making a monetary donation.
A total of £1,343.79 was raised, all of which is to be donated to Furness General Hospital Oncology Unit and will go to help them in their endeavours. Thanks were also due to Tony Cassells who sold some of his 'lockdown produced' paintings on the day, raising over £90 which he also donated to the fund.
Hopefully a great day was had by all despite the weather. It was such a pleasure to see and meet up once again with all the brethren and their wives/partners after such a long lay-off. Once again, our sincere thanks."