Casey McCormack decided to act on a long-held desire to find out more about Freemasonry. A relative had once told him of the beneficial effects the Craft had on society in general and individuals in particular, and also the great satisfaction he derived from being a member. As a result of this, Casey thought he would like to be associated with such a philanthropic organisation.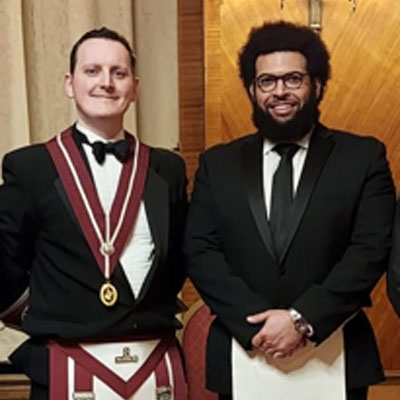 On contacting Provincial office, he was referred to the membership team who, with the Gladstone Group Membership Officer Malcolm Hodgson, decided that Casey was a fit and proper person to be made a Mason. Malcolm was then tasked with the job of finding a suitable lodge.
Lodge profiles were scanned and compared to Casey's and it soon became clear that Lodge of Grace No 6418 would be a good match. The lodge secretary and membership officer were contacted and a meeting with Casey was arranged which went to the satisfaction of all concerned. A further meeting was arranged and after the visiting brethren reported back to the lodge, Casey was invited to join Freemasonry.
All went well until COVID-19 raised its ugly head again and everything was once again put on hold. Finally, circumstances improved and after many months delay, Casey arrived at the Britannia Adelphi Hotel for his initiation, (an hour early!), nervous and curious but excited with anticipation.
Unfortunately, the WM Daniel Senneck could not attend the meeting, (the first he had ever missed!) and Rob Menzies took his place. He and the rest of the team performed a wonderful ceremony and ensured that Casey's Masonic career got off to a great start. He paid commendable attention not only to the words of the master but also to the whole ceremony, including the explanation of the working tools given by Alan Morris and the first degree charge jointly delivered by Alan and Kieran Senneck.
After being congratulated by the WM, Casey proudly took his place in the lodge wearing his entered apprentice apron and declared that he had thoroughly enjoyed the unique experience of initiation and was looking forward to the next ceremony.
The brethren of the lodge all wished Casey well for his future journey in Freemasonry.