One of the perplexing things in life, amongst the many of them, is that while airily jogging along there suddenly occurs a moment that is instantly recognisable as a high spot.
Something tells us that it is going to be impregnated on the memory and will come back to us at intervals down the years, eerily popping up at a moment when we least expect it. Such a moment occurred at the outbreak of the COVID-19 pandemic.
Things were jollying along and we were full of beans as we congregated with colleagues at lodge meetings. But then things went topsy-turvy, as if we had just been smacked over the back of our heads with a 20-pound frozen salmon – lockdown, isolation, quarantine – not what we were used to. The vulnerable in society were particularly affected. Many were reliant on their local community for the necessities in life. It was a dark period for many.
But, like all good Hollywood movies, heroes came to the forefront in times of crisis. One such knight in shining armour was the President of the Blackpool Masonic Club Colin Goodwin. No sooner had the virus raised its ugly head and the World Health Organisation (WHO) announced that we were facing a pandemic, Colin immediately signed on to attend a mental health first aiders course in order to assist fellow Masonic members who may have had concerns. He passed the course with flying colours.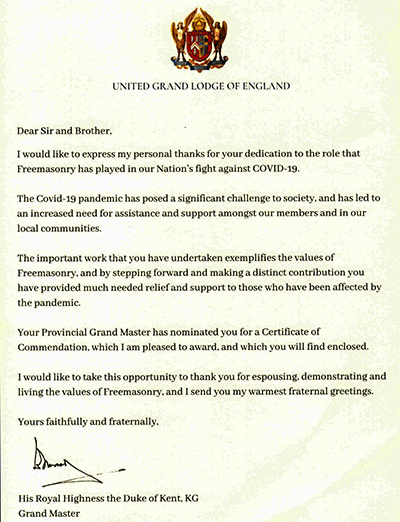 Not one to sit idly twiddling his thumbs, as part of the Blue Skies Charity he organised collections of money and items for the use of frontline nursing staff on the COVID wards at Blackpool's Victoria Hospital. As a member of the volunteer Corners Court support system, Colin also attended the Blackpool Coroners Court, assisting with bereaving families and recording inquests and dealing with professionals who attended to give evidence.
At the Masonic hall, he assisted in running the food bank appeal that had been initiated by the Provincial Grand Master Tony Harrison, collecting and distributing 1,000s of items that Masonic brethren had contributed.
Spreading his super hero cloak further afield, Colin, as Chairperson of Fleetwood RUFC organised the day to day running of the club and assisted in the arrangements for a nurses' organisation to use the premises, primarily in the training of nurses to perform the duties of ambulance crews.
Colin quietly (well, fairly quietly) got on with his community work, in the spirit of the Scarlet Pimpernel – they seek him here, they seek him there, they seek him everywhere – little knowing that his labours were being observed and recorded.
They had been noticed to such a degree that our Grand Master, His Royal Highness the Duke of Kent, wrote to Colin and bestowed on him a Certificate of Commendation in recognition of his outstanding contribution to Freemasonry's role in our nation's fight against COVID-19.
Colin was speechless – yet another first in the history of Blackpool Masonic Hall! But having said that, there was a strong squad of Masons to congratulate him and express their veneration of his efforts. Hearty congratulations Colin – a good win for Goodwin!