The March 2022 meeting was a special evening for all the members of Carnarvon Lodge No 2376, as it was the celebration of the golden jubilee in the Craft of their very own WM, Michael Norris. It was great to see several visitors present especially the masters of other lodges from 1987/1988, the year Michael was first installed as master of New Hall Lodge No 5940. They had turned out in full support on this occasion having been great friends during the intervening years.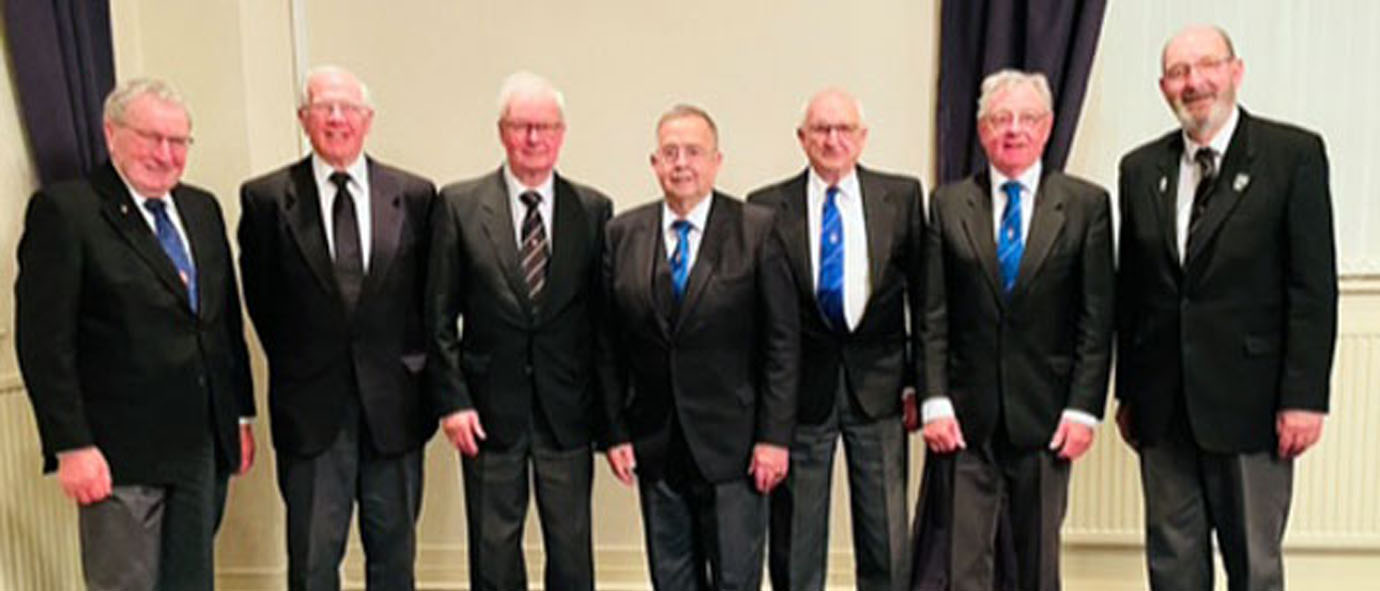 The celebrant himself took the chair and opened the lodge in his usual efficient manner and after the initial business was completed, it was reported that Assistant Provincial Grand Master Peter Lockett demanded admission to the lodge. After entering the lodge, Peter was greeted by Michael and, as is custom, was offered the gavel, which on this occasion Peter was delighted to take. He then proceeded with the next order of business which was to celebrate Michael's 50 years in Freemasonry.
Michael was seated centre stage in front of the master's chair ready for an enjoyable and comprehensive review of his life story. Peter began by remarking how nice it was to see so many brethren present sharing in Michaels's special occasion, a wonderful milestone on his Masonic journey to which he can now add 'golden jubilee' into his portfolio.
He then took those assembled back in time to the year 1945, a very important year in history for a number of reasons. King George VI was on the Throne, the Prime Minister was Clement Atlee, who had taken office on 26th July that year, the 33rd President of the United States was Harry Truman and the head of the Catholic Church at the time was Pope Pius XII.
Meanwhile in August 1945, in Eaves Lane Hospital, Chorley, Mrs. Norris gives birth to a son to be named Michael. Whilst in hospital, Michael's mother was told that the war with Japan was over, and almost a year after Michael was born his father returned home from Singapore.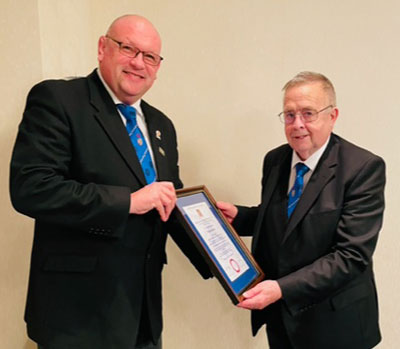 After moving to Chorley, Michael attended Highfield Junior School followed by Southlands Secondary Modern. As a boy he was a keen member of the cubs and scouts in the 1st Trinity Methodists Group. Michael left school aged 15 and started to work for the North West Gas Board as an apprentice gas fitter. He attended Alison Hall College of Further Education along with Eric Nixon and David McClusky. At the time all unaware that they would later become great friends as Freemasons.
Aged 20, Michael left the gas board and went to work for his father's company, Golden Eagle Asphalt of Chorley. His duties took him all over the country. In 1977, he started his own company along with two cousins, NBC Asphalters based in Wigan. He developed the business, undertaking a lot of work in the Cheshire area. The company grew through the acquisitions of Boydell Asphalt in Bolton and East Lancashire Asphalt in Blackburn, and was eventually bought out trading as Advanced Asphalt Group. Michael was retained as contracts manager, staying for three further years.
Michael met his wife Barbara in the early 1960's at a dance at Rivington Barn and they were married at St John's Church Whittle-le-Woods. Barbara's father was a member of New Hall Lodge. Michael and Barbara have two children, Andrea and Paul.
Michael's hobbies include anything to do with bricks and mortar and he built his own bungalow on land provided by his father. However, Michael decided that the bungalow wasn't big enough, so he took the roof off and turned it into a house. This was the family home for nearly 56 years to which was later added a double garage in order to 'house' another hobby, that being a 1961 Jaguar Mark 2. Michael is also a member of the West Lancashire Classic Car Club. All this in addition to having been a keen water skier belonging to the Southport Water Ski and Power Boat Club and owning his own power boat. Certainly an action packed life in every respect.
Peter then moved on to Michael's Masonic career and asked the lodge secretary Graham Roberts to read from the minutes of the meeting that recorded Michael's initiation in 1972.
Michael was proposed by Tom Marston, seconded by George Marland and initiated into New Hall Lodge on 15 March, 1972. He was passed to the second degree on 18 October 1972 and raised to the sublime degree of a master Mason on 12 May 1973. He served New Hall Lodge as master twice, in 1988-1989 and again in 2001-2002. He also served as director of ceremonies for five years. The lodge amalgamated into Carnarvon Lodge on 18 December 2006. Michael has also been a member of the Phoenix Lodge of Installed Masters No 9206 and Quingenti Lodge No 8516, which is the Provincial Grand Stewards' lodge.
Michael was honoured by the Province in May 1992 when he was appointed a Provincial Grand Steward and promoted in 1996 when he received the rank of Past Provincial Senior Grand Deacon. In 2003 he was further honoured, receiving the rank of Past Provincial Grand Superintendent of Works. He has in the past been a companion of Cuerden with Withy Royal Arch Chapter No 7733 and is a member of another Masonic Order.
Peter concluded by stating that there is no doubt at all that much of Michael's life has been an example of what makes a good Freemason, as well as a good citizen, a good husband, a good parent, and, in every way, a contributor to society as a whole, as well as a good ambassador for Freemasonry. Peter then asked David Bishop, Vice Chairman of Chorley and Leyland Group, to read to Michael a certificate, which was an acknowledgement of the Province of West Lancashire's great appreciation of his half a century of membership of the Craft.
The main order of business being concluded, Peter on this occasion handed the gavel back to the assistant director of ceremonies David Robinson, to allow Michael to parade out of the lodge with Peter. David swiftly dispensed the rest of the lodge business so that everyone could retire to the dining room to continue the evening in the more relaxed setting of the festive board.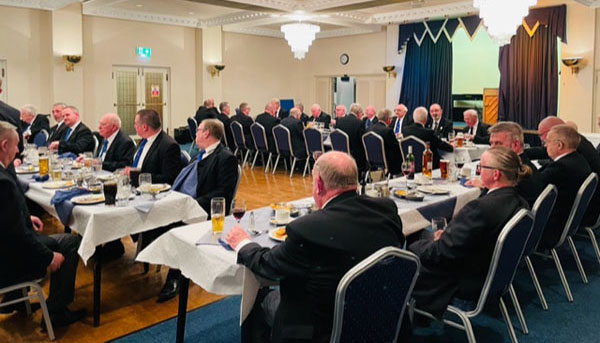 The brethren were delighted to hear from Neil Hartley, visiting Carnarvon Lodge on this occasion, although himself a previous master of the lodge. He commended everyone for the way the business was conducted and remarked that it had been the first time he had seen three people occupy the worshipful masters chair in quick succession.
It was at the festive board where the achievements of Michael were continued to be heard, through a toast to his health proposed by Adam Dennett, who thanked Michael for all the hard work and dedication he shows to the lodge. Adam particularly commented on Michael building a practice lodge room within his garden during lockdown, which provided the lodge with a home during uncertain times. It was in this toast that Michael was presented with a 50-year badge for him to wear with pride showing the achievement of this major milestone in his Masonic career which Michael described as 'reaching the pinnacle'.
A bittersweet end to the evening was made as Michael thanked the lodge's director of ceremonies, Des Sherliker, who was moving on to pastures new. Michael wanted to place on record the thanks from all the lodge members for the great work he has done with Carnarvon Lodge and wished him well on his new journey. Notwithstanding the loss of their DC, all were agreed that it had been a most enjoyable evening celebrating the golden jubilee of one of the stalwarts of the lodge.