A jubilee celebration is always an occasion to savour and none more so than the one which took place over in Leyland at Eccleston Lodge No 7754. This meeting was a 50th year celebration for Colin Gill who was initiated into the lodge in December 1968. On the night Colin was honoured by Assistant Provincial Grand Master Stewart Seddon being on hand to carry out ceremonial proceedings.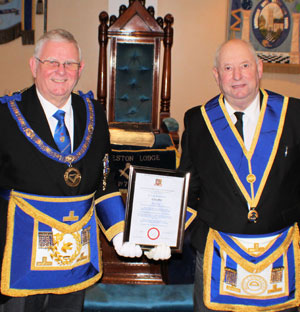 The evening was also a memorable one for Colin's son David who is the current WM of the lodge and once the lodge had been opened in exemplary form by the WM and his officers, he allowed Stewart admission to the lodge. Stewart entered into the lodge room in procession with a number of current acting Provincial grand officers who were led in by two Provincial Grand Stewards; John Anderson of the Leyland Group and John Riley of the Chorley Group. He was also accompanied by Chris Blackwell the Leyland Group Chairman. Each took to their seats before David welcomed Stewart to the special meeting. He offered him the gavel of the lodge as is his right and on this occasion, Stewart retained it for the purpose of celebration.
Stewart took to the chair of King Solomon and thanked everyone for welcoming him into the lodge. He asked if everyone was sitting comfortably and ensured that the tyler was in the room. The next item on the evening's agenda was to celebrate 50 years in Freemasonry by Colin Gill PPrDGSuptWks of the Province of West Lancashire.
Everyone present in the lodge room had clearly known Colin for a number of years and there were many visitors there to witness proceedings and to ensure that Colin had a great time. They had been summoned to this special meeting to honour and pay tribute to one who has served the Craft, loyally and faithfully for 50 years. Stewart started by saying that he had recently visited Colin's home just down the road, where he learned a fair amount about Colin Gill the man. He asked the Provincial Deputy Grand Director of Ceremonies to place the celebrant before him so that it would be easier to address him.
Stewart then took everyone back to 1937: George VI was on the Throne following his brother's abdication and was crowned in Westminster Abbey on 12 May. Stanley Baldwin was Prime Minister of a coalition government but retired from office on 28 May to be replaced by Neville Chamberlain. Frank Whittle tested the first jet engine designed for aircraft; the 12-sided threepenny piece came into circulation; the IRA made an assassination attempt on the King whilst he was visiting Belfast; the 999 emergency telephone number was introduced; J R R Tolkien's 'The Hobbit' was published and the first issue of 'The Dandy' with Desperate Dan hit the shelves. The highlight of the year so far occurred on the 3 February at Euxton when Mrs Mary Gill (nee Grimshaw) gave birth to a son to be named Colin.
Colin's contemporaries include: – Boris Spasky the Russian Chess player; From Film and Theatre: – Vanessa Redgrave; Jack Nicholson; Una Stubbs; Brian Blessed and Dustin Hoffman; Entertainers: Peter Cook; Jim Bowen and Shirley Bassey; From the sporting world: John Edrich; Gordon Banks and Bobby Charlton.
Colin's father Thomas was a farmer and mum naturally a farmer's wife where home was at Nook Farm, Altcar Lane, Ulnes Walton. Colin attended Ulnes Walton primary and junior schools until he was 11 and then it was off to Leyland Secondary Modern (now Wellfield) to 15. Academia wasn't for Colin although whilst at school he did enjoy cricket, playing for the school as an all-rounder. Around the time he started at senior school his father bought his grandad's farm, Low Farm on Leyland Lane, Ulnes Walton, and on leaving school Colin had ideas of being a joiner but dad had the final say and so it was farm work.
The farm was mostly pasture and with cattle, pigs and poultry to see to and therefore hard work was the order of the day. Colin later kept bees, racing pigeons and in the winter stabled donkeys from Blackpool. In 1964 there was a big fire at the farm resulting in over 100 pigs being killed.
In 1973 there was another blow to the family farm, The Central Lancashire Development Corporation compulsory purchased the farm in readiness for the new town development and rented it back to them on a renewable six-month licence with conditions that only cattle could be kept. Eventually the CLDC decided they didn't want the land and sold it back. As a young man there was however some time for relaxation and that came in the form of Saturday night dancing at Eccleston Church Hall. Needless to say, Colin's attention was drawn to a young lady called Barbara Blackstone – a name synonymous with Eccleston Lodge as the name of one of the lodge's founders and a past Leyland Group Chairman.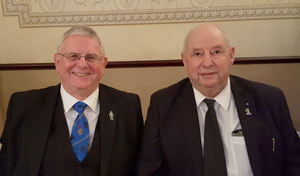 Barbara was John Blackstone's cousin and Colin had known her from childhood. Their relationship blossomed and they were married at Croston Parish Church on 15 September 1962. They honeymooned for a week at the Endray Hotel in Llandudno before returning to the farm. David was born in 1966 followed by Alison in 1969. There are four grandchildren Michael, Gillian, Emma and Janet.
In 1977 the farm was sold and John Blackstone rented Colin and Barbara a shop which they turned into a general store. The business grew to such an extent that larger premises were required and he bought the Co-Op shop in Croston which was eventually sold in 1987 due to Barbara having medical problems. They then moved to Leyland and Colin began work at Surridge Dawson wholesale newspaper distributers and when that firm closed it was off to Pemberton's at Preston where he was responsible for the maintenance of their vehicle fleet. Colin also started making garden furniture, which was still a passion from leaving school, for Auldene Garden Centre and fully retired about five years ago.
Colin and Barbara enjoyed plenty of holidays after selling the farm travelling extensively through Europe on coach trips and then cruising the Med, Canaries and Norway enjoying a very good Masonic get-together on the QE 2. Sadly, Barbara passed away on 3 June 2015 which was a great loss to Colin.
Besides John Blackstone and son David there are other Masonic relatives. Colin's uncle Jim was the first joining member of this lodge – he wanted to be a founder but hadn't been a member of Farington Lodge No 7277 long enough to qualify. Colin didn't know that his uncle George Grimshaw was a Mason until he visited Euxton Lodge No 7192 and saw him sat there. Cousin Derek Brierley who now lives in Cornwall is also an honorary member of Eccleston lodge.
Colin was initiated into Eccleston Lodge on 19 December 1968 and became WM on 19 October 1978. He had the pleasure of not only proposing but also initiating his son David into the lodge on 20 November 2003 and installing him into the chair of King Solomon on 21 October 2010. He delivered the address to the master to him in October 2018 when he took the chair for a second time. Colin was senior warden for two years from 2014 to 2016 and served as almoner of this lodge from 2010 until the installation in October. Colin was a founding member of Runshaw Lodge No 8537 on 31 January 1974. He is a member of Hesketh Chapter No 986 having been exalted on 13 May 1980.
Colin was honoured by the Province in October 1989 with the rank of Past Provincial Assistant Grand Director of Ceremonies and promoted to the rank of Past Provincial Deputy Grand Superintendent of Works in May 2017. Stewart then stated that Colin's entire life had been an example of what makes a good Freemason, as well as a good citizen, a good husband, a good parent and a contributor to society. He went on to say that there is no doubt that during the last 50 years, anyone who happened to learn that he was a Freemason, could not fail to see Colin as anything other than a good ambassador for our Order.
Stewart then asked Chris Blackwell, Chairman of Leyland and District Group, to read a certificate which is an acknowledgement of the Province of West Lancashire's great appreciation of Colin's half century membership of the Craft. At which point Stewart then presented the certificate to Colin acknowledging him for 50 years in the Craft. Stewart then handed the master's chair to David and then left the lodge room along with Colin and the entourage.
David closed the lodge and everyone reconvened in the dining room. Here Stewart presented the evening's script and once again thanked Colin for his service to the Craft. David then paid tribute to his dad by saying that he had a wonderful heart and he thanked him for supporting him throughout his life as a child growing through his informative years and onwards through and onto, and within, the Craft.

In turn Colin thanked the members of the lodge for their friendship and support too. During his speech Colin regaled a couple of anecdotes which can only be retold if you are to ask him. These stories included numerous packets of crisps and a school crossing lollipop lady. An emotional Colin thanked everyone for turning up on his special night and said he looks forward to the next 50 years.