The members of Wyreside Lodge No 2605 and the friends of Stanley (Stan) Naylor, gathered together to celebrate Stan's 50 years in Freemasonry. The celebrations were led by Assistant Provincial Grand Master Keith Kemp. Keith was accompanied by grand officers Peter Greathead and Jim Woods, together with Lancaster and District Group Vice Chairman Scott Devine as well as the group secretary Chris Larder. Also in attendance on this auspicious occasion were acting Provincial grand officers Paul Mason, Andrew Curwen and Ben Yates. Keeping everyone in line was Provincial Deputy Grand Director of Ceremonies Ian Halsall.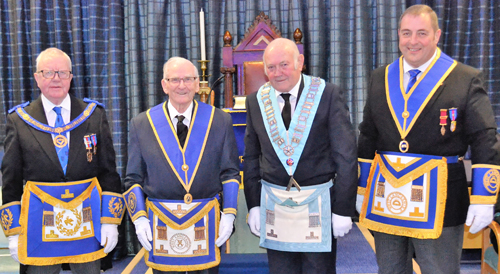 WM Ronald (Ron) Rich opened the proceedings and conducted the business of the lodge. On entering the lodge room, Keith was offered the gavel and on this occasion, he gratefully accepted it.
Keith began by stating that tonight's meeting is about celebrating 50 years as a Freemason for Stan Naylor, adding that to be a member of any organisation for 50 years is a remarkable achievement and something many present would not achieve, himself included.
In order to appreciate Stan's length of service, Keith reiterated some of the events in 1969, when Stanley took his first steps in Freemasonry. These included, Neil Armstrong becoming the first human to step on the moon, Richard Nixon becoming the 37th  President of the United States of America, the Beatles gave their last public performance, Robin Knox-Johnston became the first person to sail around the world without stopping and entirely on his own and on the day that Stanley was initiated into Wyreside Lodge, 15 April 1969, an unarmed American reconnaissance aircraft was shot down by a North Korean MIC-21 jet fighter over the Sea of Japan, killing all 31 servicemen on board.
Keith then asked Ian to place the celebrant before him and having first made sure he was sitting comfortably, he opened the rest of his address by recalling some of Stan's familial details. Stan was born in the Liverpool on the 9 December 1928. At the age of just over three years old, his parents moved the family to Preston and Stan has lived in that area for most of his life since.
Stan attended Broughton Junior School from 1936 and later Moorside Methodist School, because the Education Authority considered it was nearer to his home. In due course Stan qualified for Preston Grammar School which he left in 1945 to join the firm of Parker Edwards and Co, as a trainee accountant. However, Stan did not remain long at this company, as it had always been his ambition to be a farmer.
He went to work at Whitelea Farm, at the foot of Beacon Fell and spent five very happy years there. It was whilst working at the farm, he met his future wife Annie Rhodes and in 1950 they were married at St James Church, Whitechapel, a church he still attends to this very day. Stan and his wife have two children, six grandchildren and seven great grandchildren.
In 1955, Stan changed his profession again and went to work for Firestone Tyres as a warehouseman. In 1980 Stan moved to Central Tyres in Lancaster. In time he was head hunted and British International Tyre Supplies asked him to open a new branch in Bamber Bridge from scratch, and remained as their sales manager until he retired in 1993.
At this juncture, Keith asked the lodge secretary for an extract of the minutes from Stan's initiation meeting to be read out, at the completion of which Keith moved on to detail Stan's Masonic career.
Stan became WM of Wyreside Lodge in 1982 and his services to Freemasonry were recognised with a promotion to Past Provincial Assistant Grand Director of Ceremonies in 1992.  In the Royal Arch Stan joined Scorton Chapter No 5791 in 1990, but found it necessary to resign in 2006.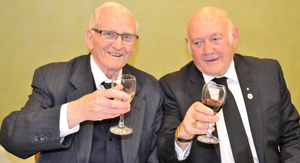 Keith completed his address by formally conveying the congratulations of the Provincial Grand Master Tony Harrison before asking Scott to read the commemorative certificate that the PrGM had caused to be issued. It was Keith's pleasant duty to actually present Stan with his certificate marking his golden jubilee as a Freemason, adding that he wished Stan good health and continued happiness in all that he does.
At a well-attended festive board held in the Wyrebank Banqueting Suite, Scott stood to propose a toast to Keith, who was very gracious in his reply, but was insistent that the focus of the evening should remain with Stan's celebration of his 50 years in Freemasonry.
John Smith, a member of Wyreside Lodge and Stan's nephew toasted his uncle's remarkable achievement and praised his generosity and commitment to his family.
In an emotional reply, Stan made reference to all the nice people he had met over the years and thanked all the brethren present for taking the time to be at his celebration evening. Stan was particularly grateful to the lodge for presenting him with a watch to mark his 50th anniversary.
A fitting end to such a wonderful day.

Article and photographs by Paul Thompson.