Roger Dimeloe, a member of the Lodge of Lights No 148, has celebrated 50 years in Freemasonry. When he was approached regarding how would he like to commemorate this special celebration he responded by saying he would prefer to have an informal meeting at his home. To this aim Kevin Poynton, Assistant Provincial Grand Master, Andy Barton, Warrington Group Chairman, accompanied by two representatives of the lodge, the WM Dr David Harrison and the SW John Starkey, attended an informal meeting at Roger's home.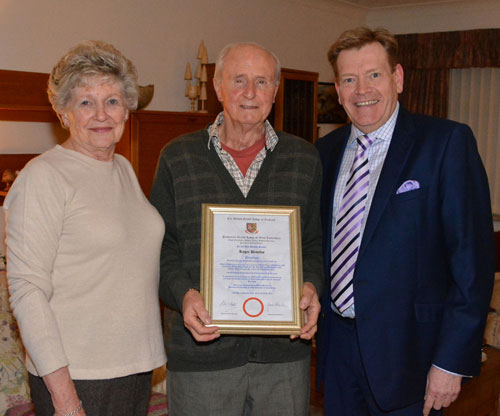 Roger was born in the summer of 1942 in Lower Whitley, being one of six, to a family with an agricultural background. He moved to Appleton at the age of nine and attended local primary and secondary schools. Upon leaving school he gained an apprenticeship as a joiner and worked within the building trade for several years.
Roger continued with his further education by attending night school. Later he moved away from working with the tools of his trade but stayed within the built environment by taking a post with Local Government as Building Inspector. Still continuing with his further education, he moved to several authorities until finally completing his working life as Building Control Manager in Warrington.
Roger, a very happily married man to his lovely wife Pamela (Pam), they have an adult daughter Janine who is married to her husband Clive. Janine lives in the north of Scotland and is a centre manager with the Forestry Commission.
Roger was initiated into Freemasonry in 1968 into Winmarleigh Lodge No 6101. His proposer was a Mason by the name of Frederick (Fred) King, Roger's father-in-law. Pam informs us that she was well versed in attending Masonic functions and encouraged Roger to take up ballroom dancing. Pam at this time was already well accomplished in ballroom dancing, so as you can imagine Roger had his work cut out living up to the expectations of Pam and Fred, which he did with aplomb.
Roger went through the usual stages of climbing the ladder, eventually attaining the chair of King Solomon in November 1978, again in1991 and for a third time in 1998. In the years between being in the chair and immediate past master he was very actively involved in the director of ceremonies role.
Winmarleigh Lodge decided to amalgamate with Warrington Lodge No 6987 and Good Companions Lodge No 7531. Roger worked with other lodge DCs to establish common practices between all three lodges, which were adopted by the new Optima Lodge No 6101 in 2006. Unfortunately, Optima had a comparatively short life at which point Roger joined the Lodge of Lights.
As for his Provincial career, he was awarded Past Provincial Junior Grand Deacon in May 1987 and promoted to the very high rank of Past Provincial Junior Grand Warden in October 1995. Meanwhile Roger had become a founder member of Mersey Valley Lodge of Installed Masters No 9057 in 1982. Roger became a companion of the Old Masonians West Lancashire Chapter No 7702 in 1994 and occupied several offices during his years of membership.
Roger enjoys a couple of hobbies in which he admits he is not as active as he would like to be. These include woodturning, (ample demonstrations of his woodturning prowess were in evidence in the home) and gardening, particularly flowers, which is also shared with Pam, who as past president of The National Association of Flower Arrangement Societies (NAFAS) was very active and included lecturing in the subject.
Kevin brought with him a certificate signed by the Provincial Grand Master Tony Harrison, recognising Roger's achievements and thanking him for his 50 years of dedicated service to Freemasonry. Andy read the narrative on the certificate and Kevin then presented it to Roger. Roger remarked he was highly delighted to receive the certificate and had enjoyed their company which had brought back many happy memories.
Everyone who attended Roger's home was delighted to share in marking this milestone for a great man and a true Mason.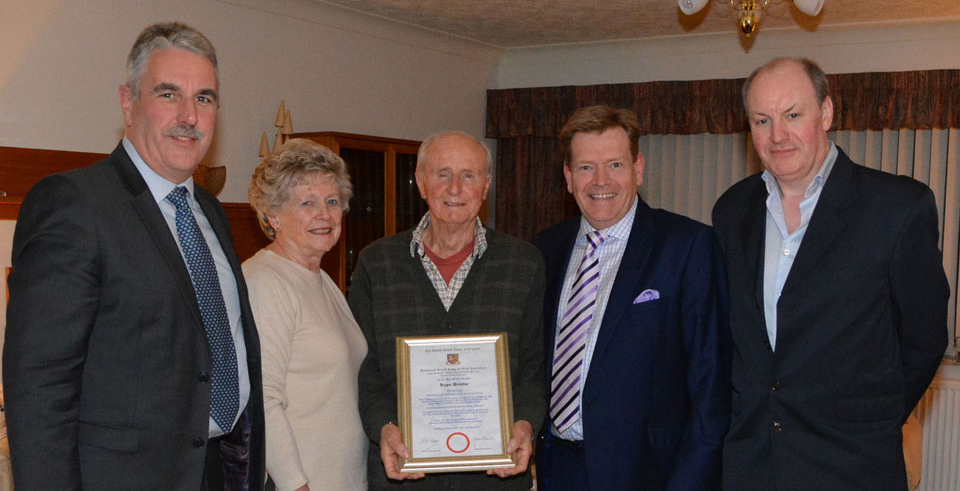 Story and pictures by John Starkey.