Well over 120 members and guests of Ashmole Lodge No 5128, visited Warrington Mason Hall to celebrate with Eric Drinkwater, his 50 years in Freemasonry. The principal guest on this very special occasion was the Deputy Provincial Grand Master Philip Gunning, accompanied by two Past Assistant Provincial Grand Masters, Dennis Rudd and Tony Bent, with 11 grand officers and three acting Provincial grand officers, too many to name individually. Eric was also supported by Keith Beardmore, Provincial Grand Master of the Mark Masons along with several high-ranking officers from various Masonic Orders.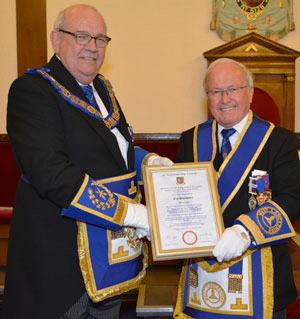 The lodge was opened in due form by the WM Brian Wilson, and the usual administration was undertaken. Shortly afterwards, with the lodge still in the first degree, it was announced that Philip Gunning was without and demanded admission. Philip was then admitted in due ceremonial style.
Brian welcomed all present saying it was a great honour and privilege to welcome Philip, grand officers and acting Provincial grand officers. He continued by saying he hoped everyone would have an enjoyable evening.
Philip thanked Brian and the brethren of the lodge for their very warm welcome and commented that he felt privileged and honoured to witness the celebration of such a long-standing member of the Craft. Philip continued by bringing the sincere good wishes of Tony Harrison the Provincial Grand Master.
Brian, as a matter of procedure and as a mark of respect, offered Philip the gavel, which on this occasion he was delighted to accept and occupied the chair. Philip requested Eric be presented to him and he was seated facing the pedestal.
Philip started by painting a picture going back to 1943, the year of Eric's birth, by saying the war was at its height but indications were that the allied forces were starting to turn the tables. Eric was born in the same year as some famous people including John Major, Mick Jagger, John Denver, Michael Palin and George Harrison just to name a few. Eric was the middle child of three, one being five years younger and one five years older. Eric left school at 15 years of age having attained the accolade of being made head boy and gained the final form prize for mathematics.
Eric started work as an apprentice motor mechanic and even at this age was demonstrating his entrepreneurial skills by undertaking motor repairs in the evening time, until his employer became aware of his moonlighting.  This led to Eric moving to a different employer and eventually to him becoming self-employed. Eric was at this time running a very successful motor repairs and a MOT accredited vehicle testing centre. He also set up a number of other businesses including a motor accessory shop, an oil delivery service and motor factors and so Eric's empire grew.

One other business he looked at was to set up an electrical/engineering company with his brother. This resulted in many lucrative years in business. This was focused on constructing mobile telephone towers in many remote locations.
The many notable successes within Eric's business career have also been replicated in his Masonic career. His very many successes include rising to the very high rank at Province to Past Provincial Senior Grand Warden in Craft Masonry, with very high ranks also in Royal Arch and other Masonic Orders. He has also been on the Board of the Warrington Masonic Hall Company and Chairman for several years.
Eric's contribution to Freemasonry, not only in the Warrington area, but also in the Province of West Lancashire has been exemplary with endless enthusiasm and boundless energy.
This trait is echoed throughout his life in business, Masonry and domestic situations. In Eric's private life he has been married to his lovely wife Tegwen for 52 years and they have two daughters, Kate (a lawyer) and Sara (a medical doctor) and two grandchildren. Eric says they are the centre of his life and likes to spend as much time as possible with his family. They have spent many happy times on the Llŷn Peninsula on outdoor activities, mainly sailing, windsurfing, water skiing and fishing.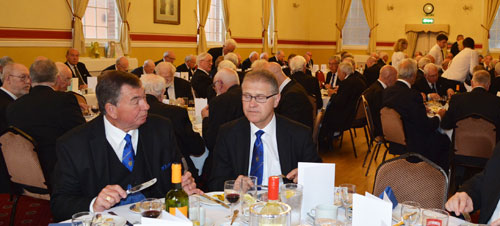 He has held a private pilot's licence (PPL) for several years and in his spare time enjoys flying his helicopter around the country, particularly with his family and friends.
John McIntyre, Warrington Group Secretary read the certificate, which was then presented to Eric by Philip to much and sustained applause. Philip in presenting the certificate congratulated Eric on such an outstanding Masonic career and thanked him personally for all the work he has undertaken not only in Warrington but also within the Province of West Lancashire.
The meeting was followed by a four-course meal of black pudding served with creamy pepper sauce, lamb noisettes with red wine jus, passion fruit crème brûlée with honey and thyme shortbread followed by tea or coffee. Red and white wines were served throughout the meal.
After the meal a raffle was held which raised £500 and Eric announced that the money would be split between North West Air Ambulance and the Blood Bikers.
Whilst Eric was enjoying his celebration at the hall, Tegwen along with many friends and wives celebrated by enjoying a meal at a local restaurant.

Story and pictures by John Starkey.