Usually, a term in office of four years is reserved for US Presidents, however the recent proclamation that David Coulson should continue as WM of De Bon Cuer Lodge No 6984, ensured that he will mirror some illustrious names from history by completing four years in the chair of the lodge.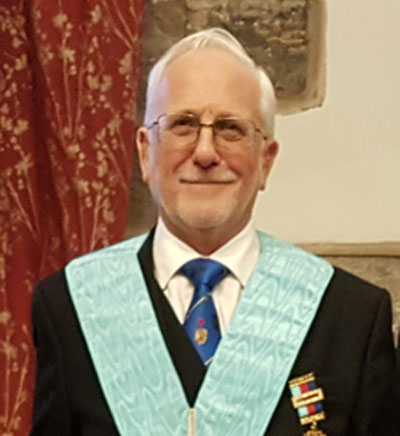 The members of De Bon Cuer Lodge met at the Ley Inn in Clayton-le-Woods and were joined by Geoffrey Porter, Chairman of Wigan and District Group along with Peter Allen and Dave Bishop, Chairman and Vice Chairman of Chorley and Leyland Group to celebrate David taking office for a further year.
It is most unusual for the master of a lodge to serve four consecutive years but a number of unforeseen circumstances, not least, the suspension of Masonic activities for over 12 months resulted in David agreeing to take the reins one again.
David has a long and storied history of Masonic membership, having joined Freemasonry in 1989 after, in his words: "Being booted out of Round Table for being too old." He is a member of Cuerden with Withy Chapter No 7733 and Aeon Mark Lodge as well as several other Masonic Orders and also currently serves as Royal Arch Mentor for the Chorley and Leyland Group.
Even with all this Masonic work, David still finds time for involvement in the local community and since 1986 has served variously as Chairman, Secretary and Treasurer of Skelmersdale Prize Band which recently secured second place in the national finals at Cheltenham.
David has also worked for many years behind the scenes on the Armistice Committees for West Lancashire Borough Council and Burscough Parish Council ensuring that his professional training was put to good use by installing PA systems each year for the annual services.
At the conclusion of a relatively short meeting, Geoffrey Porter congratulated David on his continuing as master of the lodge and he also made special mention of Philip Dixon who stood in at the last minute as director of ceremonies. He was also pleased to receive lodge donations of £100 to the Terry Derbyshire Blood Bike Appeal and £200 to North West Air Ambulance.
After the meeting everyone enjoyed an excellent meal for which David made a point of congratulating the staff of the Ley Inn.
When David was asked if he would make it five in a row, he replied: "It's not likely. Fortunately, we already have someone lined up to succeed me next year."
Given his tireless work in freemasonry and the community, it's unlikely there will be much time for a rest though.