Neil Curtis, the WM of Fairhaven Lodge No 5076, was born on 27 August 1954 and attended Ansdell Secondary Modern School between 1963 and1969. He is the managing director of The Bean Street Shellfish Company, running three seafood outlets at Blackpool Pleasure Beach. He is married to Patricia and they have two children.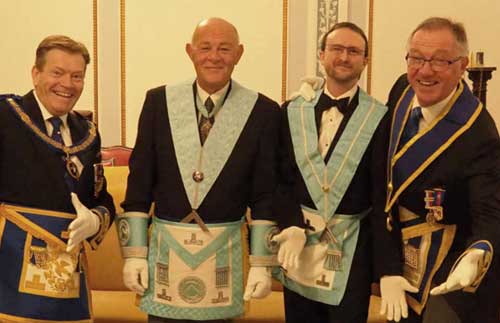 Neil lists his hobbies as photography, fishing and model truck building. His Freemasonry is a given, as since he was initiated in October 1980 he has been master of Fairhaven Lodge three times. The previous two occasions being 1987 and 1996. Neil even manages to blend his hobby of fishing into his charitable work by membership of The West Lancashire branch of the Masonic Trout and Salmon Fishing Charity. This organisation arranges days out fishing for youngsters with disabilities.
These fishing events are always supported by an assistant Provincial grand master, one of whom is Kevin Poynton, who was the principal guest at Neil's third installation into the chair of Fairhaven Lodge. Kevin was supported by grand officers Keith Jackson and Mike Goodwin. They were joined by Chairman of the South Fylde Group John Robbie Porter and three acting Provincial grand officers.
The meeting was opened and a letter of dispensation from the Provincial Grand Master Tony Harrison was read, as the date of the normal meeting had to be changed for administrative purposes. The business was quickly dealt with and Kevin Poynton and his entourage entered the lodge. Kevin was offered the gavel of the lodge by retiring master Andrew Harwood, who had completed two years in the chair, and Kevin returned it after a few well-chosen words of encouragement.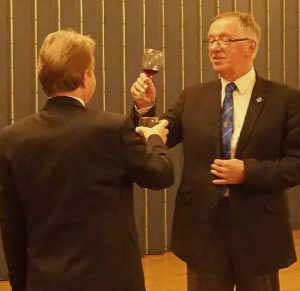 Neil was presented for his third installation by lodge secretary Kevin Burns, who himself had ruled for two consecutive years in 2009 and 2010. Neil is the first member to have been installed as master three times in the history of this lodge, which was consecrated in February 1929. Andrew then proceeded to install Neil in fine style with the assistance of Norman Prue of Landmark Lodge No 7273 as installing senior warden, Len Wiseman of Tithebarn Lodge No 8446 as installing junior warden and Derek Lewthwaite, master of Kirkham Lodge No 6615 as installing inner guard.
The installation ceremony proceeded apace as the brethren warmed to the task and fine explanations of the working tools were presented by David Arrow, Terry Stevens-Lewing and Andrew Harwood. Most moving of all, however, was the presentation of the Hall Stone Jewel. This was presented to the lodge by the Duke of Connaught, Grand Master in 1929, in recognition of the Fairhaven Lodge's donation towards the construction of Freemason's Hall in London. This building was built to commemorate the many Masons who lost their lives in WWI. The jewel was presented to the new master in a most moving piece of ritual by lodge chaplain, Robert Gregson, who was supported by lodge almoner Alan Brotherton.
The wardens were then installed by Norman and Len. The other lodge officers were appointed and Derek installed the inner guard. The address to the master was then delivered by Peter Robinson and this was followed by Kevin Poynton who delivered the address to the members of the lodge. Kevin then conveyed the good wishes of the Provincial Grand Master Tony Harrison and in so doing, congratulated Andrew on the way he had overcome his obvious nerves to deliver an excellent ceremony of installation. He also commended John Conroy on the way he had managed his first installation ceremony as director of ceremonies.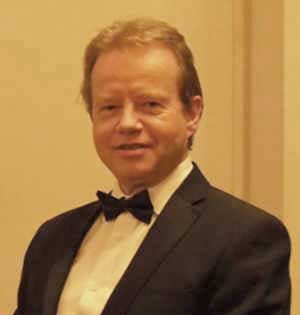 Cheques were then presented to Kevin on behalf of the Masonic Charitable Foundation 2021 Festival for £750 and to The June Hancock Mesothelioma Research Fund for £250. In accepting these cheques Kevin thanked the lodge members for their generosity on behalf of the eventual beneficiaries.
A very cordial atmosphere prevailed at the banquet after the meeting, where the toast to the grand officers was proposed by Brian Howarth. In response Kevin delivered his response with his customary mix of information and humour. Informing the brethren of the £1,000,000's donated to charities he went onto describe the difficulties in retaining members and how that could be down to poor communication and support. He welcomed John Robbie to his new role as group chairman and explained how hard he will have to work. He thanked the acting Provincial grand officers who had supported him in the persons of Norman Lay, Provincial Junior Grand Deacon, John Conroy, Provincial Grand Standard Bearer and Grahame Whattam, Provincial Grand Steward.
Kevin continued with some complimentary words to Andrew, who had done a fine job as master considering the difficult year he had experienced domestically. He congratulated Neil on starting his third year as WM and praised the three members for their delivery of the working tools. He continued by thanking Phil Bolton for his work playing the organ, also Robert Gregson and Alan Brotherton for their moving presentation of the Hall Stone Jewel.
Kevin concluded by explaining that he is responsible for leading an excellent publicity team of 21 group publicity officers who created 1,600 plus articles for a readership of 5,000,000 people, which created an advertising value of £245,000. This he said was down partly to group publicity officer Glenn O' Brien, who has just been appointed to the post of regional publicity officer and he and his team continue to work very hard.