City Lodge No 2514 was pleased to welcome many visitors from other lodges that meet within Woolton Golf Club. After a rocky start to the year, this must be declared as a highlight; to initiate a man and make him a Freemason is a very proud moment for him and his lodge. This was the first time in 10 years that the lodge had been privileged to receive a prospect.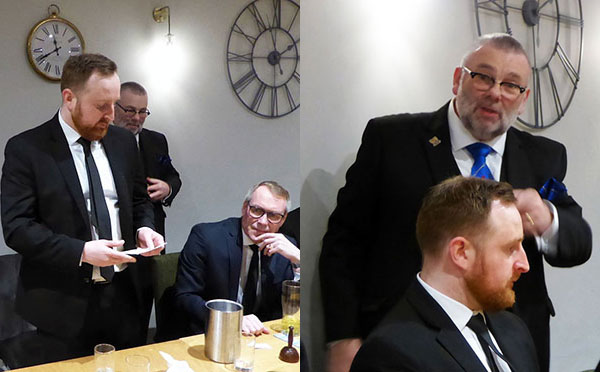 WM Phillip Summers opened the lodge and the usual business was despatched, after which officers who had not been present at the last meeting were appointed and invested. The secretary and treasurer retired from the lodge to attend upon the candidate and on their return informed the master that Andrew Sharkey had signed the declaration and paid the necessary monies.
The lodge tyler announced that the candidate was ready and after being announced in due form Andrew, accompanied by the junior deacon Stephen James Riley and senior deacon Eric Shepherd entered the lodge. The ceremony continued in fine form with some faultless ritual from the officers – after all, the lodge has had 10 years to get it right!
The working tools of an entered apprentice Freemason were delivered by the acting junior warden Ian Barton and the charge was impeccably delivered by senior deacon Eric Shepherd. After the ceremony was completed Andrew took his place among his brothers and was warmly welcomed by the WM.
The treasurer proposed that the sum of £220 be donated to the Ukrainian appeal and this was quickly and unanimously accepted by the brethren. The risings took place and the lodge was then closed in due form with the brethren singing the closing ode.
The festive board was a hearty occasion and enjoyed by everyone present. Andrew's proposer, Tom Arnold, proposed the toast to his health and Andrew responded by saying that he had, he thought, enjoyed his evening and looked forward to becoming an active participant within the lodge.
The lodge director of ceremonies Steve Riley sang the opening lines of the apprentice's song and the brethren joined in with gusto. Phil Gambrill responded to the toast to the guests. During a lull in the proceedings a raffle was held which raised the sum of £100 for charity.
As the saying goes: "All good things must come to an end", and so with the tyler's toast being delivered by Tom Lunt the brethren bid their farewells to friends and guests.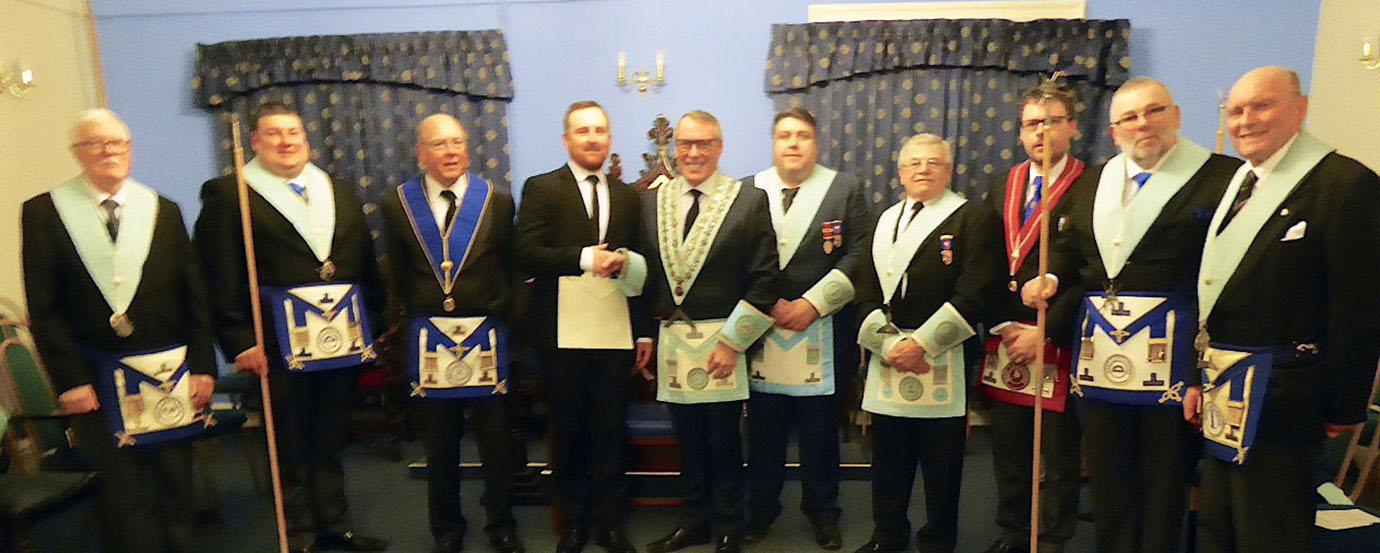 Article and photographs by Colin Roberts