A great start to the Province of West Lancashire's newest University Scheme Lodge! Preston Guild Lodge No 4408 was only appointed to be a UGLE University Scheme lodge in December 2022 but it has wasted no time in embracing the opportunity to bring Freemasonry to a wider audience.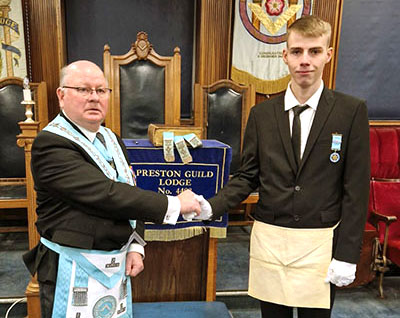 At its first lodge meeting since the appointment, two students became members of the lodge; one, a new initiate and the other a student migrating through the University Scheme. But the lodge retains its wider remit on membership and was delighted to welcome back into its number a lapsed member.
Radu Cheasea is a 20 year old student who is studying criminal forensics at the University of Central Lancashire (UCLan) in Preston. Radu is from Romania and it is from family connections back home where his interest in Freemasonry grew. He is very keen to get involved with the workings of the lodge and progress through the lodge. Radu is also very interested in the wider Masonic life in Preston and the Province, particularly through the 'Light Blues'.
Radu's ceremony was led by the WM Cliff Jones, ably assisted by an excellent team of experienced Masons. This ensured that he had a fine introduction to Freemasonry and enjoyed his first steps on his Masonic journey. A highlight of the ceremony was the 'Charge after Initiation', which was delivered with sincerity by Richard James.
Prior to commencing the ceremony, the lodge was delighted to welcome a joining member who had come through the University Scheme and had migrated to Preston Guild Lodge. Hugo Labat, aged 24, is studying medicine. He commenced his studies in Sheffield and was made a Mason at the University Lodge Sheffield No 3911. He has moved to UCLan to complete his studies and is seeking his first professional role in the area. Hugo is a fellow craft and Preston Guild Lodge is looking forward to raising him before the end of this season. To maintain the international theme, Hugo is originally from Mauritius. Heaven knows what he makes of our UK weather!

Whilst Preston Guild Lodge is firmly embracing the Universities Scheme, it will keep open its wider remit for the whole of Preston. To that end, also joining with Hugo was a former member of the lodge who, for reasons of a clash of commitments, had left in 2002. The call of Freemasonry remained strong however. David Hindle, upon learning that fabulous mantra 'Once a Mason, always a Mason', eagerly took up the opportunity to re-join. The lodge was delighted to welcome him home.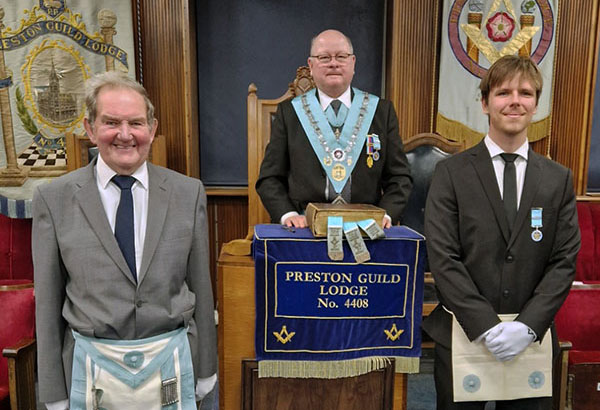 The lodge was also honoured by the presence of Peter Schofield who is the Assistant Provincial Grand Master responsible for the Universities Scheme in the Province of West Lancashire. Peter congratulated the lodge on attaining its appointment to the scheme and was highly impressed as to how quickly the lodge had moved to begin recruitment at UCLan. He also enjoyed the ceremony and an excellent festive board with over 40 Masons in attendance.
Also visiting the lodge was Mo Afra who is the North West Coordinator for the scheme. He also welcomed the lodge into the fold and offered every encouragement and support as the lodge progresses. Preston Group Chairman John Rammer and Provincial Grand Membership Officer Neil Ward visited to see the lodge's first steps as a university lodge.
Preston Guild Lodge has benefitted from excellent mentorship through the joining process from its sister lodge in the Universities Scheme, City of Lancaster Lodge No 281. Their WM Lee Fisher formally welcomed Preston Guild Lodge into the scheme and he attended with a strong delegation. Sadly, John Stanley who has been guiding the process was unable to attend due to ill health. Preston Guild Lodge wish him a speedy recovery and look forward to him visiting when he is well again.
There are two more students from UCLan in the process of joining Preston Guild Lodge and a double first is planned for February. This will be a momentous occasion for the lodge as they have not performed a double ceremony for over 70 years! In addition, a non-student candidate is waiting for his time to join Freemasonry.
With an age range from 20 years of age up to 93 years, with the latter still a very active member, in Preston Guild Lodge, what other organisation can boast an attraction to multiple generations who meet as equals and enjoy each other's company?