The companions of Heysham Chapter No 4108 held their 2023 installation convocation which was attended by Barry Fitzgerald Provincial Deputy Grand Director of Ceremonies, representing Grand Superintendent Mark Matthews.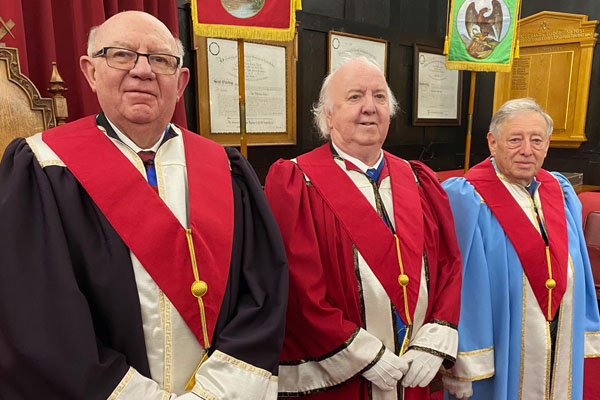 Barry was accompanied by grand officer Philip Gardner, along with Lancaster Group Chairman Neil McGill, group vice chairman Scott Devine and group secretary Chris Larder. Acting Provincial grand officers in attendance were Provincial Grand Organist David Tattersall, Provincial 2nd Assistant Grand Sojourner Norman Mitchell and Provincial Grand Steward Ken Needham.
David Tattersall was invited to act as installing scribe Nehemiah. The ceremony was conducted by assistant director of ceremonies Chris Larder who presented the three principals. Malcolm Hayward was installed as third principal, Allan Finney was installed as second principal and Alan Herron was installed as first principal.
The robe addresses were given by Ray Griffiths to the first principal, Ken Needham to the second principal and Brian Warrington to the third principal. A £250 cheque for the West Lancashire Freemasons' Charity was presented to Barry Fitzgerald by immediate past first principal Ray Griffiths, for which Barry thanked the companions of the chapter.
Philip Gardner announced that in presenting the immediate past first principal jewel to Ray Griffiths he was celebrating 41 years since his exaltation in Heysham Chapter. Following the completion of the ceremony, 21 companions dined at the festive board.
First principal Alan Herron's family first came to live in Morecambe in 1958. Alan left to go to university in 1969, then after finding gainful employment in the south and midlands, he returned home to Morecambe to set up his training company in 1990. He has been a single parent dad since 1986 with his two children Katherine and Alexander, both of them finding success in life: Katie is a Consultant Clinical Neuropsychologist at a Liverpool Psychiatric Hospital and Alex is Senior Marketing Director for America's Major League Baseball.
Prior to his retirement, Alan was in hospitality management as a training provider, advisor and guest feature writer for the Ministry of Defence, delivering resettlement programmes to serving members of HM Forces, with some 2,500 personnel completing his courses.
Alan was a visiting lecturer at our local Universities, providing personal licence training for local people. He holds four national training awards, including twice being the UK's top trainer in his field. Apart from Freemasonry, Alan describes himself as a very bad musician who plays keyboards like Les Dawson but can belt out some classic Status Quo on rhythm guitar.
Alan was initiated into Vale Lodge No 5256 in 1997, serving as WM on two occasions. He became a joining member of Runic Lodge No 6019 in 2010, and WM in 2018. Alan joined Heysham Chapter in 2014, he is also a member of two other Masonic Orders.