Members and guests of Yachtsman's Lodge No 3698 which also incorporates Otterspool Lodge No 6605 met at the Geoffrey Hirst Masonic suite within Woolton Golf Club to raise Andrew Aitchison.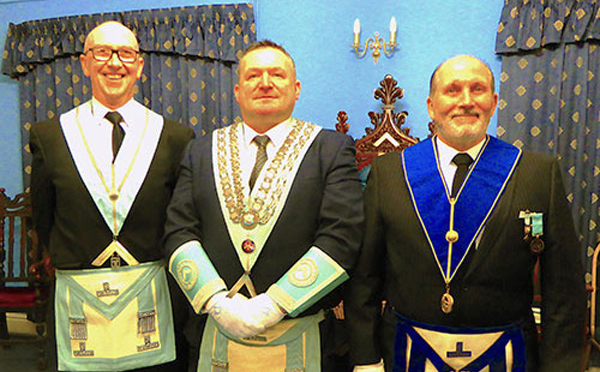 The WM Andrew Elton Jones, accompanied by his wardens entered the lodge and took their places after which Andrew opened the lodge and the minutes of the previous meeting were confirmed and signed.
The lodge was opened to the second degree and the WM asked if there was any brother present desirous of being raised to the degree of a master Mason. Andrew Aitchison being present was attended upon by the deacons and he answered the usual questions, after which he was entrusted. Andrew then retired from the lodge so that the tyler John Hibbert could prepare him for the next part of the ceremony.
The WM requested that David Pickett assist him by occupying the chair of King Solomon. Once settled in, David opened the lodge to the third degree and requested Philip Gambrill to assist by occupying the senior warden's chair and the lodge's senior warden David Keay to assist by occupying the master's chair.
The candidate for raising was readmitted into the lodge and in a calm, well-rehearsed ceremony David Aitchison was raised to the sublime degree of a master Mason and then retired from the lodge to restore himself to his former comforts.
The WM was requested to resume his rightful place and the other past masters who had assisted to resume their seats.
The candidate was readmitted and again attended upon by the deacons. Philip Gambrill eloquently delivered the traditional history to the candidate who was then warmly welcomed by the WM, prior to the junior deacon of the lodge Paul Walls presenting an explanation of the working tools.
The WM closed the lodge to the second and first degrees to allow a collection for alms to take place. As the lodge had some private business to deal with, the guests were requested to retire and the business of the evening being ended, the lodge was closed in harmony and solemn prayer.
Everyone retired to the dining room for pre-dinner drinks prior to enjoying a healthy festive board.

Article and pictures by Colin Roberts.