Members of Yachtsman's Lodge No 3698 which incorporates Otterspool Lodge No 6605, although few in number on this occasion due to ill-health and COVID, managed to provide a well-rehearsed ceremony for candidate Mark Williams.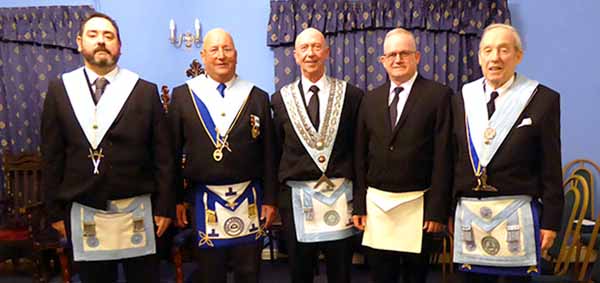 WM David Keay opened the lodge in the normal fashion and welcomed Kevin Poynton on his first visit since having been made an honorary member of the lodge. Kevin thanked the lodge.
A ballot was held for the candidate and it proved unanimously in favour. Secretary Jim Campbell, as acting treasurer, and the candidate's proposer Phil Gambrill who would act as the junior deacon for the ceremony, retired from the lodge to attend the candidate Mark Williams. Jim and Phil returned to the lodge to inform the WM that Mark had signed the necessary declaration and paid the relevant fees.
The tyler announced that the candidate was ready and inner guard Andrew Aitchison informed the WM who requested that Mark be admitted. Mark was conducted throughout the ceremony by Phil Gambrill with Jim Campbell assisting. This was a ceremony to delight those present and showed that a lot of hard work had been put into the evening.
Andrew Aitchison delivered the explanation of the working tools and senior warden Danny Crichton delivered the charge in a dignified manner.
Mark retired from the lodge to restore himself to his former comforts and on his return group mentor Hughie O'Neil welcomed Mark and provided him with some facts about the evening after which Mark took his place in the lodge.
Phil Gambrill informed the WM that a grand Lodge certificate had been received for Andrew Aitchison and with the WM's permission Phil delivered the full explanation of the certificate, which was then duly signed at the secretary's table and subsequently presented to Mark by him.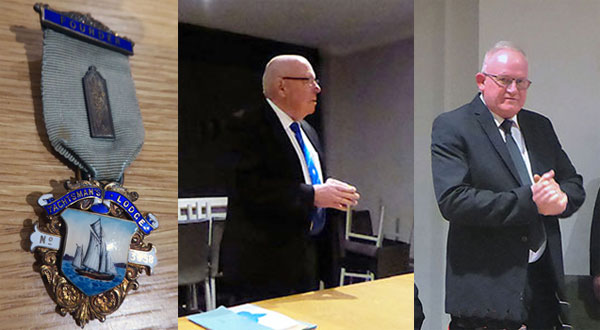 David Keay thanked those who had taken part in the ceremony and Phil for an excellent explanation of the certificate. The usual closing business was conducted and all retired to the dining room to continue the celebrations.
Hughie O'Neil proposed the toast to the newly-made brother by providing him with a picture of the 'Forget-me-not' symbol and provided Mark with the explanation of it. Mark, in response, said how overwhelmed he felt and appreciated all the hard work and effort that had been put into the ceremony.
Phil Gambrill informed those present that he had purchased a founder's jewel on eBay and was happy to pass it round for all to see; a beautiful enamelled jewel.
The evening was brought to a close by the tyler John Hibbert proposing the last toast.
Story and pictures by Colin Roberts.