The installation ceremony of Borsdane Lodge No 6460 is always the last Craft installation in the Wigan Group before the Christmas holiday. The subject of the literary, film and stage classic 'Vice Versa' involves a story where two identities are magically switched.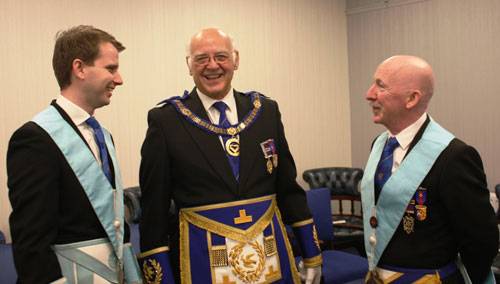 On this occasion, Neil Whittle, DC of the lodge, switched places with WM Phil Dobson and took the chair. One of his first duties was to appoint Phil as his DC. What a great swap it turned out to be. Both are very experienced and capable Masons and Neil was installed in fine style by Phil in what turned out to be a lovely ceremony.
David Ogden, Assistant Provincial Grand Master, was delighted to attend Hindley Masonic Hall to be the principal guest. David was accompanied by group chairman Geoffrey Porter, and supported by two Provincial Grand Stewards, Ian Green and Phil Barr. Entering into the fun and spirit of the season, David was happy to pose, complete with festive headgear, with his two 'little helpers' prior to entering the lodge. Inside, it was dignified occasion.
The initial business of the lodge being concluded, David Ogden was warmly received by Phil. He got to witness a great team effort. One contribution worthy of mention was that of incoming senior warden Jonathon Lever, who delivered the working tools impeccably in all three degrees. Such a young, enthusiastic and capable Mason bodes well for the lodge as he looks forward to finding himself as WM in 12 months' time. Lodge elder statesman Frank Jones enhanced proceedings by providing the musical accompaniment, and with the other past masters delivered their addresses with dignity.
Once the new officers were invested by Neil, David rose and brought the congratulations of the Provincial Grand Master tony Harrison, who, he said, would have been delighted to witness such a fine installation and would have congratulated Neil on attaining the chair and Phil Dobson on installing him in such a fine way.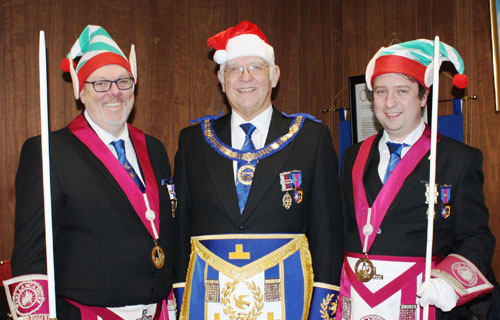 In response Neil was delighted to present David with charitable donations totalling a staggering amount of over £1,500, including £1,000 to the Masonic Charitable Foundation 2021 Festival. The latter donation was sufficient to qualify the lodge as a Patron of the Festival. David Ogden then invited Ian Green, in his role as group charity steward, to present the certificate to the lodge in recognition of their achievement.
A really enjoyable festive board followed in the cosy and joyful atmosphere that always prevails at Hindley. In his response to toast number three David Ogden replied on behalf of grand officers, and added his own congratulations to the new WM and praised Phil Dobson, whose performance both as installing master and DC was exemplary. He congratulated all who had taken part, particularly the young Johnathon Lever who delivered the working tools.
David then spoke about the topics encouraged by the PrGM, including the Royal Arch, and the encouragement and retention of new members. He concluded by thanking the Provincial Grand Stewards for their support and all those who work behind the scenes. David spoke in a relaxed manner, infusing enthusiasm and humour, and a little festive spirit, yet retaining the dignity of his address.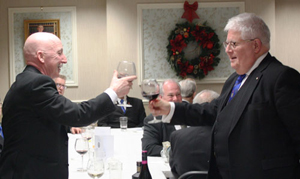 The master's song followed. For many years, Borsdane have enjoyed an entertaining delivery of this special song by Neil Whittle in his own inimitable style. Of course, this year Neil couldn't sing to himself, so a visitor from Westhoughton, Alex Prescot, stepped up the plate and gave his first public rendition. It turned out to be an excellent effort, accompanied by Frank Jones. It added to what was a delightful evening, which concluded with the presentation of a nice bouquet of flowers for David to take home for his wife Joan.
The lodge was again supported by a number of the 'Wigan Wanderers', an informal group brought together to encourage visiting and support across the three Masonic halls in the group.
Neil is an experienced Mason who holds the rank of PPrSGD. He returns to the chair after serving as WM in 2006, and with the 'vice-versa' switch, the lodge is in very safe hands for the ensuing year.