The installation of a new master is one of the highlights in a lodge's calendar. The occasion is even more special when the current master installs his son as his successor.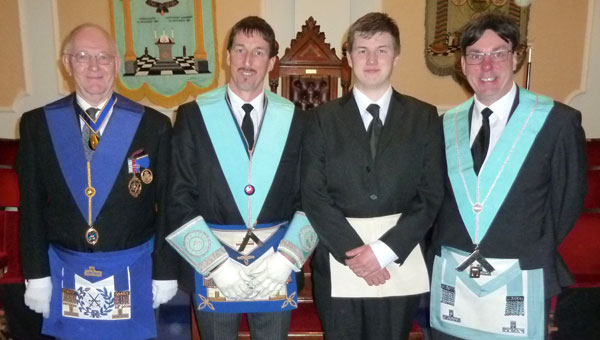 This was the case at Cuerden Lodge No 6018 when Ian Hainsworth installed his son Michael into the chair. But this story started many years earlier as Ian recalled his own initiation. "When Michael was two years old, I was initiated into Cuerden Lodge by Michael's godfather Michael Woods, currently the charity steward of the lodge."
Ian's story then takes us forward to 2013. "In April of that year it was my proud duty to initiate Michael into Cuerden Lodge, present on that day was his great uncle, John Beard Past Provincial Deputy Grand Master for the Province of Derbyshire. It was a very proud moment for me bringing my son into Masonry and watching him develop as a man as he worked in lodge."
"Being able to install Michael into the chair of King Solomon assisted by his uncle who presented him and his godfather who delivered the address to the master has got to be one of the proudest possible moments in my masonic career."
This very special family occasion for the lodge was witnessed by some 30 brethren whose number included the principal guests, Joseph Hall, PAGDC, Ralph Heyes, PPrJGW and Chairman of the Chorley and Leyland Masonic Group Peter Allen PAGDC.
After a very well executed ceremony and the conclusion of remaining business, all were treated to an excellent meal by the staff of the Ley Inn in Clayton-le-Woods.
Ian summed up his feelings about the night: "Seeing Michael respond to the toast to his health at the festive board with no notes or prompts and deliver it with style and at a relaxed pace shows how much Freemasonry has grown him as a man and a Mason. I'm looking forward to his year in office at the helm of Cuerden Lodge."