44 brethren attended Wyre Lodge No 7704 to witness the raising of Andrew Wells to the third degree. Among the brethren present, the lodge was delighted to have the support of two grand officers, Stuart Thornber and Jim Woods.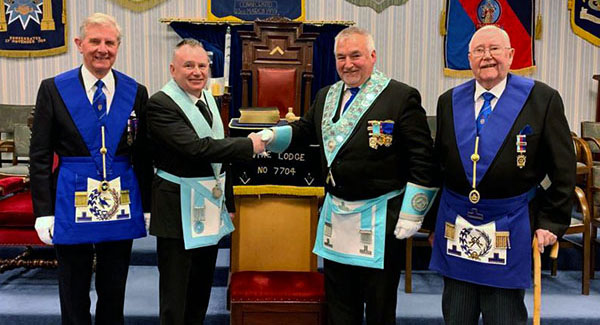 Andrew was proposed into the lodge by his brother-in-law, North Fylde Group Chairman John Cross, and seconded by his other brother-in-law Alan Berwick. Andrew was initiated in September 2021 with John having been invited into the chair to conduct the ceremony by the then WM David Platt. The ceremony was conducted in an exemplary fashion as one would expect.
Having passed through the second degree, Andrew was ready for his raising to the sublime degree of a master Mason. Unfortunately John, Andrew's proposer, was unable attend the raising ceremony which was conducted by the WM Martin Clements. The working tools and charge were delivered in fine fashion by Alan Berwick and Bill Sargeant.
At the completion of the ceremony, North Fylde Group Treasurer Jim Gregson took to his feet to congratulate Andrew on his being raised to become a master Mason. Jim, a man of many talents, represented the group mentor who, unfortunately, had broken his arm at a rugby match and was unable to attend.
Stuart Thornber in his response on behalf of the grand officers commented: "It was great to be back amongst wonderful Wyre Lodge brethren and to witness such an excellent ceremony, conducted in an exemplary fashion by all the officers of the lodge."
Upon closing of the lodge, the brethren and visitors enjoyed an excellent festive board provided by Lee Williams and his catering team and a large amount of money was raised for local Masonic and non-Masonic charities.