Burns Night was on Tuesday 25 January 2022, and it just so happened that St Paul's Lodge No.5459 had their regular lodge meeting on the same evening.  The lodge held a double second degree ceremony to pass entered apprentices, Alan Lamparter and Stephen Madden–Buchanon. Both of these brothers were Initiated in September 2021, having waited since February of 2020 to proceed with their memberships of St Paul's.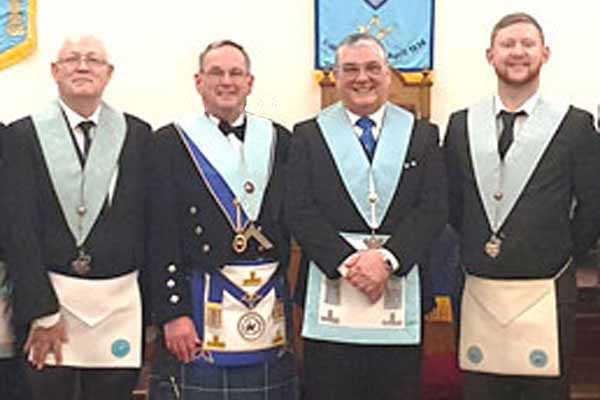 After the lodge WM Ian Thompson had opened the lodge in due form at 6pm, at the appropriate point in time, he requested the lodge secretary, Les Williams, to occupy the master's chair to conduct the ceremonies.
The first candidate to be passed was Alan, and after receiving his fellow craft apron, he was allowed to leave the lodge and restore himself to his personal comforts, whilst the second candidate, Stephen, went through his questions and initial information for the next stage.
Having left the lodge to be prepared, Alan returned and took his seat whilst Stephen was then passed, leaving the lodge to restore his personal comforts at the same point as Alan. On Stephen's return to the lodge, Stephen and Alan received the remaining part of the ceremony.  Before taking their seats in the lodge, the Widnes Group Chairman Neil Pedder presented them with a small second degree booklet, explaining a little about the ceremony they had just completed.
Ian Thompson was then returned to the master's chair, who thanked Les Williams for an excellent ceremony.  The remaining lodge business was then conducted by the WM, and the lodge closed at 7:50pm
Both lodge members and guests enjoyed the Burns Night festive board, with an excellent meal provided by the caterers, Bluebell Catering. The subsequent raffle raised £136 for charity, and the prize, a bottle of red wine, was won by the donating brother, Les Williams, so nothing gained but nothing lost either, in fact, it is fair to say a great night was had by all.