Garston Masonic Hall home to Excelsior Lodge No 3580 was the venue for the installation into the chair of King Solomon of Dave Ullathorne. The event provided some 40 members and guests with an enjoyable evening as was the conferment of Festival Grand Patronage to the lodge.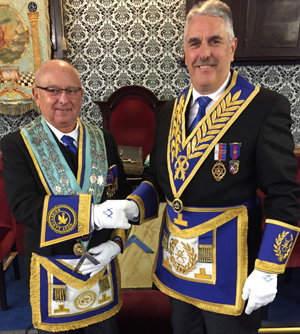 The lodge was delighted to welcome Warrington Group Chairman Andy Barton, representing the Provincial Grand Master, who was joined by Garston Group Chairman John Murphy. Andy and John were accompanied into the lodge by Excelsior member and fellow grand officer Sam Robinson.
The evening commenced with the WM Tony Nelson conducting the routine business of the lodge before warmly welcoming Andy, John and Sam into the lodge for the evening's celebrations.
The master elect Dave, was then duly presented and installed as the new WM by way of an excellent ceremony conducted by Tony. As this is not the first time Dave has experienced the installation ceremony, he is well placed to confirm and appreciate the quality and sincerity of Tony's work, a point he was to make later in the evening.
With the newly installed WM now in his chair and with the officers appointed, Andy was on his feet to offer Dave the congratulations of the Provincial Grand Master, whom he said had expressed his good wishes to all the brethren and his hope that they continue to enjoy both good health and their Freemasonry.
Dave, who is also the lodge charity steward, then took particular pleasure in presenting Andy with three cheques totalling some £1600 in support of three different charities, namely the MCF 2021 Festival, the West Lancashire Freemason's Charity and The Friends of Tithebarn.
The cheque in support of the 2021 Festival sees the lodge achieve Grand Patron status. Adding to the evening's celebrations, Dave was then presented with the certificate of Festival Grand Patronage by regional charity steward, Paul Shirley.
At the conclusion of the remaining business of the evening the lodge was closed before the brethren gathered in the hall lounge to toast the newly installed master. Concluding an excellent evening the members and guests retired to the dining room to enjoy a sumptuous and well deserved meal.