The Preston Guild Wheel is an interesting bike riding route, if you have the leisure to look around as you ride. Skirting the city boundaries via the villages of Lea, Cottam, Broughton and Red Scar; with plenty of off-road track including Brockholes Nature Reserve and the Riverside Way, the keen cyclist will enjoy a varied cycling experience.

However, beware to the unwary, you have to know the route reasonably well or you can end up in some out of the way places if you're not careful. This was the fate of one of our intrepid South Fylde Group roadsters who, following the man in front had travelled several miles off-piste before he realised the man in front wasn't our leader and that he was no longer cycling on the Guild Wheel! Another group member, John Tannion of Quadrant Lodge No 8044, took a wrong turning which fortunately was discovered in time to correct the mistake and re-join the route (Phew!) Alas, there was no hope for the first lost soul, he bowed out and took an early bath.
Of course one would expect that the group publicity officer, Glenn O' Brien of Landmark Lodge No 7273, who being chauffeured by his long suffering wife Sue, and who had covered at least two Guild Wheel events before, would know his way around. Erm, well, since about two years had passed since his last jaunt out in this direction, with his cameras and notebook, the Broughton bypass on the main A6 trunk road had been opened. This put a spanner in the works! Hence, much later, after getting lost in the highways and byways of outer Preston, he and Sue found themselves at Brockholes Nature Reserve without a picture to show for it. At this point one of the predicted 'scattered showers' struck.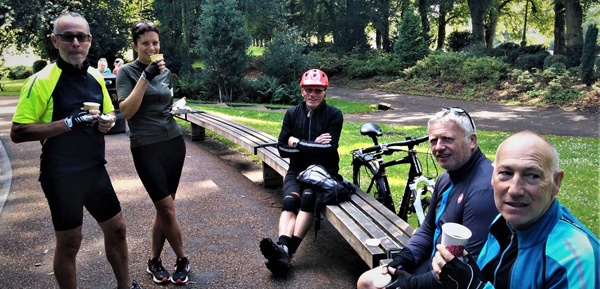 The weather looked dryer over towards Frenchwood, so after a phone call to organiser, Ian Ward also of Quadrant Lodge, it was decided to meet up at Avenham Park by the river. Sue knew how to get there in the car so it seemed a sensible choice. So the cyclists continued on, getting a soaking for their efforts. Sue and Glenn drove off in the right direction, luxuriating in the nice dry car. Getting to Avenham Park was the easy bit: parking around Avenham Park was another issue altogether.
After trawling around the back streets of Preston for what seemed an age, Glenn received a call from Ian to say they had stopped at the park, had a break and refreshments and were ready to go. At which point Sue and Glenn had finally found a likely parking spot. Not wanting to hold up progress it was agreed to meet up again at the finishing point, since Ian had taken a few photos there, one of which is featured here.
So, after an energetic morning of cycling and getting lost and getting wet and eventually getting there in the end, everyone enjoyed the sunshine which had by now descended on the streets of Preston. The group, predominantly composed of members and guests of the South Fylde Masonic Cycling Club, which exists partly to encourage non-Masons to engage with our members on a social level, had experienced a different Wheel event, some possibly musing on the old saying: "He who fails to prepare, prepares to fail!"