Having been summoned to a very special meeting of Peace Lodge No 2269, over 70 members and guests gathered to honour and pay tribute to Ray Martland's 50 years in Freemasonry.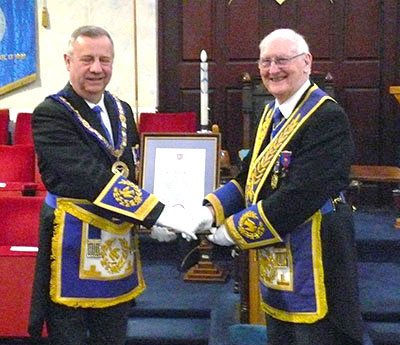 Once the normal business of the lodge was over, everyone's attention turned to the celebration as knocks were heard on the door and the Provincial Director of Ceremonies announced Assistant Provincial Grand Master Peter Lockett. The formalities being completed, Peter Lockett paraded into the lodge, accompanied by 22 grand and acting Provincial grand officers. Amongst the 22 were a Past Deputy Provincial Grand Master and six Past Assistant Provincial Grand Masters. It was commented that sunglasses should have been issued to protect people's eyes from the dazzling display of gold braid!
Once everyone was settled, Peter took the chair and proceeded to relate the life and times of Ray. It told of a dazzling 50 years, both private and Masonic. Peter began by saying that in July 1942 at 76 Sandbrook Road, Up Holland, just half a mile from Sandbrook Cotton Mill, Mrs Mary Martland gave birth to a son to be named Stanley Raymond. His father Stanley was one of 12 children and came from a farming family in Dalton. His mother Mary (nee Unsworth), was a housewife. The cottage at Sandbrook Road had no inside lavatory and the bath, made of galvanised steel, was hung on an outside wall when not in use. WW II was well in progress, air-raid sirens were often heard and the red sky was visible over Liverpool as the city suffered several nights of bombing.
Four years later in 1946, the family moved to a semi-detached house some 100 yards further up the road. The property had front and rear gardens, as well as an inside toilet and a porcelain bath with a vanity unit. Sheer luxury!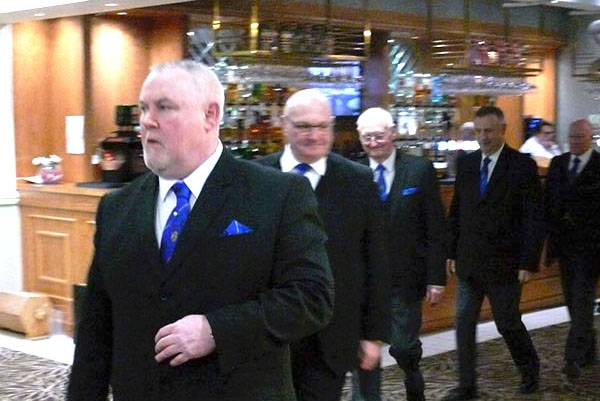 Peter went on to say that Ray attended St James's County Primary School and whilst there, aged eight, he began to have piano lessons, being allowed out each Thursday at 3:45 pm to attend lessons with Helen Cadman. He left St James's aged 11 to go on to Up Holland Grammar School, having passed the scholarship exam. This housed 600 pupils in a brand-new building, having just been completed. It was located in Winstanley however, not Up Holland.
Whilst at school he was introduced to rugby instead of soccer, sadly union not league! He did manage fortnightly visits to Central Park in Wigan however to watch the first team; as Ray put it: "To watch a proper game." He played for the school first team and was also involved in cross country running and raced at Lyme Park in the Northern Schools event. Ray continued his musical studies, learning music theory with the music master George Galloway, who was the organist and choir master at Wigan Parish Church.
When he had reached grade five theory of music, Ray was invited to the church on a Saturday morning to learn the delights of four keyboards instead of just one. Ray formed a dance band at the local Methodist Youth Club with three other members, John on piano, Jim on guitar, Peter on drums, whilst Ray played the clarinet and tenor saxophone. His mother always wanted him to become a teacher, possibly of music, or even woodwork, so he experimented with the teaching idea, becoming a Sunday school teacher. He soon discovered however that it wasn't for him.
He met his future wife Carol whilst at school in the second form, but a few years later, although still at school, Ray asked her out. The relationship blossomed. Aged 21, they were married at Up Holland Parish Church and honeymooning in the Isle of Man.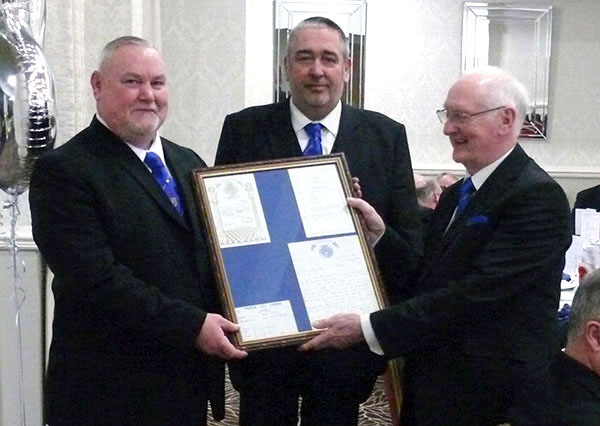 Peter continued the presentation by looking at Ray's working life, saying that with seven 'O' Levels behind him, an alternative career of engineering drawing beckoned. Ray increased the size of the dance band, adding a bass-guitar, a trumpet and a second saxophone to the line-up and became semi-professional at this point. He gained experience on the shop floor, working at Central Wagon Co, and at 21 returned to the drawing office, having gained a Higher National Certificate in Mechanical Engineering and he became a member of the Institute of Engineering Designers. He was promoted to chief draughtsman a couple of years later.
Not satisfied being chief draughtsman, Ray was determined to go into business and to that end he discussed with a certain George Daniel Jones, the sales manager, the possibility of forming a new company. They formed Park Pallet and Engineering. This took place in 1969 and meant long hours and a lot of hard work. He had deadlines to achieve for large companies such as the Ford Motor Co. Ray was approached to sell the business 20 years later in 1987 and he eventually retired in 1990, allowing more time for him and Carol to travel to many different countries by cruising on the Sea Goddess, a lovely small ship taking just 110 guests.
He has travelled to the Mediterranean, the Americas including Alaska, Australasia and Indonesia and has flown in Concorde, helicopters and light aircraft. He enjoyed scuba diving and water skiing, including being dared to ski around his own cruise ship. He also visited the ice barrier north of Svalbard.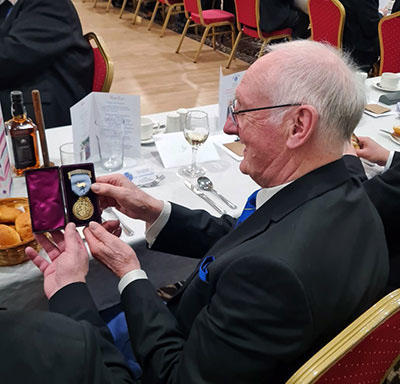 Peter then turned to Ray's Masonic history, saying that he was initiated into Peace Lodge on 30 January 1973. His proposer was his cousin, Thomas Myers and his father's best mate. He served as master in 1986 to1987 and held the office of charity steward in 1987 to 1998, and was the organist from 2014 until 2022. He was also the group charity delegate from 1992 to 2002. Ray joined Quingenti Lodge No 8516 in 1991, Lathom Lodge No 2229 in 2000 and Up Holland Lodge No 7608 in 2002. He was a founding member of the Ancient and Loyal Lodge of Installed Masters No 9762 in 2003. He also belonged to Orrell Lodge No 8371 from 2009 to 2011 and is now an honorary member of Orrell Lodge, Coronation Lodge of Westhoughton No 7258 and Corinthian Lodge No 2350. He held the office of organist in the Quingenti Lodge No 8516 from 2016 to 2021.
Peter explained that Ray received appointment to acting Provincial grand rank as a Provincial Grand Steward in 1991 which was followed by promotion to Past Provincial Grand Superintendent of Works. Further promotion followed to the acting rank of Provincial Junior Grand Warden in 1997, followed by acting Assistant Grand Director of Ceremonies in 2001. In 2002 he was appointed charity delegate for the Wigan Group. He served the Province as Provincial Grand Almoner from 2002 to 2008. Ray was then promoted to the grand rank of Past Senior Grand Deacon in 2011, following his appointment as an Assistant Provincial Grand Master in 2010, a position he held until he retired from this office at the meeting of Provincial Lodge in 2016 at Blackpool.
After retirement as Assistant Provincial Grand Master, Ray was able to start to take up several hobbies including golf, photography, video and editing, refurbishment of a clarinet and saxophone, water colour painting, wood turning and working and machine sewing and overlocking. Around 2017 he returned to the Tower Ballroom Blackpool to play the mighty Wurlitzer Organ under the instruction of John Bowdler, one of the professionals at the Tower. This was arranged by members of the Leyland and District Masonic group.
Peter said that in the Royal Arch, Ray was exalted into Peace Chapter No 2269 on 27 April 1977, resigning in 1985. He also joined the Chapter of Harmony No 178 in 1998, serving as first principal in 1998 to 1999 and as organist from 2015 to 2021. Ray was honoured by the Province and appointed as Provincial Grand Organist, serving from 2000 to 2003, followed by promotion to the rank of Past Provincial Grand Scribe Nehemiah in 2002. Further acting rank followed when he was appointed Provincial Grand Almoner, serving from 2002 to 2008. He also served the Province, having been appointed to the high office of Assistant to the Provincial Grand Principals from 2008 to 2010 and was appointed to grand rank in 2007, receiving the rank of Past Grand Standard Bearer.
Peter summarised Rays dazzling career by saying that he has held 11 acting ranks, worn two 'chains' in the craft, Assistant Grand Director of Ceremonies and Assistant Provincial Grand Master and two chains in another Masonic Order. He had also been called upon to act as Deputy Provincial Grand Master and once as Provincial Grand Master leading an amalgamation in the Craft at Leyland.
Away from Craft and Royal Arch, Peter said that Ray also belongs to other Masonic Orders. He was the Provincial Grand Organist in both the Royal Arch and in another Masonic Order. Ray holds grand rank in all of hie four other Masonic Orders. He was also a founder of Philadelphia Lodge of Installed Masters.
As is customary at celebrations, when Peter had delivered his presentation, Chairman of Chorley and Leyland Group Peter Allen read the certificate which, as Peter said: "Was an acknowledgement of the Province of West Lancashire's great appreciation of Ray's half a century of membership of the Craft."Once the meeting in the lodge room was over, the dazzling celebration continued as over 70 members and guests retired to the dining room to enjoy a delicious meal and each other's company at the festive board. It was a dazzling night, dazzling gold braid and a dazzling ceremony celebrating a dazzling 50 years in Freemasonry.