At the installation meeting of Barrow Lodge No 3928 in November 2021, Harold Rowland Saunders was the principal guest as representative of the Provincial Grand Master Tony Harrison. The event was even more significant as Allan Ritchie was the first 'light blue' to become WM for five years.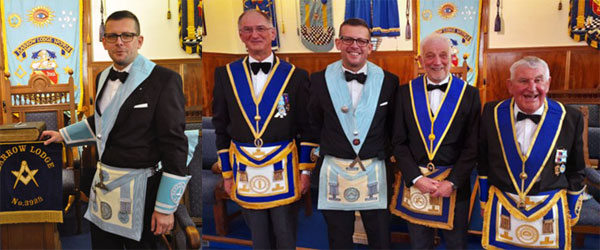 Rowly Saunders was joined by grand officers Barry Fitzgerald, David Grainger and John Quiggin, along with group chairman Gary Rogerson and the acting Provincial grand officers Joe Crabtree, Gordon Evans and Alan Tomlinson, whose support added to the special occasion.
They were able to witness Mick Lacey install Allan Ritchie as his successor in a sincere and splendid display of ritual. It was an emotional ceremony for Mick as he had been in the chair for three years, taking into account the COVID experience we have all been through. He had also performed his duty as almoner on a weekly basis, by keeping in close contact with the lodge's widows, even those who lived away – a truly committed Mason.
Others played their part in the ritual, in what was a most enjoyable ceremony. Director of ceremonies Carl McWhan was later thanked for the work he had put in to ensure a smooth ritual of a very high standard.
The address to the newly installed master was delivered by Tony Cassells and that to the wardens by John Quiggin in a heart-felt manner. Having just delivered a superb address to brethren in the group earlier in the week, Barry Fitzgerald was on hand to volunteer on behalf of Rowly to repeat the address to the brethren of Barrow Lodge. Yet again he was perfect. Tony also performed the task of presenting the working tools of an installed master, in a most memorable fashion.
A special mention was made of Michael Cosgrove, Michael Brown and Ben Cook; all light blues who presented the working tools of the third, second and first degrees respectively. The lodge has, therefore, every right to be optimistic regarding its future with another new member joining in January and perhaps another couple joining later in the year. The new WM Allan Ritchie is going to have a busy year!
The serious part of the evening being over, 65 brethren retired to the awaiting dining tables, where the four-course meal and the entire ambiance was enjoyed by everyone; including the WM's speech which had the right balance of formality, fun and sincerity. John Quiggin was requested to deliver the master's song and, as usual, acquitted himself superbly.