Like all good Christmas stories, this one starts with a villain – coronavirus; a band of heroes – Warrington Light Blues Club; and a great quest – Warrington Food Bank.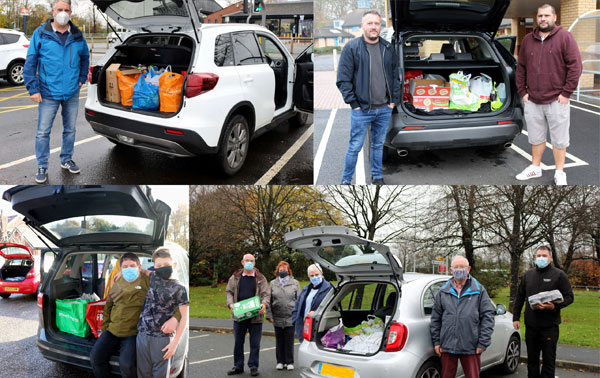 Back in the mists of March, when lockdown blighted the land and venturing out actually became dangerous, Warrington Food Bank was one of the rare beacons of hope and support for too many people. It is a charitable giving of food and support to those who have neither. Masonry generally doesn't need much excuse to support charity, and so it was when leading lights of the Warrington Light Blues, Glen Screeton, Neil Thomas and more brethren than I can reasonably mention here, set about bringing relief. At first collecting in ones and twos and from door to door, they kept car-boots-full of food bags streaming in.
News of our heroes spread among their brethren, and Chris Eyres suggested they apply for a grant from the COVID-19 fund. As quick as quick can be in tales like this, West Lancashire Freemasons Charity's CEO Steve Kayne had authorised £5,000 for the foodbank. This was wonderful, but there was still that constant need for actual bags of all sorts of goodies to hand out.
Now fate entered the tale as the Provincial Grand Master started the Provincial Food Bank Appeal. Warrington group grabbed this opportunity and launched a month of weekend collections from brethren in assorted car parks throughout the district, alongside the normal collections still keeping a steady stream coming in. Even Warrington Group Chairman, Andy Barton, could be seen huddled against the wind-chill, trying to draw warmth from a selection of donated carrier bags.
The appeal's fame had now grown far and wide so that lodges and shielding brethren wanted to help; but collections and trips outdoors could not be the way for them. So they donated money. From small donations to large individual gifts, they kept Warrington Group Treasurer, Jim Cartledge, counting coins until the early hours (and still counting in the middle of December). But this was money, and the foodbank really needed food to donate.
At precisely this moment, the wizard, Vic Charlesworth appeared, with a magical idea of how to change this money not just into food, but 15% more food than there was money for. He approached Morrisons, and together they conjured a way to grow the coins into nearly £1,800 worth of food. Together with the car park collection, it was nearly 500 bags full.
All of this was placed in West Lancashire Freemasons' Food Bank Support Appeal bags then collected together in Warrington Masonic Hall, before being spirited away. And all of this will make some needy folks in the district very happy, at what could instead be a time of hunger. I can't think of a better way to end this tale. Happy Christmas.

Story by Glen Screeton, John Tyrer, and others; retold by Eric Miller
Photos by Andy Barton and Eric Miller