The casual passer-by could not fail to be touched by the melodious strains of 'O come all ye faithful' and many other popular Christmas carols emitting from St Chad's Parish Church, Poulton-le-Fylde, as over 200 voices were gleefully participating in the annual Fylde Masonic Carol Service.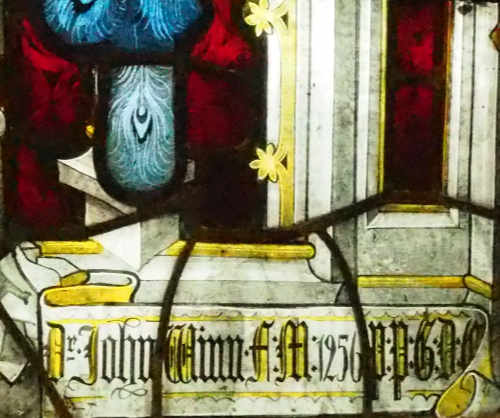 No better venue will be found than this medieval treasure, for a gathering of Masons and their families to indulge in an hour and more of seasonal festivities, finished off with tea, coffee and iced mince pies.
There has been a church here for over 900 years, although the original mediaeval structure was strangely given a Georgian appearance during an overhaul in the1750s. The Masonic Carol Services are a far more recent innovation, although they are now a regular event in the local calendar.
This event is organised alternately by the Masonic Groups of Blackpool, North Fylde and South Fylde. This year the lot fell to the latter, with South Fylde Group Secretary Ben Gorry heavily involved. On the day Ben could be found in a hands-on role of handing out programmes beforehand, then making teas and coffees afterwards, ably assisted by David Kenworthy of Quadrant Lodge No 8044.
The order of service began with prayers led by Provincial Grand Chaplain, Rev Canon Godfrey Hurst. Carols were then interspersed by readings by several senior group officers from the three groups. Assistant to the Provincial Grand Principals Duncan Smith led the way, followed by the three group chairmen, John Turpin, Peter Greathead and John Robbie Porter. North Fylde Group Vice Chairman John Cross also gave a reading before a bounteous collection was made for parish funds. This was gratefully received by the Vicar of St Chad's, Rev Martin Keighley, who then delivered the final reading (John 1: 1-14) before giving the closing blessing.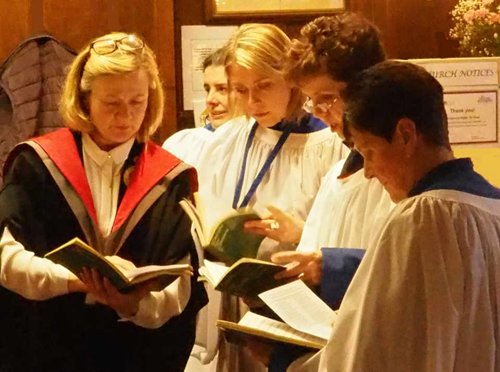 Carol singing was enhanced throughout the service by being led by the well-known and well-respected parish choir. Providing the musical accompaniment on the organ was David Chadwick. David also trains and conducts the church choir, in addition to planning the hymns and music used in the church.
Joan Swan is the church warden who brings together choristers from the other churches in the parish group and acts as their director. Also on hand was church warden Lynne Brackpool, helping proceedings along in the background. Finally, overseeing everything was Verger, Penny Waters, with her fine eye for detail.
The story doesn't end here however, as John Wright the 151st WM of Lodge of Fidelity No 1256, was keen to see a particular stained-glass window at the north east corner of the nave of St Chad's church. The specific interest here was that this window was dedicated as follows, 'To the Glory of God and in memory of Dr John Winn FM 1256 Past Provincial Grand Director of Ceremonies, West Lancashire, died April 1896. Dedicated by the Freemasons of the Fylde.'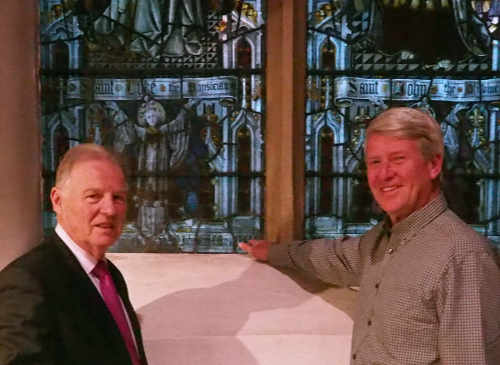 John Wright was eager to view this window along with his immediate predecessor Geoff Fogden, who had presided over the 150th anniversary celebrations of the lodge during his year of mastership.
The main event of that year had been the actual 150th anniversary meeting at which the then Assistant Provincial Grand Master David Winder, had referred to Dr Winn as follows: "Dr John Winn, installed as master in 1883, only four years after initiation, was described as a brother of unusual energy and ability."
David also mentioned at the time that the lodge had donated £21 3s (£21.15p) towards a Fylde Lodges Memorial Window in Bispham Parish Church. Quite a sum of money in those days.
Also, in the congregation was Assistant Provincial Grand Master David Randerson, who always enjoys this event, accompanied by his wife Anne. David expressed his pleasure that the carol service still continues to attract large numbers of visitors from all over the Fylde area. As with many others, David was also interested to discover the Masonic connection with an historical local brother.