A jubilee celebration is a wonderful event, enjoyed by all that are privileged to witness it, as well as by the celebrant himself. To hear about the life and achievements of a well-known and respected brother on his attainment of 50 years of service is a real treat, and a chance to learn a little more about the brother with whom we have shared many happy moments.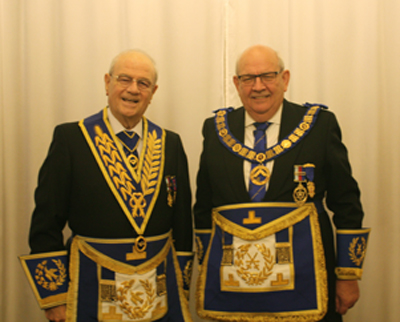 In this instance, the celebrant was non-other than Tony Bent, who has had a long and distinguished career in Freemasonry, most recently as Assistant Provincial Grand Master. Marquis of Lorne Lodge No 1354 were proud to host the celebration to commemorate the outstanding contribution to Masonry of its elder statesmen who was initiated 50 years ago. Deputy Provincial Grand Master Phil Gunning was delighted to attend the meeting at Leigh Masonic Hall to celebrate with Tony his achievement of 50 years' service in Masonry.
Such is the popularity of Tony throughout the Province that Phil was accompanied at this very special event by several Assistant Provincial Grand Masters, a Past Deputy Provincial Grand Master, a number of Past Assistant Provincial Grand Masters and acting Provincial grand officers, including Provincial Grand Director of Ceremonies Malcolm Bell. A large number of visiting fellow grand officers, including the Leigh Group Chairman Jonathan Heaton, filled up half of the lodge room.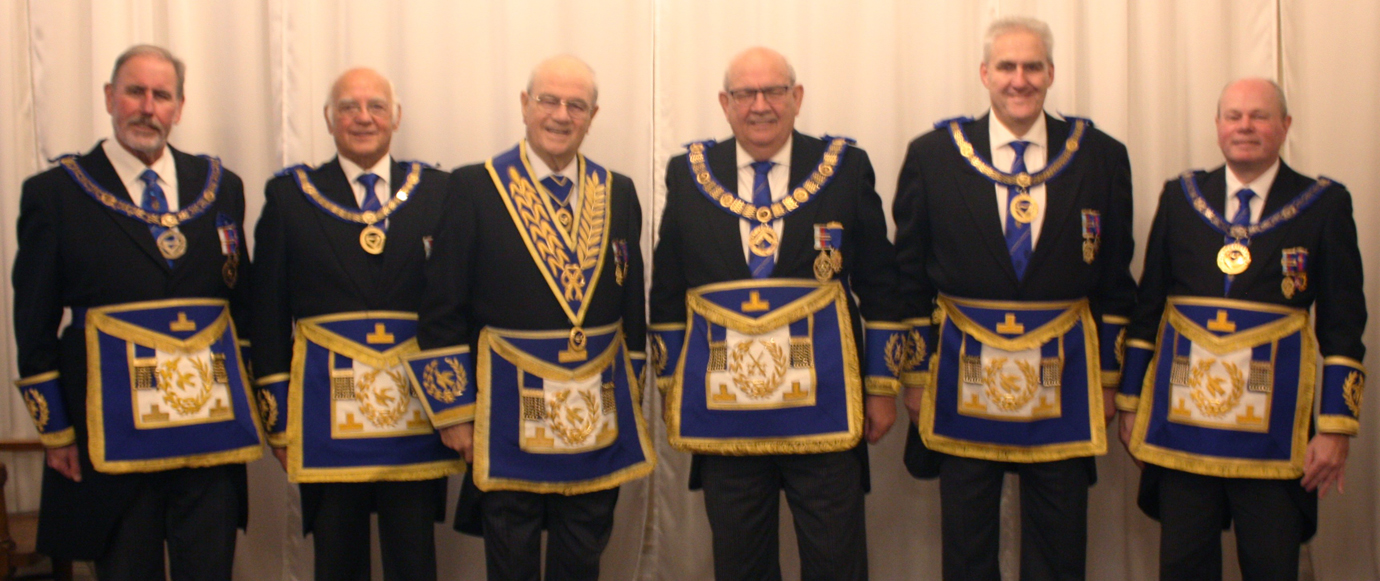 The lodge was opened for business, following which the Deputy Provincial Grand Master and distinguished guests were received into the lodge and warmly welcomed by stand in WM John Philips, who had no hesitation in offering Phil the gavel, and was delighted when he retained it on this very special occasion to conduct the proceedings. Phil stated that he was delighted to be at Leigh to celebrate a very special occasion, the 50th jubilee of a very well-respected Mason. Phil stated that it would be normal to give a brief overview of what had happened in the year of the celebrant's birth, but his research found that all available references to 1944 presented only a catalogue of savagery, sacrifice, suffering and human misery associated with WW2 and present an unedifying contrast to what tonight's celebration should be about – so he begged forgiveness not to go into detail.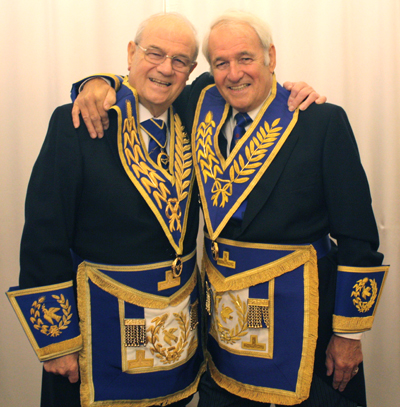 Phil then called on Malcolm Bell to place the celebrant in front of the pedestal, and when comfortably seated he proceeded to recount details of his life and Masonry to the assembled brethren. Tony was born at St Mary's Hospital in Manchester in July 1944, the younger of identical twin sons of Harry and Gladys Bent. The time of birth was 1:40am, 20 minutes after his elder brother Geoff. In those days, for multiple births, the time of birth was important and was printed on the birth certificate as the law of primogeniture, i e, the first-born inheriting the parents' wealth, was still in force. Thankfully, Geoff never invoked this ancient right!
Their father was away fighting for King and Country in the RAF and so for the early part of their lives they lived with mother at their grandparents' home, which was the Willow Tree Inn at Heath Lane, Leigh. For those of you with local knowledge, that pub was nicknamed 'The Last Shift', as it was used by miners coming off the last shift of the day at 10:00pm. In 1947 the family moved to Langdale Street, Leigh, where Geoff and Tony lived until finishing at university.
After primary education at Windermere Road Council School and Pennington C of E Primary School in 1955 Tony passed the 11+ and gained entrance Leigh Grammar School. The following year he won the form prize for mathematics which he modestly attributed to the fact that 7/5ths of the class couldn't do fractions. Tony spent the next seven years there, gaining A Levels in French, German and English Literature. During these years he played rugby, football and, in the summer terms, tennis for the school. In October 1962 Tony went off to Bangor to complete his education and graduated with an Honours Degree in German in July 1965, just before his 21st birthday.
Tony started his teaching career as a probationary teacher of German at Stockport Technical High School for Boys, an 11-18 selective grammar school, where, after his probationary year, he was accorded full teacher status. In September 1969 promotion prospects saw a move as Head of German at Prescot Girls' Grammar School. Staying at Prescot until July 1974, Tony moved to Shevington High School, an 11-18 comprehensive school, as Head of Modern Languages, allowing him to develop experience of school management and discovering some ability in timetabling and enjoyed the challenge it offered.
A natural progression came in 1978 with the Deputy Headship at Wellington Boys' School in Altrincham, followed by, in the spring term of 1981, the Headship of Great Stone High School in Stretford. and remained in that capacity until early retirement in 1997. The only hiatus to that headship came in September 1993, when the Local Authority asked Tony take over, on a temporary basis, the headship of The Priory School, a 7 -16 school for boys who were then classed as educationally or behaviourally disturbed (EBD). Tony enjoyed his career as a teacher and never once regretted his chosen profession.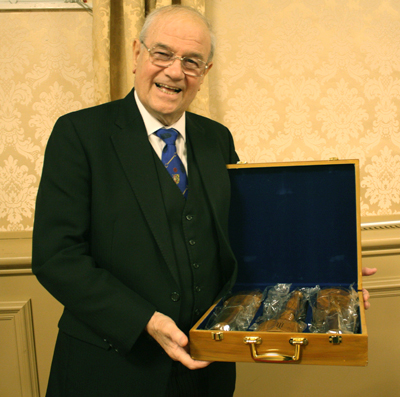 Tony believes he has been very fortunate in your life in having a twin brother who afforded a constant playmate in the early years and a staunch friend in later life. His brother, Geoff, is still his best friend. In the summer of 1959, whilst on holiday with Geoff and two friends at Butlins Holiday Camp in Pwllheli, North Wales, Tony met a young girl, called Lynda Warren, who was on holiday with her parents and best friend, Wendy. That was the start of a relationship, which culminated in marriage in March 1967 at St Thomas' Church, Bedford, Leigh, by the Rev John Low, who was a member of the Marquis of Lorne Lodge.
Following the wedding, Tony and Lynda lived in Poynton, until moving back to Leigh in 1969 and eventually moving to Culcheth in 1976. Tony and Lynda were blessed with two children, Gary and Karen. Both were educated at Bolton School and from there proceeded to university, Gary gaining a first in chemistry at Newcastle and Karen a second in law at Leicester. They are both happily married. Gary lives on the other side of Warrington with his dear wife, Hazel and his identical twin sons, Harry and Thomas. Karen lives in Culcheth with much loved husband Anthony and their three sons, Daniel, Matthew and Benjamin. Throughout their lives together, Tony and Linda have been largely blessed with good health. There was a blip in 2004 with an operation on an enlarged prostate, but that was successfully treated and in October 2018 Tony was diagnosed with bowel cancer, which was operated in October at Warrington, again with success thankfully.
Tony has also dedicated his time to public service. In June 1996 he underwent preliminary training to become a Justice of the Peace serving at Leigh Magistrates' Court and in due time became a Licensing Justice, and eventually to the adult bench in the courts. In 2002 the Leigh and the Wigan Magistrates' Courts joined together to form one court, with its base in Darlington Street in Wigan. In 2007 Tony became Deputy Chairman of the Wigan and Leigh Bench and in 2008 was elected Chairman of that bench. In 2009 he became Chairman of the Greater Manchester Bench, a forum representing all 10 courts in Greater Manchester and 2000 magistrates and in 2009 became Vice Chairman of the Northwest Region, one of seven administrative areas for legal purposes in England and Wales.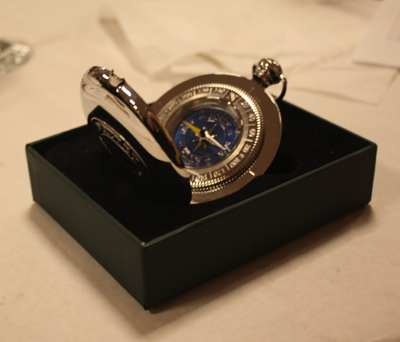 In October 2008, Tony became a Volunteer Ambassador for the Northwest Air Ambulance. This position involved going to voluntary clubs and societies in Greater Manchester and Cheshire to raise awareness of NWAA and the invaluable service which it offers to this region in all kinds of emergencies. Tony gained much satisfaction from this voluntary work and only finished working for them in October 2018 after his cancer operation.
As previously mentioned, Tony had a long and distinguished Masonic career. It started in the summer of 1968, when he approached his father-in-law and asked him about Freemasonry. In those days, Masons were forbidden from approaching anyone with a view to them joining the Craft, and his father-in-law said that he had been waiting so long for Tony to put that question to him. He was initiated into the Marquis of Lorne Lodge, progressed through the offices and was WM in 1977. Appointment to Provincial Grand Steward followed in 1984, with promotions to PPSGD in 1988 and PPJGW in 1995.
In November 1990 Tony was appointed to the only office he really wanted in the lodge, director of ceremonies, a post held for five years until 1995 to become the new Group Secretary of the Leigh and District Group. He remained in that office for nine years until, in the Spring of 2003, becoming chairman, an office held for the next eight years and one which afforded an awful lot of pleasure. In 2004 came appointment in grand rank to PAGDC
In May 2011 Tony was appointed as Assistant Provincial Grand Master with responsibility for the Leigh, Wigan and St Helens and Prescot Groups. At the same meeting, Philip Gunning, Ian Boswell and last but not least, one Tony Harrison, were appointed alongside him.  In 2012 Tony received a promotion in Grand Rank to PSGD. Tony held the office of AProvGM for seven years until retirement in May 2018, He is also a member of several other Orders of Freemasonry, The Royal Arch, Mark, Knights Templar, Knights Templar Priests, Rose Croix and Red Cross of Constantine.
Phil concluded his presentation by saying: "As you approach the end of your eighth decade, you say you have much to be grateful for in your life – you have had far more blessings than curses and, if given the chance, you would do it over just the same. You cannot live one's life on regrets or maybes. Whatever you have done in your life, it is you who have always made the choice of which path to take. In family, public and professional life, as in your Masonic career, you have been fortunate enough to be offered opportunities and, having taken those opportunities when they presented themselves, you can honestly say that you would not change things. You enjoy a wide circle of friends, many of whom are here this evening to share in this special occasion and whose friendship means a great deal to you and to your dear wife Lynda.
Finally, a word about your Linda, without whose constant and unfailing support, you could not have done so much in your Masonic career. If you have achieved anything at all in these 50 years, it is certainly due in no small measure to the encouragement and support of Lynda, to whom you will always be grateful and who will always hold a special place in your heart.
You say you have been very fortunate during your Masonic career, since, whenever you received any promotion or recognition of your labours, it was as a result of doing what you enjoyed doing, being promoted for doing what you enjoy – how lucky is that?"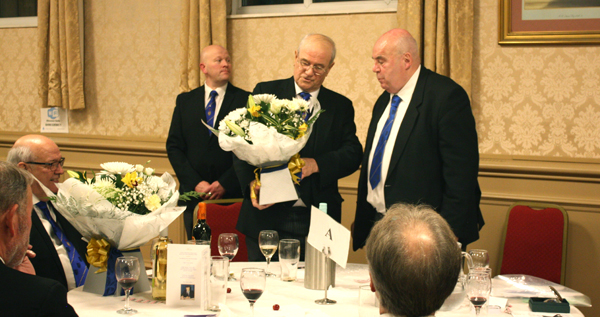 Phil then invited Jonathan Heaton to read out the certificate from the Provincial Grand Master which he subsequently presented to Tony. At this point Tony made a presentation to the lodge of a set of gavels contained within a fine wooden presentation case, At the end of the proceedings, Phil invited Tony to retire with him after the first rising and they joined together in saluting the WM as they left the lodge.
Needless to say, a lively and enjoyable festive board followed the formal lodge proceedings, with a special menu and fine wines chosen by Tony himself. Tony's twin brother Geoff was both delighted and honoured to propose the toast to his sibling. Filled with emotion, Geoff explained the closeness and connection that had intrinsically bonded them through life before honouring his brother's achievements and showering paise, pride and congratulations. In his response, again charged with sincerity and emotion, Tony gave thanks to all his friends and to Freemasonry for all it had done to enrich his life over the past 50 years. The lodge secretary, Ian Fairhurst, stepped in to present Tony with an impressive commemorative boxed compass. Finally, John Philips, on behalf of the lodge, was pleased to present both Tony and Phil with a bouquet of flowers, while Tony presented Phil with a bottle of special gin as a further thank you for his attendance and making the evening so enjoyable. All in all, it was a wonderful and joyous event, celebrating a wonderful man and dedicated Freemason.