Egerton Worsley Lodge No 1213 had the great pleasure of hosting the anniversary of 60 years in Freemasonry of David Keith McCormick at Elm Bank Masonic Hall at Eccles. With AProvGM Barry Jameson assisted by Paul Hesketh at the helm, and the lodge room full of brethren from across the Province, it was a wonderful evening of warmth, friendship and celebration.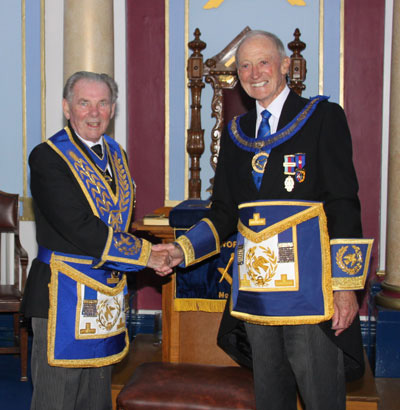 'Nil satis nisi optimum' – Nothing but the best is good enough', the motto of Everton Football Club, was highly appropriate for David, born in Gwladys Street, at the north end of the ground in October 1936, thereby cementing his partiality in the Liverpool divide. It also reflected a life rich with aspiration and achievement, as David, initially interested in medicine as a career instead took articles in a law firm aged 17. In doing so his early experiences included managing two blocks of flats in Old Swan in Liverpool and appearing before rent tribunals.
David qualified in 1959 and not long afterwards was conscripted into the army and posted to Kenya. On completion of this David declined the prospect of a commission and an extended military career and left the army to join a law firm in Eccles. David remained there in a civil and legal practice, doing what he enjoyed most, court work. He became the firm's managing partner and ultimately retired on his birthday at the age of 80 during which day he was taking a case in court.
During this time, in 1957, David met his future wife Marjorie at a Methodist Church dance and they were married in 1962 and have lived in Worsley for most of the time since then. Marjorie and David have two daughters, Alison and Janette, and four grandchildren. Both David and Marjorie have had a long and active association with their church with Marjorie being the musical director and organist whilst David is chair of the property and finance committee. David and Marjorie both also enjoy tennis with David remaining chairman of the league and keeping themselves active through swimming and excursions into the woods at the rear of your house, with their dog, Dec.
Masonically, David has a long and impressive record. He was initiated into the Lodge of Sincerity No 292 in October 1961, just before his birthday attaining 25 years of age, and was installed as master number 180 in 1972. He served as its representative to what then was the Fourth Liverpool Group. David's service and capabilities were recognised by the Province in 1982, with appointment to the acting rank of Deputy Provincial Grand Registrar and in 1986 he was appointed the Provincial Junior Grand Warden. David was appointed Past Grand Registrar in 1994 and in May 1995 was appointed as an Assistant Provincial Grand Master, responsible initially for Bootle and what was the Fourth and Fifth Liverpool Groups, and subsequently Bootle and Garston, a role he held for 10 years. David's great works were recognised when he was further promoted in Grand Lodge to the rank of Past Senior Grand Deacon, in April 1996.

David's mother lodge, Lodge of Sincerity was erased in January 2015 and before then he joined Egerton Lodge No 2216 in 2008 and served as its master in 2010. It was amalgamated with Worsley Lodge No 1213 in 2013, to form this Egerton Worsley Lodge No 1213. He was also a founder member of Border Lodge of Installed Masters No 9074 in the Eccles group serving as its WM in 1993/94.
During all this, David was involved with the West Lancashire charities and was the chairman of the steering group which led the process to form the West Lancashire Freemasons' Charity out of the seven independent charities which then existed. Additionally, he served on the Grand Charity's Non-Masonic Grants Committee, representing West Lancashire, East Lancashire and the Isle of Man.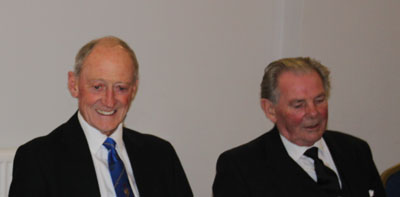 David's active involvement included periods as Vice Chairman and Chairman of the Bootle Group, which David himself described as an incredible seven years as he helped turn round a struggling Masonic Hall.
In the Royal Arch, David was exalted into Bootle Chapter No 1473 in 1970 and was its first principal in 1981 and again in 2009. He was recognised by the Province with appointment as the Provincial Grand Registrar in 1986 and received appointment in Supreme Grand Chapter in 1990, as PGStB. David's continued service was further recognised by promotion in Supreme Grand Chapter in April 2000 to the high rank of PAGSoj.
Barry's presentation paid great testimony to a rich and full life filled with a selfless aspect of service to others. In practice David's career and this celebration of his 60th anniversary has been an exemplary example of "Nil satis nisi optimum" – Nothing but the best is good enough.