Brethren and guests of Olympic Lodge 4461 had a full agenda to get through, so the WM Tony Standish opened the lodge promptly in the first degree so that the usual lodge business could be conducted. A ballot was then taken for a joining member and later a further ballot was to be taken for a new prospect.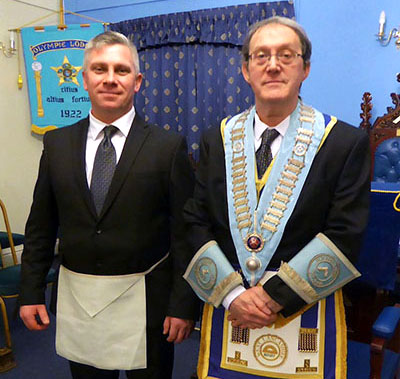 Tony Standish then asked Matt Wilson if he would honour the lodge by taking the chair; Eric Binks was asked to honour the lodge by occupying the senior warden's chair and lodge member Peter Ryan to occupy the position of junior deacon.
The tyler announced that candidate Dominic Stephen Owen was ready and he was regularly announced. Dominic was escorted by Peter Ryan and Michael Moore and presented in the usual format. Dominic undertook his obligation under the watchful eye of Matt Wilson who, considering the short notice he had been given to conduct a first degree ceremony, conducted a very sincere and memorable ceremony.
The first degree working tools were presented by junior warden David Cairns and acting senior warden Eric Binks delivered the charge.
On completion of the ceremony, newly-made entered apprentice Dominic retired from the lodge to restore himself to his former comforts and on his return was congratulated by group mentor Hughie O'Neil who 'fell over himself' to ensure that Dominic received a package of information to help him understand the ceremony he had just passed through.

Matt Wilson requested WM Tony Standish to resume his rightful place in the lodge and having done so, Tony thanked all the officers who had helped to make the ceremony a memorable one, not just for the lodge but for the initiate too.
As the lodge had some private business to conduct, the guests were requested to retire, so they made their way to the dining room to be shortly joined by the members of the lodge.
At the festive board Bill Pinto, as the proposer of Dominic, proposed the toast to his health; after which all the brethren joined in the entered apprentice's song which allowed Dominic to collect his thoughts prior to giving his response.
Hughie O'Neil then took the opportunity to provide more explanations of the evening to Dominic. Steve Cornwell proposed the toast to the guests and this was responded to by Eric Binks who said it had been a real pleasure to assist the lodge and paid his own tribute to the officers who performed the ceremony.
During a lull in proceedings, a raffle was conducted and raised £114. The evening drew to a close and the tyler was asked to give the final toast of the evening.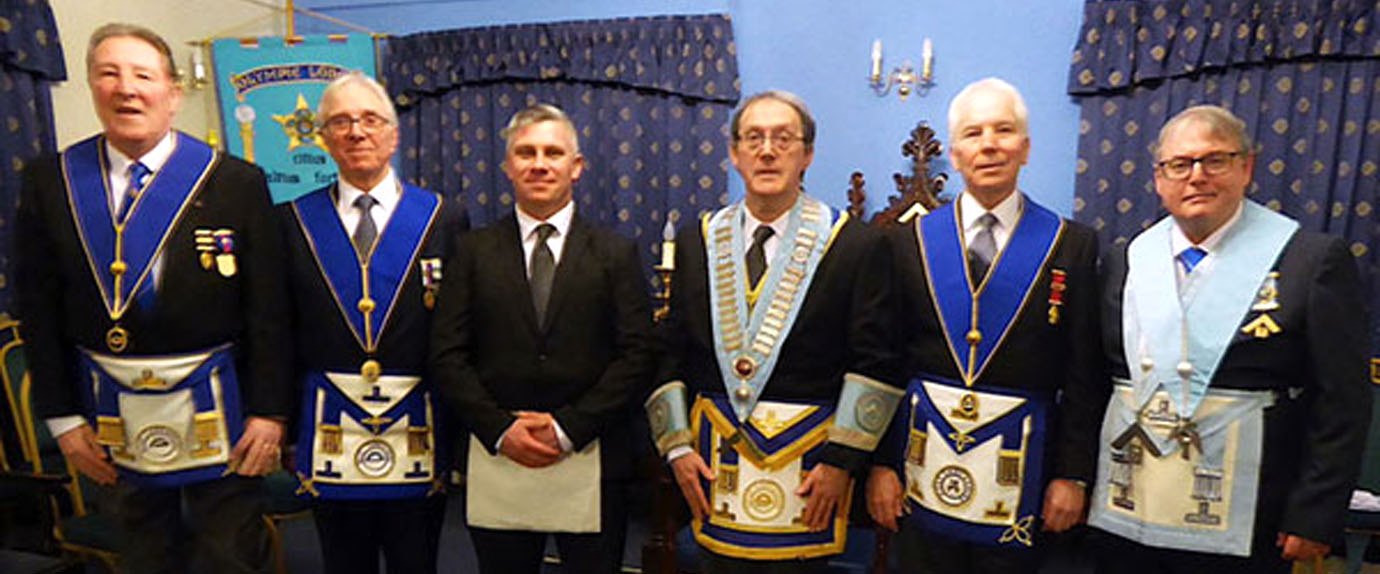 Story and pictures by Colin Roberts.