Royal Protector Chapter No 3471 companions and visitors were indeed privileged to be regaled with a 60-year anniversary story, revealed in the chapter room by means of a film show with accompanying music, about Anthony (Tony) Johnson, his life and career in the Royal Arch. The story was unfurled by Assistant to the Provincial Grand Principals Colin Rowling, assisted on the evening by South Eastern Group Deputy Chairman Gareth Jones thus giving us two 'Welsh wizards' as opposed to just the one who officiated at Bill Young's celebration! Colin was supported by Brian Hayes, David Durling and other distinguished Provincial grand officers.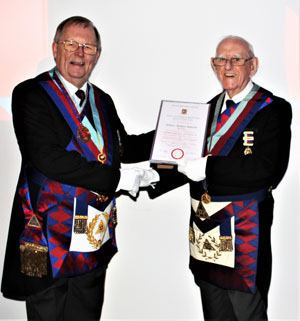 The chapter was opened accordingly by the three principals, Sylvester During (first principal), David Emmett (second principal) and Colin Makinson (third principal) and the initial business of the chapter was carried out. Provincial Deputy Grand Director of Ceremonies Neil MacSymons, then entered and informed the chapter that they were to be honoured by the presence of Assistant to the Provincial Grand Principals Colin Rowling.
Colin entered the chapter room and occupied  the first principal's  chair, he explained that the evenings celebration would not be the normal type of celebration but would, in fact, take the form of a slide show or 'son et lumiere' together with music and audience participation. Colin began narrating the show which was once again divided into three sections similar to Bill Young's, featuring Tony's life from his birth in 1919, his exaltation into the Royal Arch in 1958 and finally focusing on his time as first principal of Royal Protector Chapter in 1982, each section being accompanied by slides showing important events that had happened and music which was popular at that particular time.
Tony was born on Monday, 13 October 1919 and lived in Parrin Lane, Monton, Eccles and attended St Martin's Primary School in Worsley. Colin then listed a number of famous faces whom had also been born in 1919, including Liberace, Nat 'King' Cole, Dame Margot Fonteyn, Freddie Mills, George Shearing and Edmund Hillary. Notable events that occurred at this time were the founding of Bentley Motors Ltd, the first public performance of Holst's 'The Planet Suite' and the first scheduled passenger service by aeroplane (between London and Paris). The cost of living in 1919 was mentioned and became a link between the three parts of the film show with the average house then costing £300, average car £250, a pint of milk 7p, a loaf of bread 2p and a pint of beer 4p.
Colin then proceeded to play 10 popular songs of the time and inviting audience participation, by asking the companions to identify such standards as 'After you've gone' by Marion Harris, 'I'm forever blowing bubbles' by Ben Selvin and his Orchestra and 'How ya gonna keep'em down on the farm' by Nora Bayes.
After St Mark's Primary School, Tony attended Eccles Grammar School and eventually started work for Universal Furniture Products in Trafford Park, Manchester, moving on to Gardner's Diesel Engines working in the costing office and then in 1937 moved to W Fearnley & Sons where he assisted in building reinforced concrete bunkers for the storage of munitions. In 1940 Tony was called up to serve King and Country where he saw action in the Middle East until being demobbed in 1946.
Between parts one and two of the film show, Tony married Myra who he had met at Fearnley's, on the 24 May 1952. They had two sons, Peter and David and eventually five grandchildren Christopher, Joanne, Daniel, Max and Patrick. Tony's interests included the Church Lads Brigade, the ASA League, Water Polo and serving the less fortunate and he also began studying to become a quantity surveyor.
Tony was exalted into the Royal Arch in Royal Protector Chapter in 1958, remarkably quickly only three years after having been initiated into Royal Protector Lodge No 3471 in 1955 and without holding any Craft office!
There was then another musical interlude, with more audience participation being invited to identify classics of the day such as 'King Creole' by Elvis Presley, 'Move it' by Cliff Richard and 'Bird Dog' by The Everly Brothers. Notable events were the maiden flight of the De Havilland Comet, the first commercial passenger jet airliner, the first parking meters installed in the UK, the first broadcast of Blue Peter and Donald Campbell setting the world water speed record at 248.62 mph in 'Blue Bird'. The cost of living in 1958 had risen slightly with the average house then costing £2,049, average car £750, a pint of milk 13p, a loaf of bread 4p and a pint of beer 7.5p.
Tony became the first principal of Royal Protector Chapter on 12 February 1972, which coincided with various events such as the Soviet space ship Luna 20 landing on the moon, Bloody Friday with the IRA exploding 22 bombs in Belfast killing 9 people, Bobby Fischer beating Boris Spasky to become World Chess Champion, The Airbus 300 flying for the first time and the last manned NASA mission to the moon, Apollo 17.
Colin then introduced the final musical interlude featuring 'Amazing Grace' by the Royal Scots Dragoon Guards, 'Without you' by Harry Nilsson and 'Beg Steal or Borrow' by the New Seekers. The cost of living in 1972 was revealed with the average house then costing £6,008, average car £1,240, a pint of milk 20p, a loaf of bread 10p and a pint of beer 18p.
Tony went on to become South Eastern Group Chairman, festival rep, founder of Athenaeum Lodge of Installed masters No 9368, captain of stewards at Provincial Grand Chapter and achieved the grand rank of Past Grand Standard Bearer in Royal Arch (1992) and Past Assistant Grand Director of Ceremonies in Craft (1990), which are considerable achievements in a remarkable Masonic career spanning over 60 years and not only that, in the very near future celebrates his 99th birthday!
Colin rounded off the ceremony presenting Tony with his 60-year anniversary certificate and Tony then made a generous gesture presenting a cheque for £100 to Masonic charities. The companions then retired to the social board and a friendly and jovial evening drew to a close!