The friends and members of Chorley Lodge No 6287 gathered to celebrate the 60 years membership of the Craft by Brian Bargh.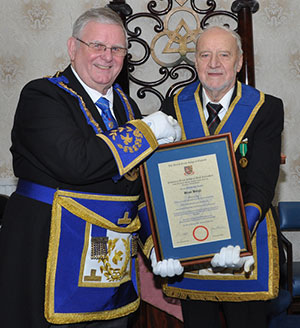 Andrew Howarth, the master of the lodge, after opening the lodge and conducted the necessary business, welcomed Assistant Provincial Grand Master Stewart Seddon into the lodge. Stewart was accompanied by Frank Wilkinson Past Assistant Provincial Grand Master, John Robson, Keith Kemp, Chorley Group Chairman Peter Lockett, group vice chairman Peter Allen, group secretary Don Hesketh, group treasurer Mike Silver with acting Provincial grand officers Mark Howard, John Anderson, Mike Pinckard, John Riley, Gary Norris, supported by Provincial Deputy Grand Director of Ceremonies Ian Halsall.
After being offered the gavel of the lodge, Stewart occupied the chair of the lodge and asked for Brian to be placed in a prominent position. Stewart said: "Brethren our next business is to celebrate 60 years in Freemasonry by Brian Bargh Provincial Grand Superintendent of Works of the Province of West Lancashire."
Stewart continued: "This evening we are summoned to a very special meeting to honour and pay tribute to one who has served the Craft, loyally and faithfully for 60 years, and it is so nice to see so many brethren here this evening sharing in Brian's special occasion, this is a wonderful milestone on his Masonic journey and he can now add 'diamond jubilee' into his portfolio."
Going back in time to the year 1930, a very important year in history for a number of reasons: King George V is on the Throne, Ramsay McDonald is Prime Minister, the Times publishes its first crossword, Poor Law unions and workhouses are abolished, on 18 April a BBC news reporter live on radio announces: "There is no news today" the first and last time that statement has been uttered. Amy Johnson becomes the first woman to fly solo to Australia and the British Airship R100 sets out on a successful 78-hour passage to Canada, the first British Empire Games are held in Hamilton, Ontario and the first FIFA World Cup competition is held in Montevideo with Uruguay beating Argentina 4 – 2 in the final.
However, the most important event so far as we are concerned tonight occurred at Chorley Hospital, Gillibrand Street, when Mrs Emma Bargh (nee Lamb) gave birth to a baby boy to be called Brian.
Brian's contemporaries are: The first two men on the moon, Masons, Neil Armstrong and Buzz Aldrin. From the world of sport: Bernie Eccleston (F1), Cricketers Brian Statham, Frank (Typhoon) Tyson and Richie Benaud and from wrestling Big Daddy (Shirley Crabtree). Politicians Gerald Kaufman and Shirley Williams;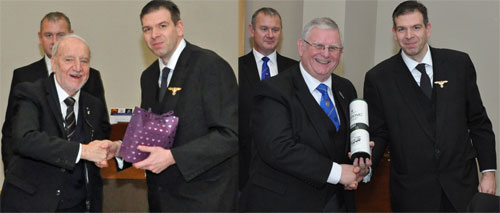 Brian's father Ben was an insurance agent and his mother a housewife and home was on Blackburn Brow but at the age of three the family moved to Watkin Road at Whittle-le-Woods where Brian attended St John's School.
Another move to Erskine Road, Chorley came about when Brian was aged six and he then attended St Peter's School on Eaves Lane until he was 13 and went to Horwich Technical College until he was 15. Whilst at St Peter's School Brian also attended St Peter's Church and it was when he was nine, the second World War being in its infancy, that he joined the Church Lads Brigade retaining his membership of that organisation for some 17 years.
On leaving college Brian took up an electrical engineering apprenticeship at Leyland Motors which meant he had to attend the Harris College on day release to study for his Ordinary and Higher National Certificates which he successfully passed.
Brian should of course have gone on national service at 18 but that was deferred until his apprenticeship ended and so aged 21 years, he left home to join the RAF for two years. Towards the end of his national service Brian was asked to stay on being offered promotion to pilot or navigator but that would have meant signing on for either three or eight years, neither of which appealed to Brian. So, despite the RAF's best efforts, Brian returned home to re-join Leyland Motors as an electrical draughtsman.
Brian moved around quite a bit in his working life, for in 1955 he joined De Havilland at Lostock as electrical draughtsman progressing to electrical planning engineer then when CANADAIR set up in Bolton Brian went there as senior electrical planning engineer. In 1958 it was off to the ROF at Chorley, in 1964 to BP at Grangemouth in Scotland and in 1965 to Hawker Siddeley, now BAE Systems, where he was in charge of everything electrical. In 1985 the Directors of British Aerospace Air Weapons Division presented Brian with a gold watch in recognition of his long and devoted service to the company and Brian was to remain in their employ until his retirement in November 1990 at the tender age of 60.
Occasions such as this make it very difficult to deal with everything chronologically and so we must now move backwards from retirement to his teenage years.
There wasn't a great deal to do in Chorley in the 1940's and Brian was taken to White Coppice Cricket club as the family were ardent cricketers. However, Brian didn't like being hit by a very hard cricket ball and so he developed a love for middle distance running, half-mile, mile and cross country were his forté.
Another of the highlights was the St Peter's Church Hall Saturday night dance. It was at one such dance in 1949 that Brian, aged 19, met Sheila Cottam. They started courting and within a very short time of Brian's return from National Service they were married at St Lawrence's Church on 23 August 1953 by Cannon Wyatt. The mathematicians will have worked out that last August, Brian and Sheila celebrated their sapphire wedding anniversary of 65 years. Now we know why Brian didn't sign up for the RAF!!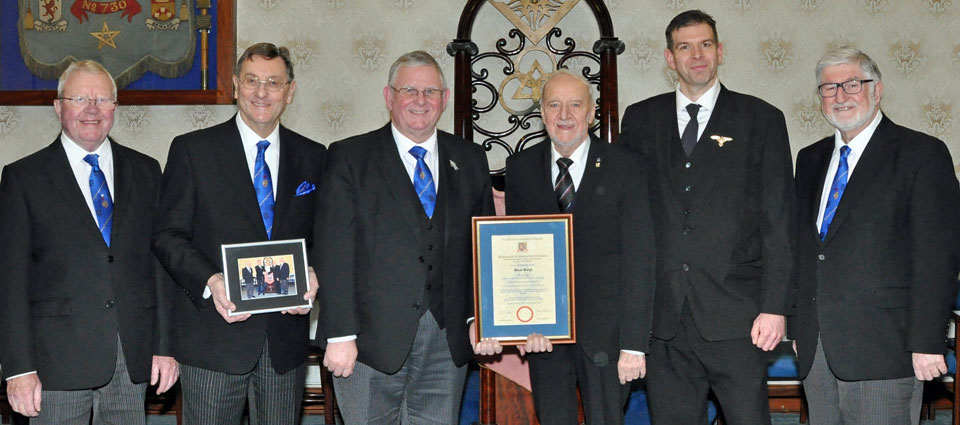 They set off on the 3pm train from Preston to their honeymoon destination of Hove on the south coast arriving at the hotel at 9pm to be told that a meal had been prepared for them. They relocated to the dining room where they were served a magnificent dish of semolina pudding. Brian said that the food didn't improve any for the rest of the week.
Brian and Sheila have two children Paul born in 1963 is a self-employed insurance advisor and Julie, born in 1955, is head of history at Dunotter School in Reigate, Surrey. They have five grandchildren Charlotte (22), Andrew (20) who is doing a Sports Degree in America, Emily (20 is at Oxford University), Holly (19 is a professional deep-sea diver) and Sophie (18 is taking her A Levels).
Brian and Sheila are avid caravanners and for 19 consecutive years travelled extensively through Europe. France, Germany and Switzerland. Nowadays they restrict themselves mainly to North Wales, Lancashire and Cumbria and have received a 40 years certificate of membership from the Caravan Club.
Brian was a volunteer at the Bolton Hospice for 10 years, a sidesman at Christ Church, Heaton and he reckons that 10 years of yoga has kept his mind and body relatively active.
Going on to the Craft, Brian was initiated into Chorley Lodge on 6 January 1959, passed on 3 March and raised on 1 September. After serving in all the offices of the lodge Brian was installed as WM on 7 November 1972. Thereafter he served as group representative for 17 years.
Brian's first Provincial appointment came in 1984 to the rank of Past Provincial Assistant Grand Director of Ceremonies. Brian was promoted in 1996 to the rank of Past Provincial Senior Grand Deacon and in 2003 he was further promoted to the very high rank of Past Provincial Grand Superintendent of Works, which rank Brian still holds today. Brian was elected to honorary membership of this lodge on 2nd February 2016.
There is no doubt at all that Brian's entire life has also been an example of what makes a good Freemason, as well as a good citizen, a good husband, a good parent, and in every way, a contributor to society as a whole.
Stewart concluded by saying: "There is also no doubt, that, during the last 60 years, anyone who happened to learn that Brian is a Freemason, could not fail to see him as anything other than a good ambassador for our order."
Peter Lockett, Chairman of the Chorley Group then read a certificate, which is an acknowledgement of the Province of West Lancashire's great appreciation of Brian's 60 years of membership of the Craft.
Frank Wilkinson said that 10 years ago he had officiated over Brian's 50-year celebration in Freemasonry and would like to present Brian with a framed photo taken 10 years ago. Frank also said that Keith Kemp and John Robson who had been present 10 years ago were also here tonight and they would like to reproduce the same photo 10 years on.
The brethren retired to the festive board in a happy and celebratory mood with much reminiscing to be done.