This year installations have taken on a new meaning after such a long period without meetings. One such meeting was the installation of Damian Davenport at West Lancashire Century Lodge No 2349 at Cleveleys Masonic Hall.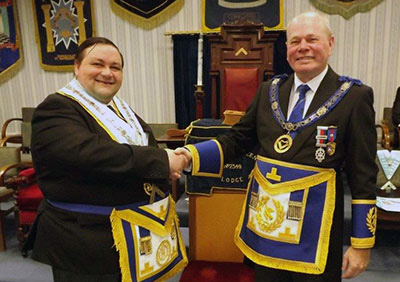 The lodge was opened by the WM Scott Coxey who, together with the other members of the lodge who had taken office, looked after the lodge and its brethren during the lockdown.
Scott diligently completed the administrative business and then effortlessly moved thought the degrees to the third degree at which point it was time to welcome the principal guest, Assistant Provincial Grand Master Duncan Smith, together with fellow grand officers Harry Cox, Norman Thomas, Peter Greathead, Geoff Pritchard and Jim Woods.
The night was also a special one for Jim Woods who was welcomed into the lodge as a joining member. Supporting the grand officers were North Fylde Group Chairman John Cross and acting Provincial grand officers Adam Simpson and Michael Tax.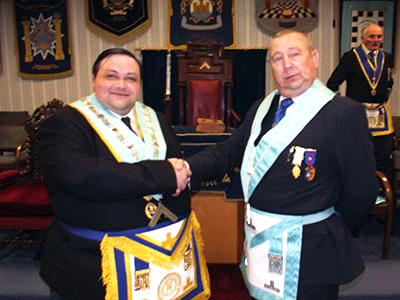 Once the necessary formal greetings had been completed, Scott announced the start of the installation and asked Dex Wild, Steve Willingham and Adrian Dean to assist him as installing officers. Damian was presented by John Laughton. Scott then proceeded to complete his duties as master and install his successor into the chair of King Solomon in what was an excellent ceremony.
Following on from there the junior brethren were welcomed back into the lodge and the working tools were presented by Adam Turner who presented the third degree tools, Anthony Wilkins presented the second degree tools and Niall Coxey, the son of outgoing master Scott, presented the first degree tools. John Laughton stepped up again to address the master. The address to the wardens was given by Shaun Haynes; Glen Jackson addressed the deacons, leaving the final address to the brethren of the lodge in the experienced hands of Duncan Smith.
Once the installation had been completed Duncan brought the greetings of the Provincial Grand Master Tony Harrison to the newly installed master and the brethren of the lodge and congratulated Scott on a first-class installation. Damian's first job was to present Duncan with cheques totalling £700 for local charities.
The ceremonial business being ended, the lodge was closed and the brethren proceeded to the dining room for a well-deserved festive board. The evening's raffle raised an impressive £321 which will go to Masonic and non-Masonic charities. The master's song was rendered by the lodge's own entertainer Shaun Haynes. To close the evening Gordon Ivett delivered the tylers toast.