Corinthian Chapter No 2350 has a long and rich history that spans 124 years. During that period, it has witnessed many changes and earth-shattering events, including two world wars, economic ups and downs, several monarchs and a move to Hindley Masonic Hall from its original home in a nearby hostelry.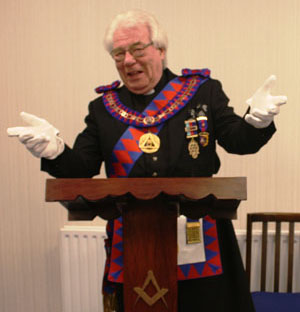 The chapter has proudly celebrated many significant milestones during this history, and this occasion was not to go unrecognised. It was meeting number 500 and to mark the occasion they were honoured and delighted to receive the Third Provincial Grand Principal Rev Can Godfrey Hirst accompanied by Paul Hesketh acting in the capacity of Provincial Deputy Grand Director of Ceremonies.
The three principals, Eddy Atherton, Raj Kohli and Brian Rollins, opened the chapter and conducted the initial business, following which Paul Hesketh came to announce the many, many distinguished guests, including grand officers, present and past senior officers of the Province and acting Provincial grand officers. Paul announced the long list with perfection, with that clarity of voice and command of tone for which he is renowned.
No sooner had Godfrey been received by the three principals, he was up on his feet and behind the specially placed lectern to deliver his celebration oration in honour of the chapter. Godfrey often states that whenever he moved to a new parish, he would always inform his parishioners that, due to the animated and enthusiastic nature of his delivery, they may not find his sermons interesting, but they certainly wouldn't fall asleep! There was no danger of that. Godfrey delivered an amazing and interesting oration, exploring the significance of the number 500, and relating it to both the chapter, the tenets of Freemasonry and the Christmas message.

First principal Eddy thanked the Third Provincial Grand Principal for his wonderful oration and was further pleased to present him with a cheque for £254.50 to the MCF 2021 Festival. This donation qualified the chapter as Grand Patron of the festival, prompting Ian Green, group charity steward, to present a certificate in recognition of the achievement.
A lively festive board followed in the traditions of Corinthian Chapter, with a fine meal and companionship. Stanley Oldfield proposed the toast to the Third Provincial Grand Principal. Stanley and Godfrey go way back, Stanley being a predecessor in the same office that Godfrey now holds. He spoke with fondness and humour reflecting on past shared experiences and mutual friends and recounting anecdotes in his own entertaining style.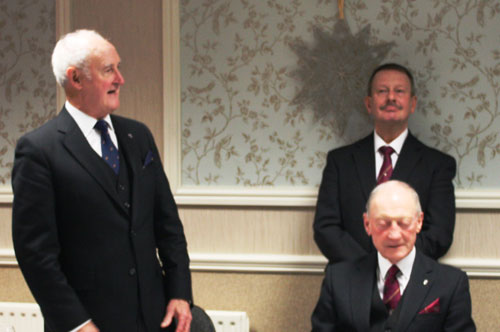 Godfrey responded and urged the audience to spread the word of the importance and enjoyment of the Royal Arch, with the aim of achieving over 50% of Masons belonging to the Order. He also praised Paul Hesketh, not only for the work he has done over the years, but for volunteering his time to allow the protocol to be met to allow his attendance at this special meeting.
It was now the turn of another distinguished guest to propose a toast to the chapter. Barry Jameson has recently retired as Second Provincial Grand Principal to take office as an assistant in the Craft and he was honoured to speak about this 500-meeting milestone. Barry had done his research. He talked through the history of the chapter, at the same time relating it to historical events and social changes, making comparisons and focusing on its many achievements. Infusing humour and personal knowledge, his toast was received and appreciated with rapturous applause.
As the evening sadly came to a close, Eddy Atherton was delighted to present both Godfrey and Paul Hesketh with gifts of a liquid nature. Godfrey was delighted with the gift of malt, and the 'spirit' in which it was given. Corinthian is a strong and successful chapter and looks forward to another 500 meetings.