The Eccleston Suite at Park Hall, Charnock Richard, was the setting for a 50-year celebration for Dave Smith, a member of Standish Lodge No 4955.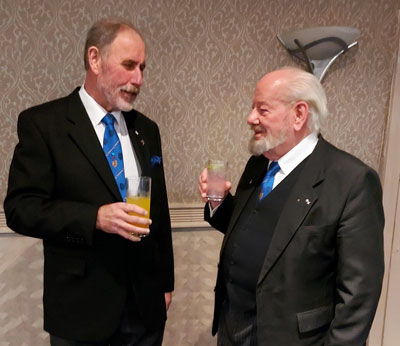 In attendance were Assistant Provincial Grand Master Frank Umbers, grand officers Brian Fairhurst and Malcolm Alexander, along with Derek Midgley Vice Chairman of the Ormskirk and Bootle Group.
During the meeting the WM Geoff Williamson offered the gavel to Frank Umbers which he duly accepted. Frank then described how Dave had been initiated into Standish Lodge on 5 January 1972. He has twice been through the chair, first in 1985 and secondly in 2005. Dave was exalted into Standish Chapter No 4955 on 15 March 1977 and is currently a member of St Michael's Chapter No 5756.
Frank Umbers also spoke of Dave's love of motorbikes. He had successfully run his own sales and repairs business specialising in British bikes. He sold the business in 1992 but continued to work for the new owner until his retirement aged 65.
After speaking of Dave's life, both in and out of Freemasonry, Frank called upon Derek Midgley to read the certificate from the Provincial Grand Master Tony Harrison, which was then duly presented to Dave by Frank.
At the festive board, Frank Umbers thanked the lodge for its hospitality. He also thanked the grand and acting Provincial grand officers for their support.
The toast to the celebrant was given by Ted Spencer, who as a 13-year-old boy who first met Dave when he went to Dave's workshop to see if he might have a part for his push bike. Ted's father, also a Mason, was a good friend of Dave's.
In an emotional response to the toast, Dave reminisced on his life with motorbikes and his early days in Freemasonry.
Geoff Williamson presented Dave with a glass decanter and read a card from the group chairman Graham Chambers and another from Derek Midgley. A menu card was signed by all those present and given to Dave near the end of the meeting.