It was a very special occasion for the brethren and the many visiting guests of Bootle Pilgrim Lodge No 1473. They gathered at Litherland Masonic Hall to celebrate the special and important milestone in the Masonic career of Malcolm Battersby, that of having achieved 50 magnificent years as a Freemason.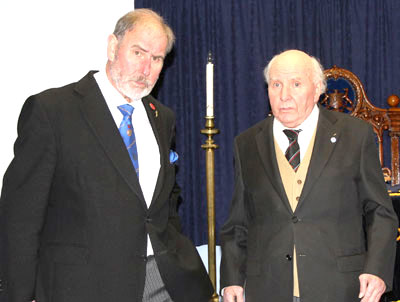 Leading the celebration was Assistant Provincial Grand Master Frank Umbers, who was accompanied by the Ormskirk and Bootle Group Chairman Graham Chambers. Also in attendance were Gary Smith Provincial Deputy Grand Director of Ceremonies, David Boyes Assistant to the Provincial Grand Director of Ceremonies, with acting Provincial grand officers Rory Green and Stephen Oliver.
The evening's meeting commenced with the WM, Keith Rushton, warmly welcoming everyone to the celebration before opening the lodge. Once the lodge's business had been completed, Gary Smith was admitted into the room. Gary announced that Frank Umbers was without and demanded admission. He was, therefore, duly admitted, preceded by grand officers, acting Provincial grand officers. Keith warmly welcomed Frank into the lodge and offered him the gavel, which Frank graciously accepted.
Malcolm was duly placed and seated before the pedestal, then Frank proceeded to deliver his presentation on Malcolm's life and Masonic career. Frank opened his remarks by saying: "Brethren we are here this evening to mark the 50th anniversary as a Freemason of Malcolm Battersby, it is my pleasure to be here in Bootle Pilgrim Lodge to officiate on this very special occasion. We are indeed honoured to have this opportunity to join in the celebration and I thank you all most sincerely for your support of our celebrant. Malcolm."
Frank then proceeded to give a detailed account of Malcolm's life. Malcolm was born in 1940 to Winifred and William Battersby, their fourth of five children. Malcolm's father ran their family firm Battersby Butchers. Malcolm attended Forefield Lane Primary School and then in 1951 went on to Crosby County Secondary School in Coronation Road, leaving when aged 15.
Continuing, Frank said: "You remember the family day trips out to Southport on Sundays, and the summer holidays when mum and dad would pack you and your brother Ken into the Austin 14, a Talbot London or the Humber 18 and take you off to the Lake District, Wales, Yorkshire Dales, or the Trough and Forest of Bowland. You thought you were incredibly lucky that your dad was never without a car and was able take you and Ken to all these beautiful places. You also have many happy memories of you and your younger brother Ken spending four weeks of the school summer holidays every year in the Isle of Man, staying with your aunties Ethel and Lilly."
Malcolm's first taste of work started early. When aged 13, Malcolm's father had him delivering shop orders after school. Malcolm rode his bike, every day, from Crosby County School to the shop and averaged between 50 to 60 deliveries, not finishing sometimes until 9 or 10 o'clock at night. Malcolm recalls, it was during this time, from around the age of 14 that his father let him drive his car. Malcolm was driving around Crosby, Waterloo, Litherland and Thornton in his dad's 2.5 Litre Super Sport Jaguar.
Malcolm's grandfather, William Henry Battersby was a manager for J J King's, a general grocer's business that had many shops in the Liverpool area and Malcolm's grandfather was determined to go into business for himself. He bought a shop and arranged for the inside walls to be built with tiled bricks and in 1895, Battersby Butchers at 92 Linacre Road Litherland, was opened. William purchased a number of other shops and went on to become a well-known businessman and a highly respected Freemason, with Malcolm's father taking over the shop from his grandfather.
On leaving School, Malcolm's first full-time job was with the high-class butchers, J J Hewlett as an order boy. Working from his main shop in Myers Road, Waterloo and Malcom's weekly wage was £2.7s.6d a week, but he only lasted a month, before his uncle Bob (Robert. E Battersby) came and asked him to work for him, with his offer of £3.00 a week, sealing the deal,
Malcolm worked for his uncle Bob for two years, before his brother Bill got him a job working for Walter France and his wife Marjory, at a recently opened shop in Birkdale, Southport. Spending two very enjoyable years working for them, before Malcolm was on the move again. This time his father asked him to work for him, as his manager had left, and he wanted Malcolm to manage the shop at 92 Linacre Road.
It was during this time, Malcolm met Jacquelyn, who was the manager of the Sayers Confectioners shop opposite. Their first date was set up by Nora, one of Jacquelyn's shop assistants, who had seen Malcolm's ice skates on the back seat of his car and told Malcolm that Jacquelyn was a good ice skater. Malcolm asked Jacquelyn out on a date, a night at the ice rink, only to find out that Jacquelyn was no ice skater. 10 months later in 1964 at Breeze Hill Presbyterian Church Malcolm married Jacquelyn.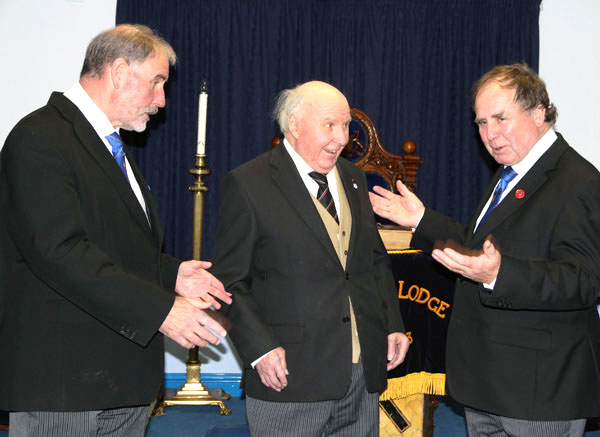 The same week that Malcolm got married he bought his father out and he became the owner of Battersby Butchers, 92 Linacre Road and six months later Jacquelyn left her managers job and joined Malcolm at the shop. Working long hard hours they went on to build a thriving, successful and well-respected business, selling only top-quality products at reasonable prices to an ever-growing customer base.
At the age of 28 Malcolm was diagnosed with rheumatoid arthritis, followed by osteoarthritis and such was the extent of Malcolm's condition, he was expected to be in a wheelchair by the age of 37. Through all this, Malcolm soldiered on until ultimately he was forced to retire when aged 48.
Malcolm has had, from a very early age, a keen interest in owning and driving cars, especially the classics from the 30's, 40's and 50's. Malcolm also likes a number of genres of music, from classical, to the crooner's and country and western. Of course, Malcolm also enjoys Freemasonry and recalls many memorable and happy times over the years, including time spent with Jacquelyn and friends attending numerous ladies' nights at Balliol Road, other Masonic halls and the Blundellsands Hotel to name but a few.
Frank then gave a detailed account of Malcolm's Masonic career. Malcolm's grandfather, William Henry Battersby, was a member of Kirkdale Lodge No.1756 (closed November 2005) and was the master in 1913. He was also a founder member and the first treasurer of Malcolm's mother lodge, Litherland Lodge No.3676, when it was consecrated in 1913, and was an acting Provincial Grand Standard Bearer. With Malcolm's father and eldest brother, William being former members of Litherland Lodge.
Malcolm was initiated into Litherland Lodge, on Tuesday, 4 May 1971, and was proposed by the lodge's director of ceremonies Bill Hodson and seconded by Tom Holmes. After advancing through the various progressive offices, Malcolm became WM of the lodge on Tuesday, 2 September 1986 and on all accounts, Malcolm had a very successful year as master. He did exceptionally well to deliver, to a very high standard, all three ceremonies and the installation of his successor. Malcolm held the offices of almoner from 2006 for eight years and group representative from 2008 to 2014
In May 1993, Malcolm received his first Provincial appointment to Past Provincial Senior Grand Deacon and received his Provincial promotion to the rank of Past Provincial Grand Superintendent of Works in 2002. From 1989 to 1999 Malcolm served on the Bootle Masonic Hall committee as treasurer, and from 1987 for a period of 10 years, along with Jacquelyn, ran the very popular Litherland Lodge stall at the spring and Christmas fairs. They also helped to run the Wednesday night bingo sessions at the Tithebarn care home for over five years.
Malcolm is also personally well known throughout the former Bootle Group for having been, for many years, the permanent tyler for at least six of the lodges and the stand-in tyler for many more. He is also a member of the Royal Arch and was exalted into Walton Priory Chapter No 5992 on 23 January 1982. He had a spell in Fermor Hesketh Chapter No.1350, then joined Thornton Chapter No 8008 in 2009, only resigning in 2019 due to his health and mobility.
Frank concluded his presentation by saying: "Malcolm, when you left school at 15, you wouldn't have known how your life would turn out, none of us do. But on reflection, you have concluded that your life has been far beyond your expectations. You have clearly had a rewarding life, and this is mainly because as you told me you made many good decisions. The most important one of these was getting married to Jacquelyn. You were married for almost 42 fantastic years, until she sadly died in 2005, leaving you with so many wonderful memories of your years together to keep alive and cherish. Malcolm without a doubt you have had a life well lived and what shines through is your positivity through the bad times as well as the good, which I believe has contributed significantly to your very rewarding life. Malcolm Battersby, you have set an example to us all in your life, a life full of commitment and devotion to your family, hard work and success in your business and 50 years of dedication to Freemasonry."
After the detailed account of Malcolm's life and Masonic career so far, Frank asked the Ormskirk and Bootle Group Chairman Graham Chambers to read out the jubilee certificate, before Frank presented the certificate to Malcolm saying: "Malcolm, it gives me great pleasure to present to you, on behalf of our Provincial Grand Master, this certificate in recognition of your achievement of 50 years in Freemasonry and to wish you, on behalf of all the brethren present the best of health to enjoy more years in our company."
At the end of the ceremony Malcolm was promoted to the rank of Past Provincial Grand Sword Bearer and was invested by the AProvGM Frank Umbers and the Group Chairman. Graham Chambers then read out his patent of appointment.
With the presentation being over Frank handed the gavel back to Keith, who then closed the lodge and the brethren made their way to the dining hall for an excellent festive board, where the celebrations continued.