There was a celebratory mood as the brethren and visitors of Ainsdale Samaritan Lodge No 4342, gathered in preparation of the golden anniversary of Brian Murphy into Freemasonry.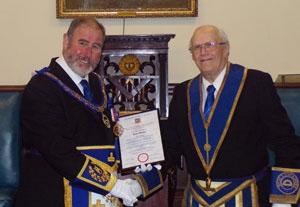 Once the lodge had been opened, Assistant Provincial Grand Master Frank Umbers demanded entrance and once in he accepted the gavel from the WM Richard Gillett for this special ceremony.
Frank, as usual, gave a heart-warming and humorous account of Brian's life and Masonic history. The 42 members and visitors in attendance learned that Brian had been initiated on 18 January 1969 into, what was then, Ainsdale Lodge No 5884. This was later amalgamated with Samaritan Lodge No 4342 to become Ainsdale Samaritan Lodge No 4342 in 2011.
In 1982, Brian became master of Ainsdale Lodge for the first time and it was not until 2006 that he decided to take the masters place once again.
However, Brian was very active in Masonry and after achieving the rank of Provincial Grand Steward in 1988, he joined Quingenti Lodge No 8516.
The very next year, Brian achieved what he called the pinnacle and the fondest memory of his journey in freemasonry, as he was elected and installed as WM of Quingenti Lodge.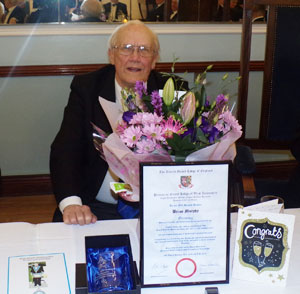 Frank then had the honour of presenting Brian with his 50-year certificate, which group chairman Colin Jenkins had explained was signed by the Provincial Grand Master Tony Harrison.
Once the lodge had been closed, the brethren retired to a welcomed festive board to hear friend and colleague, Bill Fawley, give an excellent speech extolling Brian's many qualities and received a rapturous round of applause.
The evening was rounded off with the presentation of gifts from the lodge members.