Merchants' Lodge No 241 has a long and distinguished history which has just been augmented yet again. This was in the form of a 50-year celebration in Freemasonry for Eric Holcroft, which was held at his home and was a most happy and joyous occasion.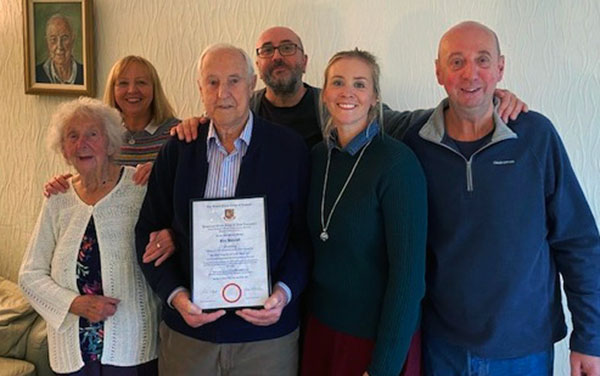 The small delegation in attendance consisted of Assistant Provincial Grand Master Mark Matthews, Liverpool Group Royal Arch Secretary Neil Francis (who coincidently is secretary of Merchants' Lodge), and lodge director of ceremonies Kevin Dempster.
With a small family group in attendance, Mark Matthews gave a brief résumé of Eric's life, which began with Mark saying how pleased he was to preside over this 50-year celebration.
Starting with the birth of Eric at Rainford in 1931, Mark immediately took the opportunity to congratulate Eric on his recently celebrated 90th birthday. The year of 1931 saw a number of events besides Eric's birth and saw the USA adopt the song 'Star Spangled Banner' as its national anthem.
Alka Seltzer was first introduced (no doubt the Masons amongst us have on occasions relied upon them after Masonic dining), the first electric shavers appeared in America and gangster Al Capone was indicted on 5,000 counts of prohibition – perhaps that may also tie in with the introduction of Alka Seltzer.
Notable people born in 1931, besides Eric, included comedian Les Dawson, singer Anthony Newley, actors James Dean, Robert Duvall and Star Trek legends William Shatner (Captain Kirk) and Leonard Nimoy (Mr Spock). Intriguingly, in 2021 William Shatner became the oldest man to go into space aboard the Blue Origin rocket; an adventure which Eric said he had no thoughts about completing himself. Popular songs in 1931 included Red Nichols with 'I Got Rhythm', Ray Noble and 'Lady of Spain' and Russ Columbo with 'Goodnight Sweetheart'.
Mark noted that Eric left school at the tender age of 14, which was the norm for that period, and trained as an apprentice coach builder with Ribble Motors in Hawthorne Road Bootle; his skills being further honed by studying at the Technical College in Clarence Street Liverpool. As was often the case back in those days, immediately on completing his apprenticeship Eric was called up to the army for his National Service and luckily enjoyed the experience of the army in one of the more salubrious postings where he served for two years in the sunshine of Gibraltar.
On returning to 'Civvy Street', Eric took up employment at Pemberton Caravans and was employed by that company for 22 years, eventually progressing to being a manager. Not one to rest on his laurels, Eric then formed his own company, Galaxy Caravans. This grew into a highly successful business producing luxury caravans and employing over 120 people.
It was mentioned that Eric and his wife Win are soon to celebrate 65 years of happy marriage, which has produced two sons, a daughter and five grandchildren, and again Mark took the time to extend the congratulations of everyone to the happy couple.
He then mentioned that Eric has many qualities, but one of his main ones being a lifelong love of Everton Football Club. He was a season ticket holder and shareholder at Goodison Park for many years and enjoyed going to the match with great friends Stan Sutch and Alec Gerrard. Eric's family all became supporters of the club, as are both Mark Matthews and Neil Francis, which obviously left out the one person of impeccable taste present, Kevin Dempster, a true Liverpudlian.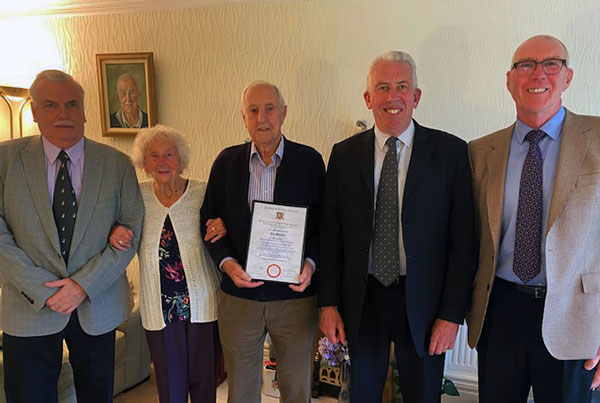 In his younger days Eric, a keen sportsman, was a highly successful golfer, winning several competitions including the Liverpool Group Golfing Tournament. Eric and Win enjoyed holidays over the years and in particular taking cruises with many of those holidays taken with their great friends Ken and Helen Nolan.
With regard to Freemasonry Eric was initiated into Merchants' Lodge on the 9 March 1971, passed to the second degree on the 14 December 1971 and raised to the third degree on the 11 April 1972. He was the WM of the lodge in 1981, and again in 1999 and has assisted Merchants' Lodge in various offices. Furthermore, he was a Royal Arch director of ceremonies for 15 years.
Mark pointed out it was quite clear the brethren of the lodge hold Eric in high esteem and that his work and commitment was further acknowledged by the Province of West Lancashire in 1992 when he was appointed to the rank of Past Provincial Junior Grand Deacon. In 2000 he was promoted to the very high rank of Past Provincial Junior Grand Warden.
Addressing him directly, Mark said: "Eric Holcroft, Past Provincial Junior Grand Warden of the Province of West Lancashire, 50 years' service to Masonry is a remarkable achievement. I hope that you will continue to have many more happy years in the Craft." He then requested everyone to join with him in showing their congratulations and appreciation to Eric, who that afternoon was celebrating 50 years as a Craft Mason.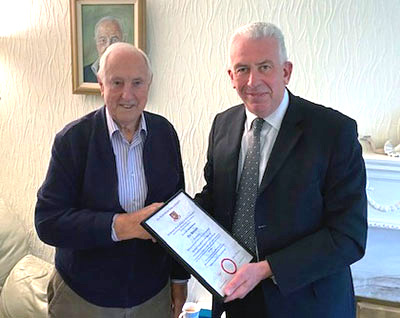 Turning to Eric, Mark said that the Provincial Grand Master Tony Harrison was aware of his celebration that day, having himself talked to him on the phone earlier on. Tony had also sent Eric his congratulations and recognition of his achievement in the form of a certificate, which Mark asked group officer Neil Francis to read.
On completion of the presentation Eric replied by saying: "I have loved every minute of my time in Freemasonry; it has been everything that I expected it to be." Eric next presented a very generous personal cheque made out to the West Lancashire Freemasons' Charity, for which Mark thanked him for his generosity on behalf of the people who will benefit from his kindness in the future.
The family had kindly put on a small buffet which was enjoyed by all and during this Eric regaled a number of stories and happy memories of his time as a Mason in Merchants' Lodge. This included ritual at the lodge in Hope Street, together with socials and quiz nights at his home. It was a pleasant and remarkable day for all in attendance.