Anyone being a member of any organisation for 50 years is a fantastic achievement. However, somebody being a Freemason for 50 years, who tries to help others less fortunate than themselves, is something extra special. For Derek Leviston, the meeting of Hindpool Lodge No 1225 was such an occasion, as Derek celebrated his 50th year as a Mason.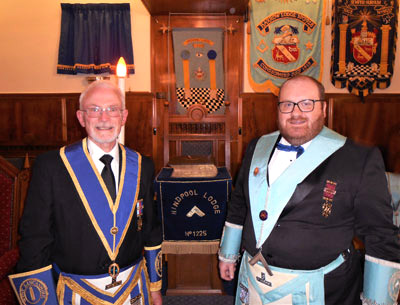 The meeting was opened by the WM Steve Rennie along with 50 other brethren gathered. They were not to be disappointed as they witnessed a special evening, which was conducted by Assistant Provincial Grand Master Peter Schofield, on behalf of the Provincial Grand Master Tony Harrison. The official business of the lodge being completed in a sincere manner, Peter, along with grand officers David Grainger, Roly Saunders, accompanied by Provincial grand officers Gary Rogerson, Alan Pattinson and Chris Gray, Chairman, Vice Chairman and secretary of the Furness and South Lake Land Group respectively; plus, acting officer Mark Little, all added a colourful touch to the celebration. To keep everyone on their toes was the Assistant to the Provincial Grand Director of Ceremonies Brian Woodburn, who orchestrated the proceedings with distinction.
Peter, once Derek was brought on to the floor of the lodge by Brain, began to orate his working life and Masonic life for all to hear. Derek was born in Appleby to Lena and James and they lived there with his elder brother James for the next two years. They all moved to Barrow just at the start of the Second World War, as his father had secured employment in the 'Gunshop'.
Once in Barrow, living in Thorncliffe Road, the family grew in size with the birth of a brother and sister, Malcolm and Jane. Jane now lives in New Zealand, but Malcolm and James are still here in Barrow. Derek attended Oxford Street Primary School up to the age of 11 before moving to, according to Peter, 'obviously the best secondary school in Barrow – Holker County Secondary School'. The fact that Peter and two other 50-year celebrants went to the same school had nothing to do with his opinion – so we are reliably informed!
During Derek's school career he was a very keen sportsman where he was the captain of the swimming and rugby union teams. He also played rugby for Vickers open age team based in Hawcoat Lane, whilst he played water polo and swam for Barrow Amateur Swimming Club.
In 1958 at the age of 19 Derek took part in the Ben Nevis Race and at the time was the youngest ever to take part. Always ready for a challenge, he completed the race again in 1961. On leaving school, he was successful in gaining a mechanical engineers apprenticeship and apprentice draughtsman with Vickers Shipbuilding and Engineering Ltd.
Attending Barrow Technical College, Derek was successful in securing his Ordinary and Higher National Certificates and Endorsements in Mechanical Engineering. It is not a surprise to learn that having completed his apprenticeship, he was offered a job in the same company as a design engineer from 1960 – 67, being responsible for heat balance calculations, bearing load calculations and pipework stress calculations and the production of diagrams for turbine and gearbox journals.
In 1967 he left Vickers for employment as a Production Inspector for the Naval Weapons Production Overseers in the Ministry of Defence. If that was not enough of a challenge, Derek then enrolled on an Open University (OU) degree course and gained a B.A. Honours degree, being one of the first ever students to enrol following the launch of the OU in 1970.
The next challenge arose when he moved back to Vickers as a Project Design Engineer and assistant to the Chief Engineer. Promotion to Chief Engineer followed in 1976 having been responsible for quality assurance work on nuclear submarines and surface ships.
In 1981 he was appointed to the position of Non-Destructive Test Manager for all non-destructive testing and structural quality functions on nuclear submarine construction and fitting out within the whole of Vickers. As a condition of his appointment, Derek had to undertake a Master of Science Degree course in non-destructive testing which he did at Brunel University at Uxbridge, resulting in him becoming a Member of the Institute of Mechanical Engineers, which Peter felt was 'a truly remarkable achievement'.
More responsibilities followed when Derek had to work on the Trident Class submarine as a Fabrication Subcontract Manager. Before retiring in 1997, Derek introduced a completely new philosophy with regard to starting quality assurance requirements on purchase orders, which has been adopted for all future orders. "What a legacy!" Peter concluded, "an inspiration to us all."
Meeting Jean while attending dances in the local area, they married in 1981 and were blessed with a son Robert, who is a computer manager for Travel Agents Barrhead in Barrow and lives locally. He has been further blessed with a granddaughter Sophia Jean, now aged 8. "It was clear," remarked Peter, "what an important part the family played in Derek's life and would he take back his very best wishes to Jean for all the support she has given to Derek, this lodge and Freemasonry in general."
When growing up, Freemasonry was no stranger in Derek's life. His father and elder brother were members of Hindpool Lodge and St Oswald Lodge No 5170 respectively. It was no surprise that his father proposed Derek and in 1972, poor and penniless he was initiated into Hindpool Lodge. Derek was passed to the second degree in 1972 and raised to the sublime degree of a master Mason in 1973.
Derek progressed through the various offices of Hindpool Lodge and in 1985 he became the WM of the lodge. From 1987 to 1996 Derek was the director of ceremonies and Peter explained that, 'he was a stickler, a real traditionalist and everything had to be just right!' He was the lodge treasurer for 12 years, which he fulfilled with great diligence, dedication and commitment.
Being able to cover all offices in the lodge at very short notice, has always been well received by the brethren of the lodge. Derek went on to serve with distinction for 14 years on the Northern Group Committee, gaining much respect from the group officers. Following the death of George Wood, his daughter and family set up the George Memorial Fund which was to be administered by the lodge. The income raised from the capital sum invested should, at the discretion of the lodge, be distributed to charitable causes. Derek, for the last 17 years has held the position of lodge administrator of the fund and has overseen the distribution of nearly £280,000, which has been donated to worthy charities and good causes over this period.
In 2011, Derek was promoted to the very high rank of Past Provincial Junior Grand Warden which was a just reward for this commitment to the lodge and Freemasonry in general. In the Royal Arch, Derek was again promoted to the very high rank of Past Provincial Grand Scribe Nehemiah in 2013, not just recognising his dedication to Royal Arch Masonry within the Furness and South Lakeland Group but to Abbey Chapter No 1225 in particular.
Peter then brought the congratulations from the ProvGM Tony Harrison, who also wished Derek good health to continue his work within Masonry for many more years to come. Gary was invited to read out the wording of the certificate to Derek. Peter concluded by stressing the commitment, encouragement and guidance shown by him throughout his 50 years as a Freemason and that 'it had been a great privilege and pleasure to be able to share his story to all the brethren present'. The formal part of the celebration ended, the brethren then retired to enjoy each other's company for a little longer, at a superb festive board down stairs.