There's no event more guaranteed to excite a tear or two of joy than when a brother is given the surprise of being promoted in the field, as it's known in Freemasonry. The latest recipient of this significant honour was Mike Notman, now a member of the Ansdell Lodge No 3607.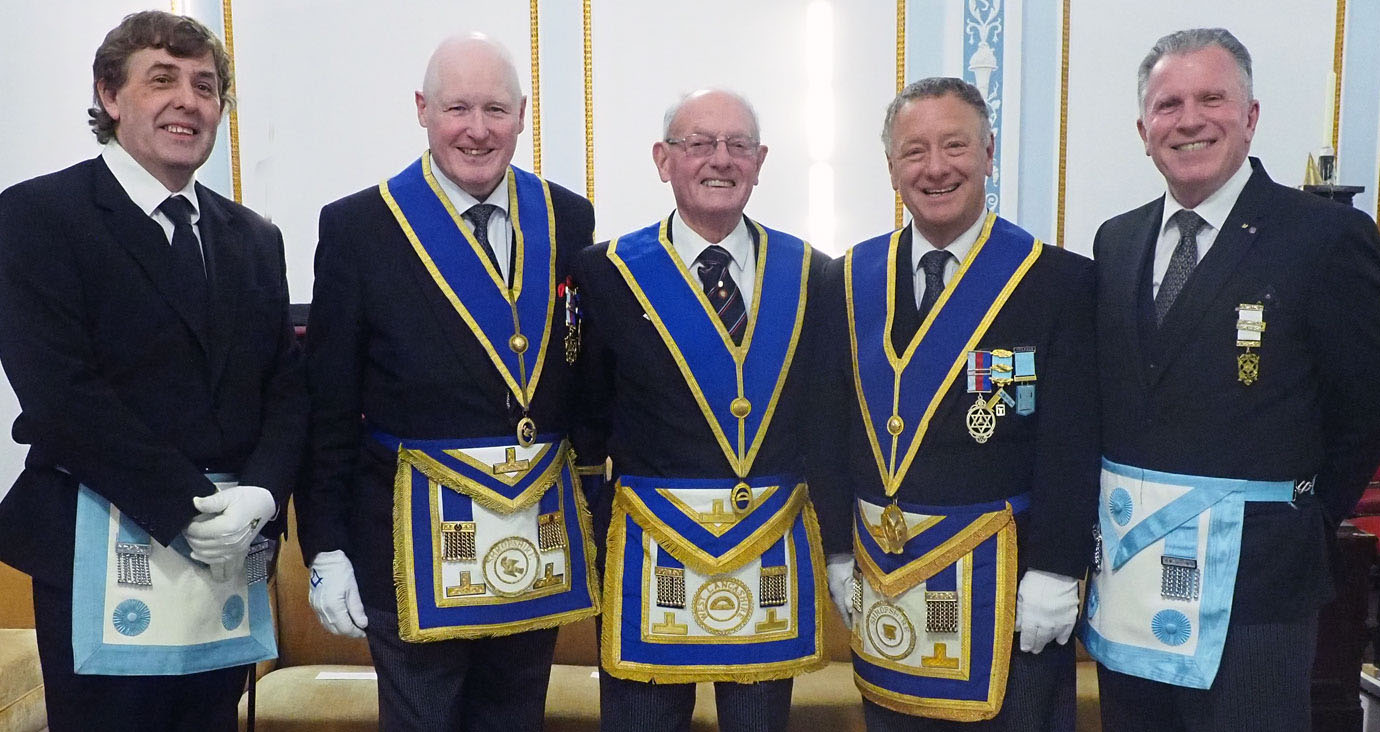 Leading the celebrations on this occasion was Assistant Provincial Grand Master Duncan Smith. He was supported by grand officers; David Randerson, Stuart Thornber and Mike Goodwin. Also supporting Duncan were the group chairman John Robbie Porter (who is a grand officer designate) and the group vice chairman Ben Gorry, who is the Provincial Junior Grand Warden of the Province. Keeping them all in order was Provincial Deputy Grand Director of Ceremonies, Ryan Modlin.
With everyone in place, Duncan proceeded with his presentation of Mike Notman's life both outside of and within the Masonic sphere.
Mike, was born in Bolton, in March 1939, the eldest of two sons to Mark and Sally Notman. His father was born in Edinburgh and was the chief engineer for Baker Perkins, which in those days was Allied Bakeries, before moving to Melling's Bakery in Farnworth, Bolton. Mike's mother was from Stoke-on-Trent and was an artist at Wedgewood Potteries. His brother Andrew is two years younger and lives down in Essex.
Mike's first school was Highfield Road Junior School in Farnworth, following which he went on to Harper Green Secondary Modern. He wasn't a fan of school but his favourite subjects were maths, English and technical drawing. He also enjoyed playing football and cricket, and is still a keen supporter of Bolton Wanders.
He enjoyed the local Youth Club in Harwood, the Sea Cadets, and the Boy Scouts, becoming an Assistant Scout Master responsible for leadership, inspiration and motivation of adults volunteering in the group.
On leaving school, Mike gained his City and Guilds in Electrical Installation from Bolton Tech and went on to be an apprentice electrician with Dawson and Gent, in Farnworth. His first job an electrician was working for Melling's Bakery where his father had worked and Mike worked his way up to the position of Assistant Engineer.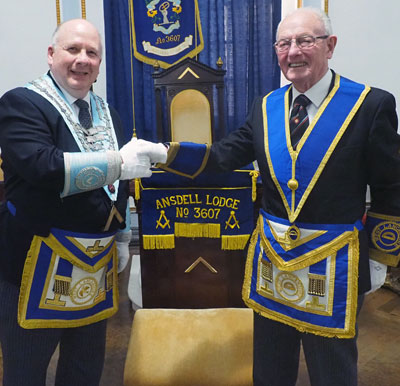 These were happy times but after working there for 26 years Melling's Bakery was closed. Fortunately the same job came up at Cookson's Bakeries in St Anne's, which was also part of Allied Bakeries, so Mike moved to Pilling Avenue, St Anne's, where he still lives today. This job involved keeping the production line moving, so quite a lot of problem solving and a different issue to deal with every day. Mike was also working there when the whole process was modernised and computers were introduced, which was a very steep learning curve. Mike thoroughly enjoyed his working life and upon retirement he had worked for Allied Bakeries for 36 years.
Mike met his wife, Dorothy during Wakes Week, on the Isle of Man in 1957. In those days the Wakes Week was a holiday period in North West England, originally a religious celebration, but the tradition of the Wakes Week developed into a secular holiday, particularly during the Industrial Revolution. Mike's youth club had decided to go to one of the Christian Endeavour Holiday Centres at Castleton, on the island and Dorothy was staying at the same hotel with her parents. Dorothy was a post office telephonist and supervisor with British Telecom and they were married four years later at Deane Church, Bolton. They have been happily married ever since. Last year they celebrated their 60th wedding anniversary with a holiday to Jersey, along with their daughter, Rebecca and granddaughter, Eloise.
Mike's interest in Freemasonry was nurtured by his father, who joined late in life, and his grandfather who were both Freemasons. A good friend of Mike's from the scouts and the youth club, Geoff Delamere, was a member in Epworth Lodge No 3789. He was a keen Mason who spoke to Mike on numerous occasions about Freemasonry. However, being a prison officer he moved away from the area but Mike has happy memories of going to meetings at his new lodge, which met at Great Queen, Street London. Geoff's son Andrew, who is the Provincial Assistant Grand Secretary for the Province of Shropshire, with some fellow members from Shropshire was in attendance to witness Mike's celebration.
Mike's Dad was his proposer, so he is a 'Lewis' and Alan Dawson, who Mike served his apprenticeship with, was his seconder and Mike was initiated on 20 April 1971 into Silverwell Lodge No. 5266 in Bolton. Following his initiation, Mike progressed through all the regular offices of the lodge and he was installed into the master's chair in 1983. He thoroughly enjoying his year as master and, as was usual in those days, he performed all three ceremonies and installed his successor. Mike's ladies evening was held at The Pack Horse Hotel in Nelson Square, Bolton. It was well attended and a good night was had by all.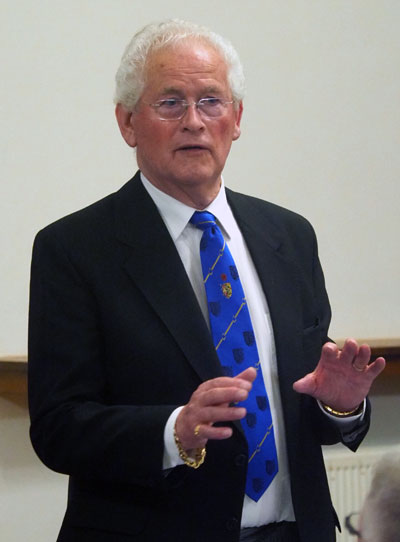 On moving to St Anne's, Mike continued to travel to Bolton to attend Silverwell Lodge for a few years but one day at St Thomas's Church he was speaking to Leslie Bridge who mentioned that he was the almoner in his lodge, and that conversation led to Leslie proposing Mike into Melita Lodge No. 6783, meeting at the Palace, St Anne's; which incidentally, was a lodge that was formed to accommodate people moving into the area.
Mike has always been an active member of the lodges in which he has been a member, and he has filled in for a number of offices whenever required. Mike was recognised by the Province of East Lancashire in 1992 receiving the rank of Past Provincial Junior Grand Deacon (PPJGD). He became master of Melita Lodge in 2001 and acted as almoner from 2004 until the lodge closed in 2020. In 2009 Mike received the rank of PPJGD in the Province of West Lancashire which was followed in 2015 by promotion to Past Provincial Grand Superintendent of Works.
Mike was also a member of the Royal Arch, being exalted in 1978 into Maritime Chapter No. 221 in East Lancashire. Mike is also a member of a number of other Masonic Orders, and enjoys them all.
Outside of Freemasonry, Mike's hobbies include amateur radio, for which he is a member of Fylde Amateur Radio Club, which is a group of radio hams. He also enjoys walking in the Lake District. Furthermore, he enjoys crown green bowling at St Anne's Ex Servicemen's Club, as well as swimming at the Dalmeny Hotel, along with Dorothy who is keen on aqua aerobics.
To his credit, Mike does a considerable amount of work for the community, having worked at the local RNLI shop in St Anne's for the past 10 years and delivering 'Meals on Wheels' for four years from Park Road Methodist Church. Mike has also been heavily involved with St Thomas Church where he was church warden for seven years, which took up a considerable amount of time and effort and he still continues to help out with the general running and maintenance of the church when required.
Mike received his 50 year certificate from Duncan at the end of the story of his life. He also received his 50 year badge from Ben Gorry. Both presentations being the norm on these occasions. What nobody was expecting was Duncan insisting that Mike remain at the pedestal at the end where he was afforded the extra honour of being promoted in the field and receiving the collar of the very high rank of Past Provincial Grand Sword Bearer to the generous acclaim of all present.
The lodge was closed shortly afterwards and the brethren retired to the banqueting suite for a sumptuous meal, provided by Lee Munro and his team. With the toast to the celebrant being proposed in fine style by Mike Goodwin and the response from Mike Notman. The evening was brought to a close by John Nicholls who proposed the tyler's toast.