Les Ashcroft has always had artistic talent, and throughout his working and Masonic life, it has been his cornerstone and now he is celebrating 50 artful years in Masonry.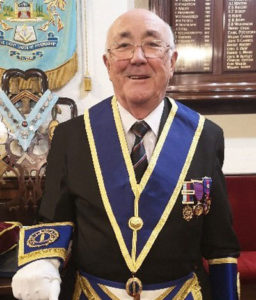 Born in 1933, just before the Second World War, he was evacuated during his early years to Shrewsbury then Bangor. After the war, he joined the Boys Brigade. He was the only member to be awarded the Kings Medal.
As a regular church-goer, his musical talent was used, and he played the Last Post on ceremonial occasions. He started work at 17, as a trainee artist, knowing then that he would soon be called up for National Service, he pre-empted this by joining the Territorial Army, so that by the time he was called up he excelled, being awarded the Champion Recruit Trophy. Even in the services, he maintained his love of art, joining an art school in Essen, where he was stationed.
After service, Les's artful career went from strength to strength, and he rose through being a studio manager, account executive and General Manager. Finally tiring of national advertising, he pulled down his garage and built a studio/office, from which he produced copywriting, design and artwork for local clients. He finally retired at the age of 70.
Masonically, the artistic side was never far away, and for many years he produced the advertising and artwork for the Warrington Group Yearbook. Les also produced the signwriting for the past masters' boards for many years. His talent even extended to producing the design and artwork for the West Lancashire Provincial tie.
He has steadily ascended the ladder in both Craft and Royal Arch, through acting ranks in both, and now he is at the lofty heights of PPJGW and PPGSoj. Les is a member of True Light Lodge of Friendship No 2963 and Gilbert Greenall Chapter No 1250.
To add to his artistic talents, Les is also a keen ballroom dancer and this is how he met his wife. They have two sons and recently celebrated their diamond anniversary, receiving a message of congratulations from the Queen. So, Les is not only an artful man, but a happy one.