David Rhodes celebrated 50 years as a Freemason at a meeting of Royal Preston Lodge No 333. The lodge was honoured by the presence of an abundance of grand officers led by Assistant Provincial Grand Master Stewart Seddon and the Provincial Deputy Grand Director of Ceremonies Ian Halsall.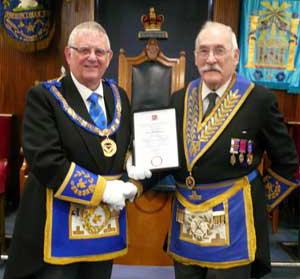 In recognition of Tom's service to Freemasonry, Past Provincial Grand Master Peter Hosker, Past Deputy Provincial Grand Master Tom Blackburn and a collection of Past Assistant Provincial Grand Masters attended the occasion. In addition was the Provincial Grand Master for Glasgow James Peddie. They were supported by the presence of the Preston Group Chairman Steve Bolton and other acting Provincial grand officers.
The lodge was opened in due form by the master of the lodge Brian Robertson for the administrative business of the lodge to be quickly completed. Following its conclusion, the Assistant Provincial Director of Ceremonies entered the lodge to announce the presence of Assistant Provincial Grand Master Stewart Seddon. He duly entered the lodge accompanied by Assistant Provincial Grand Masters and other grand and Provincial grand officers to be formally welcomed by Brian.
Having occupied the master's chair, Stewart invited David to occupy a suitable position in the lodge. With a beaming smile he opened his booklet and began to relate the life and times of David Keith Rhodes. Stewart informed the brethren that the story starts in 1940, and by way of illustration listed the various significant events which occurred both in the United Kingdom as well as in the world. David's birthday in June of that year included personalities of the world of stage and screen, political figures, sports personalities and royalty.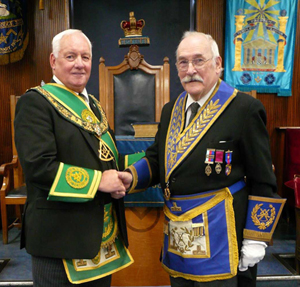 The family home was originally in Greystock Avenue where his father was serving his country in the Royal Air Force and his mother owned a hairdressing business.  After primary education, David continued his education at St Bees School, where he enjoyed success on the sports field as well as academic achievements.
Upon leaving school, David entered the family jewelry business and qualified in this area by passing the Gemology Diploma. In 1967 David took over the family jewellery business when his parents moved to Jersey. He became a member of the National Association of Goldsmiths, the Jewellery Advisory Council and the British Watch and Clockmakers Guild, eventually retiring in 2009 thus enabling his son Charles to take over the business.
David served in the Territorial Army for many years. In 1975, following instruction at Blackpool airport with Westair Flying School, David gained his private pilot's licence. In June 1983 David was made a Freeman of the City of London.
Stewart then outlined David's Freemasonry and requested the secretary to read the minutes concerning the initiation ceremony in 1969, when David joined Royal Preston Lodge, eventually becoming WM in 1976, a position he has held on three occasions, including the bi-centenary year. David has also served as WM of Great Eccleston Lodge No 8895 and Thomas Harper Lodge No 96912 being a founding member of both.
In October 1983, David received his one and only Provincial appointment in this Province that of PPrJGW he was appointed to that rank in the Province of Warwickshire in 2000. In 1995, David was honoured by the Grand Master when he was appointed Past Assistant Grand Director of Ceremonies in Grand Lodge.
In the Royal Arch, David was exalted into Royal Preston Chapter No 333 in 1972, becoming its first principal in 1983.  David was also the founding Scribe Ezra of Great Eccleston Chapter No. 8895 in 1982 becoming first principal of that chapter in 1989.
In 1986 David received the appointment as Provincial Grand Sojourner and in 1992 was promoted to the rank of Past Provincial Grand Scribe Nehemiah. In 1996, David was appointed to the rank of Past Grand Standard Bearer in Supreme Grand Chapter. In short, David has received no less than 46 appointments to or promotions in grand rank in the various degrees and Orders of Freemasonry. He is an honorary member of 30 Lodges and a corresponding member of eight Lodges of Research.
He is a member of lodges from Preston to Cornwall, Scotland, Ireland, France, Belgium, Israel, Australia, Canada and an abundance of grand lodges in America. On a more local basis, David is Chairman of Preston Masonic Study Group, Librarian of the Preston Masonic Library and Curator of Preston Masonic Museum. Stewart also mentioned to the brethren that on this particular day, David should have been in London to receive yet another grand rank in another Masonic Order.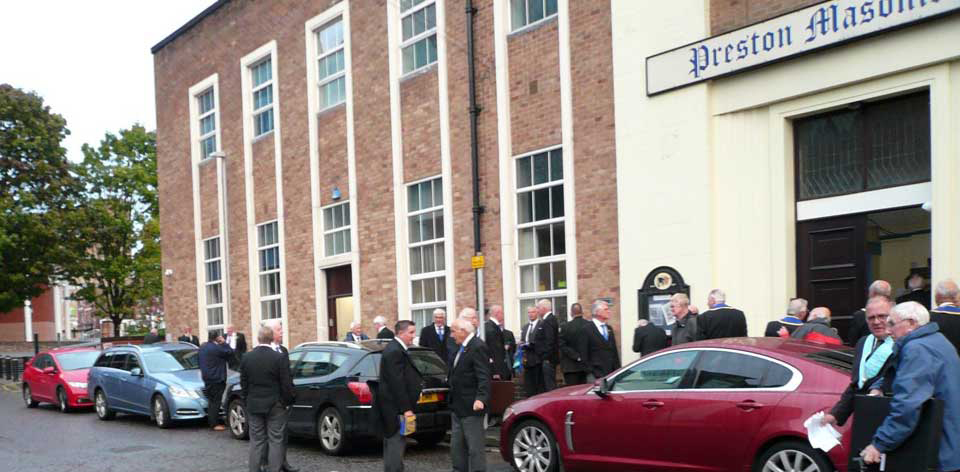 David's entire life has been an example of what makes a good Freemason, as well as a good citizen, a good husband, a good parent, and in every way, a contributor to society as a whole.
After inviting Steve Bolton to read the celebration certificate, Stewart rose, making his way onto the floor to formally present David with it as a memento of what was a wonderful occasion. His presentation was followed by a sustained applause from all the brethren present.
At the end of the meeting, the retiring procession of the Assistant Provincial Grand Master along with the grand officers was punctuated by the sounding of the fire alarm, at which point all the brethren sought the refuge in the assembly area of Saul Street. Such was the fellowship of the occasion that this added ingredient to the proceedings did not detract from the enjoyment of the evening celebration.
Later in the evening, at the celebration banquet, the toast to David was given by Bill Seddon. Bill said he was pleased to have the honour and privilege of proposing the toast to such a fine person who had been a continuing close friend for very many years. Bill informed the brethren of the various exploits undertaken in their youth, one of which was facilitating David's access to his parents' house, when returning home after the curfew of 22:30hrs, this was achieved via an open window with the aid of a ladder failing which a certain person had to kneel and be used as a foot stool to enable David to reach the window ledge. Bill and David in their exploration of Freemasonry would visit each other's various lodges. Bill mentioned that according to his recollections, he had dined more at David's expense than at his own.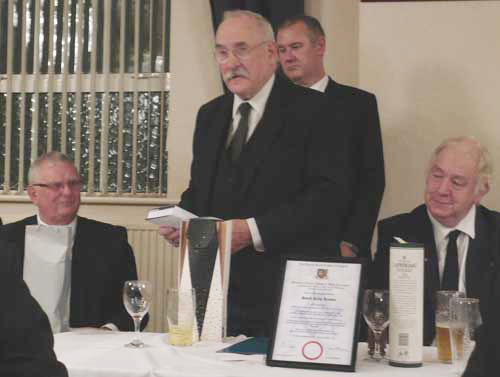 Bill also referred to David's extensive collection of Masonic memorabilia including his knowledge and membership of Masonic Orders, and heraldry. David in effect has explored many of the avenues in his Masonic journey.  Bill asked the brethren to stand and join him in a heartfelt toast to an outstanding freemason of 50 years who enjoys his Freemasonry.
In reply, David thanked Bill for the generous toast to his health. David said he vividly recalled his initiation which took place in the then meeting place of the lodge, namely the Derby Room at the Bull and Royal Hotel, especially the noise of a hot poker beside a flaming fire in the room.
David stated that living his life as a Freemason had made him a better person. He has enjoyed exploring all aspects of Freemasonry which has seen him travel extensively through the United Kingdom and further afield. He had made it a mission to contact all Freemasons' lodges with the number 333 being the same number as his mother lodge Royal Preston Lodge.  David regaled the brethren of the various tales and anecdotes as he visited the '333' lodges in England, Scotland, Ireland, France, Germany, Canada United States of America Australia and Italy. In reinforcing his support for Freemasonry and how much it meant to him, David recited a verse from 'The Master's Apron' by Robert Burns.
He thanked Stewart Seddon for the all work he had obviously done in researching the magnificent presentation he had made earlier. David went on to thank the Preston Group Chairman Stephen Bolton, as well as the lodge secretary Steve Handley and lodge director of ceremonies Peter Littlehales. Particular mention was made of the impressive table plan which had been designed by Freda Thornhill.
David concluded by thanking all his friends for attending a memorable evening for him. As the applause finished, a presentation of a book 'Lest we forget' which contained the role of honour of the The Provincial Grand Lodge of North Munster was made by Marcus Lloyd from Triune Lodge No 333 in the Province of North Munster Irish Constitution.